Crude Oil's Impressive Performance, So Far
Summary
Holding above $60 per barrel on NYMEX.
Backwardation equals tight supplies.
Cracks at the higher end of last year's range with oil higher.
Brent slipping on OPEC games.
Aramco IPO- Saudis crossing their fingers- Bullish and bearish factors At Play.
On June 21, 2017, the price of nearby NYMEX crude oil futures found a bottom at $42.05 per barrel. By the end of the year, the energy commodity was flirting with the $60 level and on January 25, as the dollar slipped crude oil found a top at $66.66 per barrel.
Crude oil appreciated by 58.5% in a little over seven months, an impressive move considering the price was trading at $26.05 per barrel in February 2016. There have been many factors that contributed to the ascent of the price of oil. OPEC decision to keep production quotas in place until the end of 2018 sparked the initial rally in June, and economic growth around the world continued the pressure on the upside. Increased demand for gasoline and distillate products supported the price as crack spreads consistently outperformed the raw oil during the second half of 2017 and into early 2018.
Crude oil can be a highly volatile commodity. The price fell from over $107 per barrel in June 2014 to the February 2016 lows at $26.05. The mid-point of the move from the highs to the lows over the past almost four years is at $66.89 per barrel, just 23 cents above the January 25 peak. While crude oil has declined by over $5 from the recent highs, the price action has been impressive given the performance of other commodities markets, as well as the dollar and markets across all asset classes.
Holding above $60 per barrel on NYMEX
After trading down to a low of $58.07 per barrel on February 9, NYMEX nearby crude oil futures have been holding above the $60 per barrel level.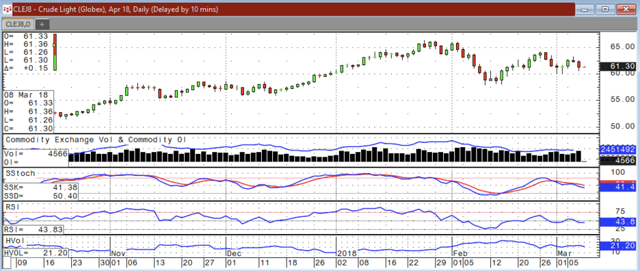 Source: CQG
As the daily chart of the active month April NYMEX futures contract illustrates, the energy commodity only spent a brief period in mid-February below the $60 level. Technical metrics display a balanced picture for crude oil as the price closed at over $62 per barrel on Wednesday, March 7.
Open interest, the total number of open long and short positions in the NYMEX futures market is steady at the 2.451 million contract level. The metric does not provide data that the market is either overly long or short at this time. The slow stochastic, a momentum indicator, and the measure of relative strength are both in neutral territory at either wide of 50. Daily historical volatility indicates that price variance at 21.20% is at a normal level and midpoint for the energy commodity. The technical picture for crude oil does not display any extensions that would indicate a big move in one direction of the other is imminent. However, market structure provides a mixed picture.
Backwardation equals tight supplies
The forward curve in crude oil continues to show a tight supply picture on the one-year spreads in both WTI and Brent futures. However, both markets have seen a loosening over recent weeks.
Source: CQG
April 2019 minus April 2018 NYMEX crude oil futures are trading at a $4.69 backwardation, meaning that the deferred price is lower than the nearby in WTI oil. The spread remains tight, but it has loosed since the lows on February 6 at $5.95 per barrel. Meanwhile, the May 2019 minus May 2018 Brent spread was trading at $3.46 per barrel as of the close of business on March 7. The Brent spread has also loosened over recent weeks, and at a lower backwardation than Brent, it could be a sign that some of the OPEC members are cheating on their quota levels. Overall, the term structure of oil is supportive for the price of the energy commodity, but it has been moving in a direction that suggests a reason for caution on bullish positions.
Cracks at the higher end of last year's range with oil higher
Crack spreads are the economics of refining a barrel of crude oil into oil products. Over recent weeks, these processing spreads have been moving lower. The April gasoline crack spread was at $22.22 per barrel at the beginning of February. It declined and was trading at around $19.20 on March 7. Last year, during the first week of March it traded to a high of $19.20 per barrel, so the spread is close to last year's level.
The heating oil processing spread has moved from over $22 per barrel at the start of February and was trading at $17.70 on March 7. Last year, the highs in the heating oil crack were at a high of $15.43 per barrel. Crude oil closed at $62.60 per barrel on March 6 and one year ago the price traded in a range from $48.31 to $53.80. At $10 higher this year, the level of crack spreads continues to support the price of the underlying commodity that is the primary input in their production. However, during the week of March 6, 2017, the price of crude oil fell by around $5 per barrel.
Brent slipping on OPEC games
In another sign that OPEC members could be cheating and selling more oil than their quotas is the price path of the Brent-WTI spread over past weeks.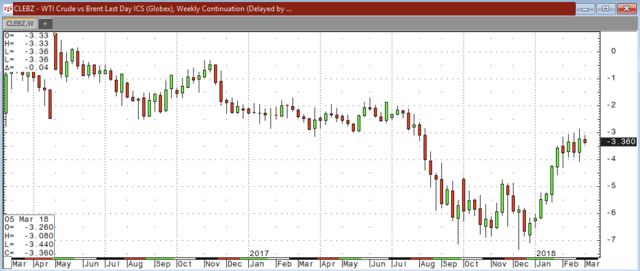 Source: CQG
As the weekly chart illustrates, Brent's premium over WTI crude oil has declined from $7.35 per barrel in December to its current level at $3.3. Brent tends to rise to a higher premium over the NYMEX crude when the price rises. Therefore, the price path of the spread is another reason for concern about the price path for oil over the coming days and weeks.
Aramco IPO- Saudis crossing their fingers- Bullish and bearish factors at Play
We have herd lots of self-serving statements from the oil cartel, but the fact is that tariffs on steel and aluminum could turn out to be the best thing in the world for OPEC. If other countries retaliate and impose tariffs on U.S. imports, the rising level of shale production may not result in more competition from the American oil industry. Additionally, the Saudis are preparing for their IPO of Aramco. With increasing volatility in stocks and crude oil stalling at recent highs, the Crown Prince, and others within the country, are likely crossing their fingers and hoping that the price of oil remains stable until their can sell shares later this year or early in 2019.
There are bullish and bearish factors at play in the crude oil market these days. In addition to the issues listed in this piece, the weak dollar and path of least resistance of the U.S. dollar since early 2017 is supportive of the price of oil given the dollar's inverse historical correlation with commodities prices. Moreover, the potential for rising inflationary pressures is another supportive macroeconomic factor for the energy commodity these days. On the other hand, the performance of crude oil equities remains circumspect and could serve as a sign that the price of oil will eventually follow for a test of the February lows at just over $58 per barrel.
Bullish and bearish factors could put the energy commodity in a range from the January highs to the February lows over coming weeks and months. If oil has entered a period where it will be trading both sides of the trading range, the double-leveraged WTI trading products could offer market participants a way to optimize trading results.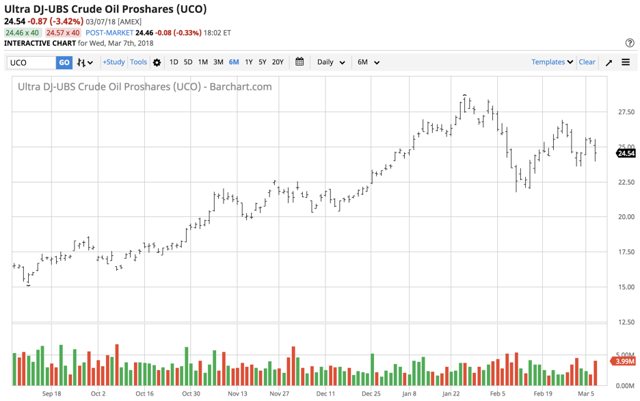 Source: Barchart
UCO is the double-leveraged long ETN product that has net assets of $406.7 million and trades an average of 2.85 million shares each day. UCO is appropriate on the long side for taking advantage of price moves at the bottom of the trading range and profits could be taken during moves towards the to end. If crude oil is in a range, I will be buying UCO at prices under $60 per barrel on the nearby NYMEX contract and taking profits above $64. At the same time, I will look to buy SCO at prices at or above $64 per barrel with a profit target when NYMEX crude trades at $60 or below.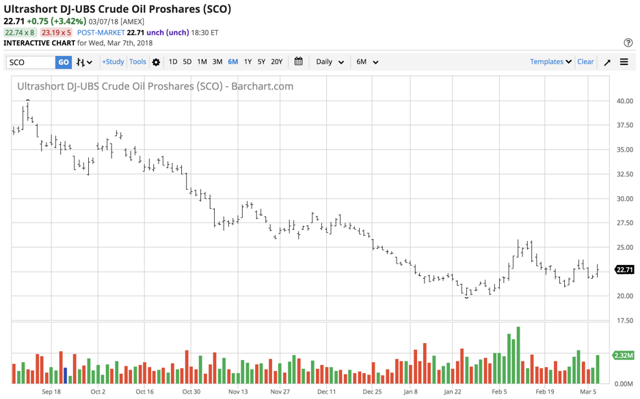 Source: Barchart
SCO is the double-leveraged short ETN product that has net assets of $214.7 million and trades an average of 1.71 million shares each day. SCO is appropriate on the long side for taking advantage of price moves at the top of the trading range and profits could be taken during moves towards the bottom end. If crude oil is in a range,
If crude oil trades back and forth in the range, this strategy could yield attractive gains. Meanwhile, with bullish and bearish factors at play, the double-leveraged ETF products could be the perfect instruments to capitalize on a range-bound market.
The Hecht Commodity Report is a must-read…
I believe we're on the verge of a commodities super cycle. Do you know how to profit from it? I do, and I can help you navigate the turbulent commodities markets to make the most of the trends behind the trade. The Hecht Commodity Report on Marketplace provides subscribers with my weekly outlook, top picks, and bullish, bearish or neutral calls on over 30 individual commodities markets, including U.S. futures. I also make timely recommendations for risk positions in ETF and ETN markets and commodity equities and related options. There's also an active live chat, where I reply quickly to questions. If you want to build wealth with commodities, the Hecht Commodity Report is required reading.
This article was written by
Andrew Hecht is a 35-year Wall Street veteran covering commodities and precious metals.
He runs the investing group
The Hecht Commodity Report
, one of the most comprehensive commodities services available. It covers the market movements of 20 different commodities and provides bullish, bearish and neutral calls; directional trading recommendations, and actionable ideas for traders.
Learn more
.
Analyst's Disclosure: I/we have no positions in any stocks mentioned, and no plans to initiate any positions within the next 72 hours. I wrote this article myself, and it expresses my own opinions. I am not receiving compensation for it (other than from Seeking Alpha). I have no business relationship with any company whose stock is mentioned in this article.

The author always has positions in commodities markets in futures, options, ETF/ETN products, and commodity equities. These long and short positions tend to change on an intraday basis.
Seeking Alpha's Disclosure: Past performance is no guarantee of future results. No recommendation or advice is being given as to whether any investment is suitable for a particular investor. Any views or opinions expressed above may not reflect those of Seeking Alpha as a whole. Seeking Alpha is not a licensed securities dealer, broker or US investment adviser or investment bank. Our analysts are third party authors that include both professional investors and individual investors who may not be licensed or certified by any institute or regulatory body.