Summary
AMZA price action is undoubtedly disappointing.
However, a closer look at the current earnings season provides a reason to remain cautiously optimistic.
When it comes to AMZA it's mostly about management and execution.
So J., please show us the money!
Jerry Maguire: Yeah, what, what, what can I do for you, Rod? You just tell me what can I do for you?

Rod Tidwell: It's a very personal, a very important thing. Hell, it's a family motto. Are you ready, Jerry?

Jerry Maguire: I'm ready.

Rod Tidwell: I wanna make sure you're ready, brother. Here it is: Show me the money. Oh-ho-ho! SHOW! ME! THE! MONEY! A-ha-ha! Jerry, doesn't it make you feel good just to say that! Say it with me one time, Jerry.

Jerry Maguire: Show you the money.
Source: Script from the movie Jerry Maguire
Background
One of the questions we received recently was about InfraCap MLP ETF (NYSEARCA:AMZA), a security that both TV and I mentioned/covered on several occasions, most recently during our SA Roundtable interview.
The question we've received was challenging AMZA attractiveness (as a whole) as well as its ability to maintain its distribution going forward.
In this article we will touch upon both aspects.
MLPs' Valuations
Let me say loud and clear: Since the subprime crisis faded, midstream MLPs have not been priced as attractively as they are right now on a risk-adjusted basis.
Sure thing, one may claim that on an absolute basis valuations were even more attractive in early 2016 than they are now. However, if you recall where the economy and energy prices were in early 2016, you may appreciate that we are talking about different ball games, now and then.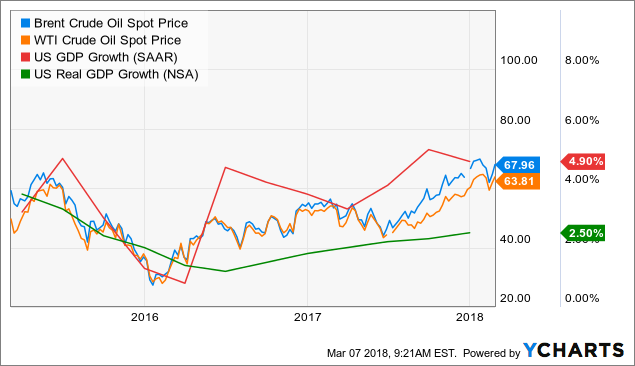 This is why we used the term "risk-adjusted" above; it's all relative.
It's also hard to ignore that on an aggregate basis, the current conditions as well as the current production levels have enjoyed better time than they do these days.
This is true when it comes to both oil (USO, OIL) outlook and productivity...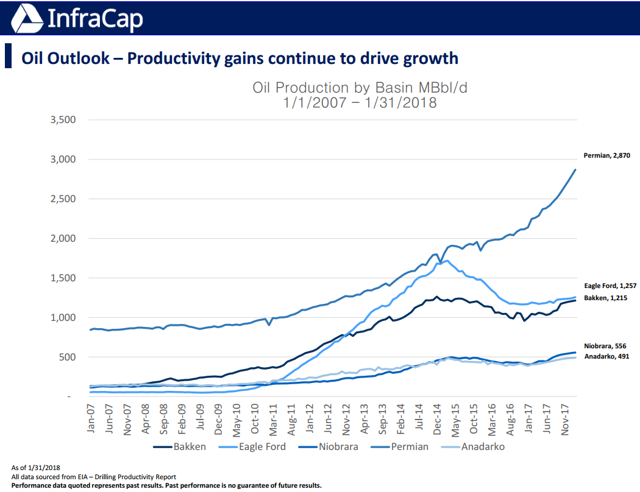 ... as well as when it comes to natural gas (UNG):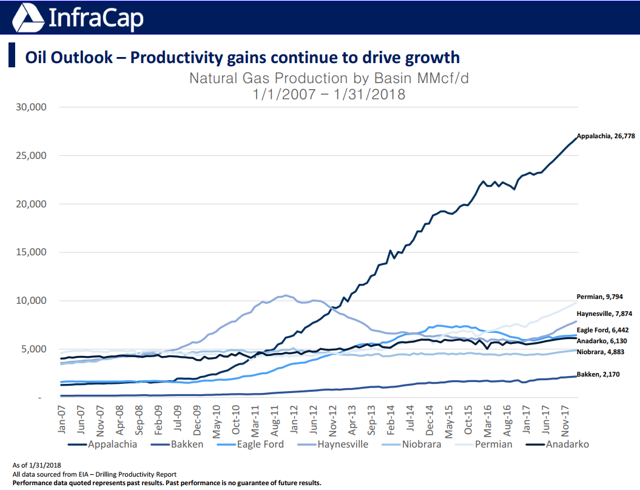 MLPs ETFs (minimum AuM: $500M)
There are six ETFs that are focusing on the MLPs arena:
Alerian MLP ETF (AMLP)
JPMorgan Alerian MLP Index ETN (AMJ)
First Trust North Amer

Engy Infras ETF (

EMLP

)

UBS ETRACS Alerian MLP Infras Index ETN (MLPI)
Global X MLP ETF (MLPA)
AMZA
All of those have experienced a rough time over the past three years, especially in 2015 when oil prices lost over 70% from peak to trough.
In spite of things improving since February 2016, it turned into another downhill ride for MLPs since mid-2017.
Based on AMZA's current share price, the yield - even after the cut - is over 17%. Is this sustainable? That's a good question and we will try to answer it.
Distribution out of AMZA's Holdings
The question we are basically trying to answer here is: How much distribution does AMZA get out of its holdings and is this enough to cover its own expected $1.32 distribution for 2018?
What we did in order to find an answer is to take all AMZA's long equity positions. There are 36 positions as of 3/6/2018 (sorted alphabetically, based on company's name, hereinafter):
| | |
| --- | --- |
| Name | Ticker |
| Andeavor Logistics LP | ANDX |
| Antero Midstream Partners LP | AM |
| Boardwalk Pipeline Partners LP | BWP |
| BP Midstream Partners LP | BPMP |
| Buckeye Partners LP | BPL |
| Cheniere Energy Partners LP | CQP |
| Crestwood Equity Partners LP | CEQP |
| DCP Midstream LP | DCP |
| Dominion Energy Midstream Partners LP | DM |
| Enbridge Energy Partners LP | EEP |
| Enbridge Inc* | ENB |
| Energy Transfer Equity LP | ETE |
| Energy Transfer Partners LP | ETP |
| EnLink Midstream LLC | ENLC |
| EnLink Midstream Partners LP | ENLK |
| Enterprise Products Partners LP | EPD |
| EQT Midstream Partners LP | EQM |
| Genesis Energy LP | GEL |
| Kinder Morgan Inc/DE | KMI |
| Magellan Midstream Partners LP | MMP |
| Marathon Petroleum Corp | MPC |
| MPLX LP | MPLX |
| NGL Energy Partners LP | NGL |
| NuStar Energy LP | NS |
| ONEOK Inc | OKE |
| Phillips 66 Partners LP | PSXP |
| Plains All American Pipeline LP | PAA |
| Shell Midstream Partners LP | SHLX |
| Spectra Energy Partners LP | SEP |
| Tallgrass Energy Partners LP | TEP |
| Targa Resources Corp | TRGP |
| TC PipeLines LP | TCP |
| Western Gas Equity Partners LP | WGP |
| Western Gas Partners LP | WES |
| Williams Cos Inc/The | WMB |
| Williams Partners LP | WPZ |
For each position we gathered data from AMZA's latest report positions (quantity, weight) as well as from publicly available information (price, distribution). Then we calculated the weighted average distribution that AMZA could expect from its underlying holdings, assuming that everything remains constant from here.
Here are the data and the results: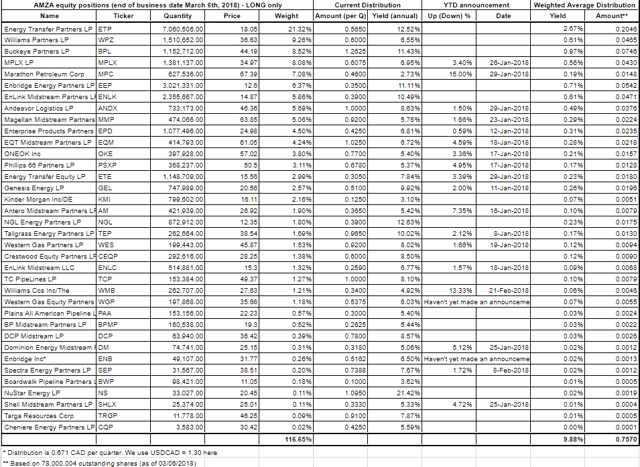 1. Eighteen companies, exactly half of AMZA's 36 positions as of 3/6/2018, have increased their distributions during the current earnings season. Two companies (ENB and WGP) have yet made announcements YTD.
2. Assuming that none of the 36 holdings will increase or decrease its distribution going forward - an unlikely scenario - AMZA should expect about $0.76 per share (based on 78,000,004 outstanding shares as of 3/6/2018) in 2018. It's likely that this amount will grow this year as evident by the trend/action during the current earnings season.
3. The current leverage - solely based on these positions - is relatively small (less than 17%) and can (perhaps must) be higher. A higher leverage may allow AMZA to get higher distribution but naturally it will also increase the level of risk.
4. AMZA's expected distribution for 2018 is $1.32 per share. The expected $0.76 out of distributions (from positions held) only covers 57.5% of AMZA's annual distribution. This means that the rest should come from the options trading, otherwise we will see quite a lot of RoC (Return of Capital). Again...
Bottom Line
AMZA has cut its distribution for 2018 by as much as 36.54% versus 2017. The previous quarterly $0.52 distribution has been replaced with a monthly $0.11 distribution.
The main problem of AMZA is that it is paying to shareholders a yield that is much higher than what it's getting from its holdings.
It seems like AMZA must do any (or all) of the following:
Employ more leverage
Focus more on higher yielding positions and/or focus less on lower yielding positions
Be very successful with its options trading
While the stock price is moving down, AMZA's AuM has moved up. It is quite stunning that an ETF with such lousy performance is attracting so much new money, even while the execution is far from being sufficient.
This tells us - more than anything else - that a lot of new money sees an opportunity when it comes to (midstream) MLPs, just as we do.
It's time for Messrs. Hatfield (Chief Investment Officer) and Ryan (Chief Operating Officer) to show us the money - not only to collect it...
Show me the money guys!!! It's about time...

The Wheel of FORTUNE is now offering a "March Madness" bargain deal that you don't want to miss out on! (See TV's blog post too).
Now that Trapping Value is part of The Wheel of FORTUNE you actually get two for the price of one.
Both annual and monthly fees are going to rise on April 1st by 5% and 10%, respectively, so make sure you join before Fool's Day. Joining now ensures that you are grandfathering the current-lower fees.
In order to make it even more attractive for you, the free trial is now on so you can take advantage of a two-week, free of charge, first-hand experience before you commit to the service on a longer-term basis.
Make sure you read the reviews (124/125 possible stars) subscribers wrote about the service to gain a better understanding what you may expect out of it.
This article was written by
The Fortune Teller is a team of two analysts with over 30 years of market experience between them. One of the principles is a formerly licensed investment advisor with a background in asset management. They also hold BAs in Accounting & Economics and Computer Sciences, as well as MBAs, which they use to inform their stock selections
They lead the investing group
Learn more
.
Analyst's Disclosure: I am/we are long AMZA, WES. I wrote this article myself, and it expresses my own opinions. I am not receiving compensation for it (other than from Seeking Alpha). I have no business relationship with any company whose stock is mentioned in this article.
Seeking Alpha's Disclosure: Past performance is no guarantee of future results. No recommendation or advice is being given as to whether any investment is suitable for a particular investor. Any views or opinions expressed above may not reflect those of Seeking Alpha as a whole. Seeking Alpha is not a licensed securities dealer, broker or US investment adviser or investment bank. Our analysts are third party authors that include both professional investors and individual investors who may not be licensed or certified by any institute or regulatory body.