Everything You Always Wanted To Know About Steel
Summary
Exploding debt levels means go short bonds.
Foreign exposed American companies could get selectively hammered.
Tariffs are extremely negative for corporate earnings if rolled out universally.
We certainly have gotten a crash course on the global steel industry over the past few days.

I, on the other hand already knew the intricacies of this complex industry, as I was the Iron and Steel Correspondent for the Australian Financial Review
during the 1970s. I had to write an original news story about the topic every day for five years!

Suffice it to say that I know which end of a one inch steel I-beam to hold upwards.

So let me summarize for you the issue in a few short paragraphs. No research for me today! I can write this entirely out of my own head.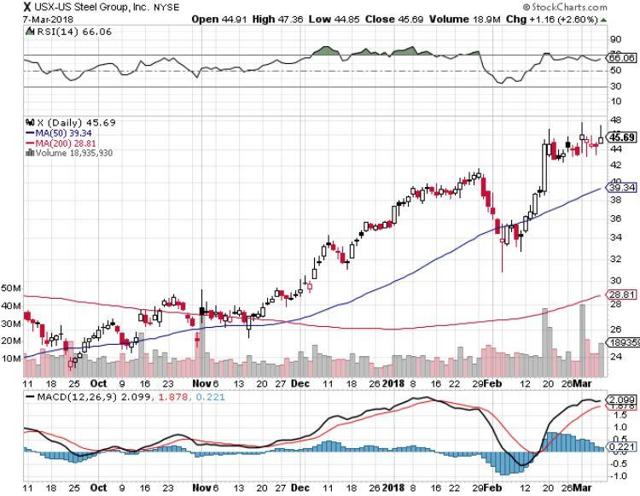 For a start, I saw all this coming someday, which is why I aggressively recommended a long position in US Steel (X) in August at $21. Yesterday, it traded at $48, up 128%, so well done to those who followed my advice!

If you own any other stocks, read on for the bad news.

The United States has not been cost competitive in steel production for 70 years. Since then, there has been a long succession of countries that could produce steel cheaper than we could, thanks to lower labor costs.

Germany and England were first, followed by Japan, South Korea, Canada, and more recently China, India, Russia, and Mexico.

Foreigners had another big advantage in that the US blew up almost the entire world's steel production during WWII, except our own.

That meant the new competitors operated with brand new efficient steel mills, compared to our own ancient plants. Go to a US steel mill today and you are impressed with how antiquated everything is, employing processes that are over 100 years old.

A third factor is that the use of steel in all products has been on a secular long-term decline, as advancing technology permitted large reductions in costs and weight.

A new car today weighs half of what it did in the 1950's. Teslas don't use steel at all, as they are made entirely of aluminum, carbon fiber, glass, and lithium.

If steel production ramped back up again barely any new jobs would be created. It took ten man-hours to produce a ton of steel in 1980. Today, it is only two. That's an 80% productivity increase. That's why US steel companies exist at all today.

This has left us with seven generations of declining employment in the US steel industry, from 750,000 in 1946 to 140,000 today. This quickly devolved into a hot button political issue for both parties.

Steel has been a trade issue at least since the 1950s, when the US sought to protect a retreating industry with jawboning, quotas, and tariffs. It was always a losing battle.

Punitive tariffs like the 25% duty imposed by the president have not been used as a trade tool for 80 years for good reason. Tit for tat tariffs employed by countries during the 1930s are now widely understood to have greatly extended the Great Depression.

They are also illegal, a violation of rules laid out by the World Trade Organization, and will almost certainly be overturned in future litigation.

Tariffs were also abandoned because they make no sense for the US economy. At most, higher steel prices will create a few hundred jobs.

But they will also raise prices on all steel containing products for 330 million American consumers. That means it is costing millions of dollars to create a single job in the steel industry.

It is also bad for the steel industry over the long term. Higher prices will force them to cede foreign markets and only sell to the domestic market.

In the meantime, the largest users of American steel, the auto industry, has seen the cost of their vehicles rise by a few hundred dollars each.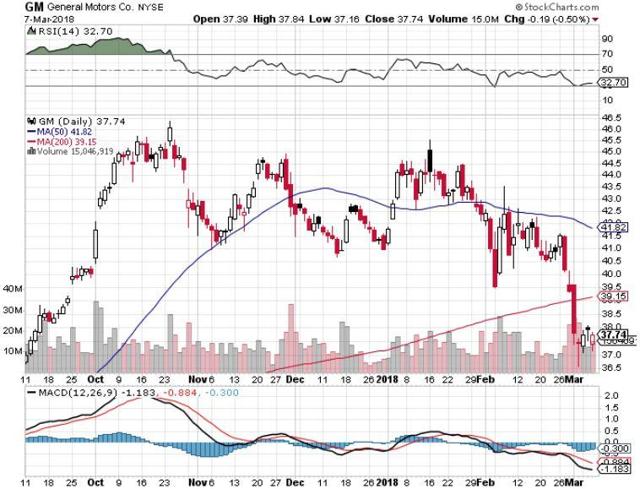 That erodes their ability to compete with imported cars made with cheaper foreign steel. Notice that the shares of General Motors (GM) got slaughtered, off some 12% in two days.

The stock market got it right with the 1,500-point swoon in the Dow average the tariffs triggered. Steel producing companies saw the value of their companies rise by $2 billion. Steel consumers saw the value of their shares fall by $150 billion. No, the risk/reward doesn't look right to me either.

Foreign steel exporters are certain to retaliate. Target number one will be the US agricultural exports, where it enjoys a major cost advantage of its own.

This is why you heard so much carping from red state congressional representatives. Note that wheat (WEAT) prices, the most internationally traded ag commodity, dove some 4.8%.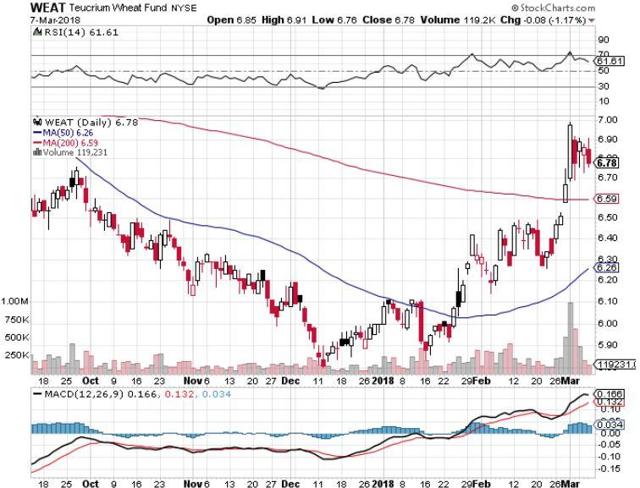 Retaliation could spread to other globally traded US products, such as those in high tech (Apple (AAPL)), services (JPMorgan (JPM)), aircraft (Boeing (BA)), and even Coca-Cola (KO) (see more in the piece below). This is why the steel issue has taken the entire market down, including most sectors.

There is also a national security element to all of this. Some of the largest exporters of steel to the US are military allies, like Japan and South Korea.

Attack some of their most important strategic industries and they will be less likely to assist us in any future military alliance. The steel tariffs could well push them into the China orbit.

And last of all, who is the largest foreign owner of US Treasury bonds? You guessed it! You already know from my "Exploding Deficits" Series that it is China, with $1.2 trillion of American paper, and who have already started boycotting recent bond auctions.

My guess is that trade will remain a growing weight on the stock market.

Who do we bail out next? The buggy whip makers?
This article was written by
John Thomas is a 50-year veteran of the financial markets. He spent 10 years as a financial journalist, ten more years trading for a major investment bank, and another decade running the first dedicated international hedge funds. Seeing the incredible inefficiencies and severe mispricing offered by the popping of multiple bubbles during the Great Crash of 2008, and missing the adrenaline of the marketplace, he returned to active hedge fund management. With The Diary of a Mad Hedge Fund Trader, his goal is to broaden public understanding of the techniques and strategies employed by the most successful hedge funds so that they may more profitably manage their own money. He publishes a daily research newsletter, and offers one of the most successful trade mentoring services in the industry. He currently has followers in 134 countries. In his free time, John Thomas climbs mountains, does long distance backpacks, practices karate, performs aerobatics in antique aircraft, collects vintages wines, reads the Japanese classics, and engages in a wide variety of public service and philanthropic activities. His career has taken him up to 20,000 feet on Mount Everest, to the edge of space at 90,000 feet in the Cockpit of a MIG-25, and to the depths of a sunken Japanese fleet in the Truk Lagoon. Why they call him "Mad" he will never understand.
Analyst's Disclosure: I/we have no positions in any stocks mentioned, and no plans to initiate any positions within the next 72 hours. I wrote this article myself, and it expresses my own opinions. I am not receiving compensation for it (other than from Seeking Alpha). I have no business relationship with any company whose stock is mentioned in this article.
Seeking Alpha's Disclosure: Past performance is no guarantee of future results. No recommendation or advice is being given as to whether any investment is suitable for a particular investor. Any views or opinions expressed above may not reflect those of Seeking Alpha as a whole. Seeking Alpha is not a licensed securities dealer, broker or US investment adviser or investment bank. Our analysts are third party authors that include both professional investors and individual investors who may not be licensed or certified by any institute or regulatory body.