Time To Buy Some Lithium Miners
Summary
The lithium miners crashed in January and the fall look to be near the end.
The lithium miner fundamentals have been improving with several great announcements in the past 3 months, including the move towards electric trucks requiring massive amounts of lithium.
Adding to this, electric vehicle sales accelerated in 2017 finishing with a 58% increase, and energy storage is forecast to grow 6.8 fold in the next 7 years.
A summary of the lithium miners to consider buying now and my top 5 picks.
This article first appeared on Trend Investing on February 10, 2018; therefore all data is as of that date.
The lithium miners had a terrific run from September 2017 to early 2018, and then came the SQM (SQM) announcement, which started the lithium miner's crash. Many investors sold in panic wrongly thinking the market will be flooded with new SQM lithium supply, when the reality is new supply takes time, and most of the quota will most likely never be used (at least before SQM's Atacama lease expires in 2030).
The reason being SQM is unlikely to pay high taxes in Chile when they can be treated better in Argentina and Australia. Certainly, it is a very good reminder to investors that it is worth paying a premium to invest in miners in safer countries, as we saw last week in the DRC.
Then in February, the global stock market correction of around 10% further dragged down the lithium miners. This means the sector has had to absorb a double hit, and has on average fallen about 35-40% from its highs.
Lithium miner fundamentals have been improving
Some recent news includes:
Global electric cars sales grew 58% in 2017 - and H2 was very strong

Global electric car market share in 2017 - averaged ~1.4% and peaked at 2% in December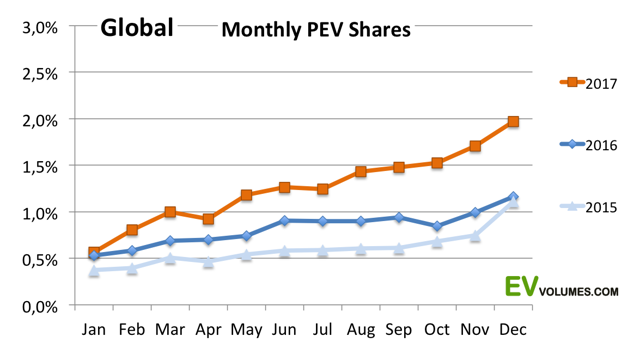 Source: EV-Volumes
Annual global electric vehicle sales forecast to hit 24.4 million by 2030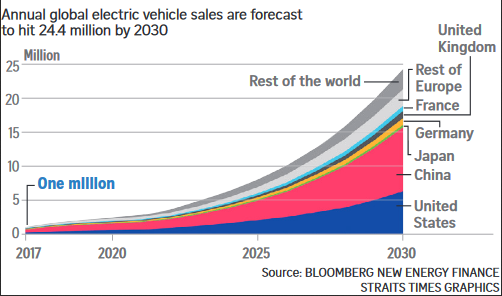 Time to buy some lithium miners
The price crash of the past month in the lithium miners, combined with ever-improving fundamentals has opened up some good buying opportunities, especially for those that did not buy in earlier. Below I take a look at the main lithium miners, and their recent price action, in particular their percentage falls from their 52-week high and analysts' consensus target upsides.
A summary of the lithium miners to consider buying now
Name
Price (rounded)

52-week

high

Fall from

52-week high




Producer

or likely

year to

start production


Analysts target price

(upside %)

Albemarle (ALB)
108
145
26%
Yes
144 (34%)

Sociedad Quimica

y Minera S.A. ((SQM))

54
64
16%
Yes
61 (13%)

FMC Corp. (NYSE:FMC)

82
99
16%
Yes
99 (20%)

Mineral Resources

(MALRY)[ASX:MIN]

19
22
13%
Yes
20.50 (6.3%)

Neometals [ASX:NMT]

0.38
0.50
24%
Yes
0.40 (3.9%)
Orocobre [ASX:ORE][TSX:ORL] (OTCPK:OROCF)
6.34
7.44
15%
Yes

7.91

(25%)

Galaxy Resources [ASX:GXY] (OTCPK:GALXF)

3.04
4.54
33%
Yes

4.05

(33%)

Tawana Resources [ASX:TAW] (OTCPK:TWNAF)
0.43
0.58
26%
2018

Altura Mining [ASX:AJM]

0.34
0.50
32%
2018

0.75

(108%)

Pilbara Minerals [ASX:PLS]

0.81
1.25
35%
2018

1.08

(32%)

AMG Advanced Metallurgical Group [NA:AMG] [GR:ADG] (OTCPK:AMVMF)

38.12
54.17
30%
2018

Lithium Americas [TSX:LAC]

(NYSE:OTC:LAC)

8.61
14.06
39%
~2020

10.00

(42%)

Bacanora Minerals [TSXV:BCN] [AIM:BCN] [GR:1BQ]

1.98
2.73
27%
~2020

2.56

(42%)

Nemaska Lithium [TSX:NMX]

[GR:NOT] (OTCQX:NMKEF)

1.60
2.44
34%
~2020

2.76

(75%)

Critical Elements [TSXV:CRE]

[GR:F12] (OTCQX:CRECF)

1.19
1.86
36%
~2020

2.07

(72%)

AIS Resources [TSXV:AIS] (OTCQB:AISSF)
0.64
1.47
56%
~2020

Sayona Mining [ASX:SYA]

0.06
0.12
50%
~2020
Argosy Minerals [ASX:AGY]
0.34
0.48
29%
~2020

Kidman Resources [ASX:KDR]

[GR:6KR] (OTCPK:KDDRF)

1.85
2.23
17%
~2021

2.04

(10%)

European Metals Holdings

[ASX:EMH] [AIM:EMH]

[GR:E861] (OTC:ERPNF)

0.49
1.39
65%
~2021

Neo Lithium [TSXV:NLC]

1.82
2.75
34%
~2021

3.62

(93%)

Birimian Ltd [ASX:BGS]

0.47
0.84
44%
~2021

Lithium Power International

[ASX:LPI] (OTC:LTHHF)

0.41
0.68
40%
~2021

Advantage Lithium

(OTCQB:AVLIF) [TSXV:AAL]

1.42
1.20
15%
~2021

1.90

(64%)

Millennial Lithium Corp

[TSXV:ML] (OTCQB:MLNLF)

4.00
4.80
17%
~2021

LSC Lithium [TSXV:LSC]

1.27
1.77
28%
~2021
Pure Energy Minerals [TSXV:PE] (OTCQB:PEMIF)
0.37
0.65
43%
~2022

AVZ Minerals [ASX:AVZ]

0.25
0.37
32%
~2022
Wealth Minerals [TSXV:WML] [GR:EJZN] (OTCQB:WMLLF)
1.28
2.34
45%
~2022

International Lithium Corp. [TSXV:ILC] (OTCPK:ILHMF)



0.14
0.23
39%
~2022
Piedmont Lithium [ASX:PLL] (OTC:PLLLY)
0.17
0.25
32%
~2022
Note: I have left out Tianqi Lithium Industries [SHE:002466] and Jiangxi Ganfeng Lithium [SHE:002460] as most investors cannot access them on the Shenzhen Stock Exchange. Also Lithium X [TSXV:LIX] (ROCEF) (OTCQB:LIXXF) as they are being taking over by NextView at a price of $C2.61.
Note: All prices are on local exchanges in local currency.
Note: Analyst consensus price targets were sourced from 4-traders.com. Note in some cases 4-traders had no analysts targets.
Comments from the table above
The producers
Generally, the lithium producers did not sell off as badly as the juniors. Naturally, the top 3 (ALB, SQM, FMC) were also helped by being diversified across different chemicals.
The worst affected were Galaxy Resources (down 35%) and Albemarle (down 26%). Those with the most upside to analysts' targets are Albemarle (34% upside) and Galaxy Resources (33% upside).
My top picks in the producers right now (based on my model) would be the same - Albemarle and Galaxy Resources, followed by Orocobre.
The non-producers
In the non-producers group, the largest falls from their 52-week highs were European Metal Holdings (down 65%), AIS Resources (down 56%), and Sayona Mining (down 50%). All three have good resources and can be near-term producers, hence are currently well valued buys. In term of upside to reach analyst price targets, the standouts are Altura Mining (108%), Neo Lithium (92%), Nemaska Lithium (75%), Critical Elements (72%), and Advantage Lithium (64%).
My top picks of the non-producers (based on my model) are:
AIS Resources - My end 2021 updated target is CAD 5.39, or 8.4x upside. Assumes 16ktpa LCE production selling at USD 12,000/t.
Neo Lithium - My end 2021 updated target is CAD 7.32, or 4x upside. Assumes 35ktpa LCE production selling at USD 12,000/t.
Altura Mining - My end 2021 updated target is AUD 1.09, or 3.2x upside. Assumes 440ktpa spodumene production selling at USD 850/t.
Others I view as having good potential are the near-term producers Pilbara Minerals (2018), Lithium Americas (2020). Higher risk good potential plays include Lithium Power International, European Metals Holdings, and Nemaska Lithium among others.
History likely to repeat
In my 3 years covering the lithium miners here on Seeking Alpha, I have witnessed similar falls due to oversupply fears on several occasions. On each occasion (mid 2016, early 2017), the market came to realize that there was no oversupply issue, and the miners rallied to higher highs. One example to highlight this was in mid-late 2016 when Pilbara Minerals dropped from 0.70 to 0.33 then in May signed a magnificent 10+10-year off-take deal with Ganfeng Lithium. The stock later went on to more than triple in the next 9 months.
My point here is that if the sector and the stock's fundamentals continue to grow stronger then a sector-wide sell-off can offer investors a great chance to buy in. No doubt there was some over-exuberance built into some of the lithium stocks prior to the falls; however, given the world appears to be moving quickly to electric vehicles (2017 sales were up 58%) and energy storage (forecast to grow 6.8 fold in the next 7 years), it is hard to say it was not justified.
Orocobre chart shows an example of the previous dips and recoveries in the lithium miners which is normal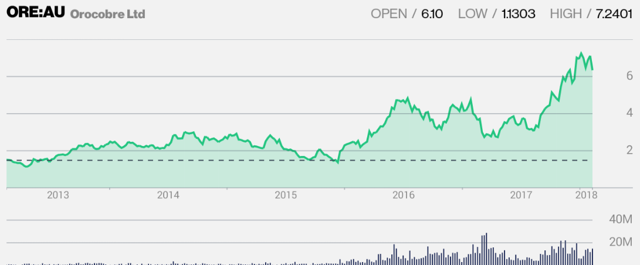 Source: Bloomberg
2019 is just around the corner and the China Zero Emission Vehicle [ZEV] credit scheme will be another very significant boost to the sector, as will any announcement regarding a date for China to ban Internal Combustion Engine [ICE] vehicles. Off course, New Energy Vehicle [NEV] subsidies will be cut in 2019 by an additional 20% (added to the 20% cut in 2017), which will probably just result in a bad January 2019 EV sales report followed by a swift recovery as happened in 2017
Conclusion
The lithium miners have had a terrible January and early February 2018 with falls ranging from 13% up to 65% in the group I have covered here. This group represents those that are either producers or near-term potential producers.
During the past two months, the fundamentals behind the lithium sector have only grown stronger with several positive announcements from automakers and in the energy storage sector. Despite the SQM fear of oversupply, the lithium prices have been stable.
My top picks right now are the producers Albemarle and Galaxy Resources, and in the non-producers AIS Resources, Neo Lithium and Altura Mining offer exceptional buying, albeit with some increased risk.
As usual all comments are welcome.
Editor's Note: This article covers one or more microcap stocks. Please be aware of the risks associated with these stocks.
Trend Investing
Thanks for reading this article. If you want to go to the next level, sign up for Trend Investing, my Marketplace service. I share my best investing ideas and latest articles on the latest trends that are going to change the business world. You will also get access to exclusive CEO interviews and chat room access to me, and to other sophisticated investors. I'd love to have you join our community as we look to take advantage of the hundreds of hours of work I've done to analyze the best opportunities in emerging industries, especially the electric vehicle and EV metals sector. You can learn more by reading "The Trend Investing Difference", or sign up here.
My latest Trend Investing articles are:
This article was written by
The Trend Investing group includes qualified financial personnel with a Graduate Diploma in Applied Finance and Investment and well over 20 years of professional experience in financial markets. They search the globe for great investments with a focus on trending and emerging themes. The current focus is on electric vehicles, the EV metals supply chain, stationary energy storage and AI.
They lead the investing group of the same brand name, Trend Investing. Features of the service include: Access to the Trend Investing portfolio, 7 monthly news updates, a monthly macro trends update, stock watchlist, CEO interviews, and direct access to the community and group leaders in chat.
Analyst's Disclosure: I am/we are long NYSE:ALB, NYSE:SQM, ASX:ORE, ASX:GXY, ASX:PLS, TSX:LAC, ASX:AJM, TSXV:ILC, TSXV:NLC, ASX:AVZ, ASX:LPI, ASX:PLL, ASX:SYA., TSXV:AIS, TSXV:WML. I wrote this article myself, and it expresses my own opinions. I am not receiving compensation for it (other than from Seeking Alpha). I have no business relationship with any company whose stock is mentioned in this article.

The information in this article is general in nature and should not be relied upon as personal financial advice.
Seeking Alpha's Disclosure: Past performance is no guarantee of future results. No recommendation or advice is being given as to whether any investment is suitable for a particular investor. Any views or opinions expressed above may not reflect those of Seeking Alpha as a whole. Seeking Alpha is not a licensed securities dealer, broker or US investment adviser or investment bank. Our analysts are third party authors that include both professional investors and individual investors who may not be licensed or certified by any institute or regulatory body.