One reason I like dividends is that it helps keep the company accountable for its use of cash and resources. It is my belief that paying out a regular, sizable dividend creates a stronger sense of responsibility to the shareholder and therefore less waste of resources. In companies where dividends are not paid, management might be more prone to taking high risk and low returning opportunities using cash flows like its personal piggy bank.
High Dividend Yield and High Return
Another compelling reason to own dividend stocks is their superior total return when looking at a long-term investing window. You can read more about the outperformance of dividend stocks since 1927 in this article, Do Dividend Stocks Outperform?.
Below are two charts that compare the performance of stocks which pay dividends in the Russell 1000 index versus non-dividend paying stocks.
Dividend Payers in Russell 1000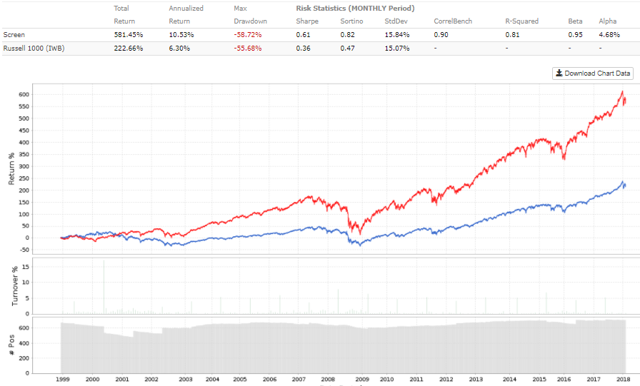 Non-Dividend Payers in Russell 1000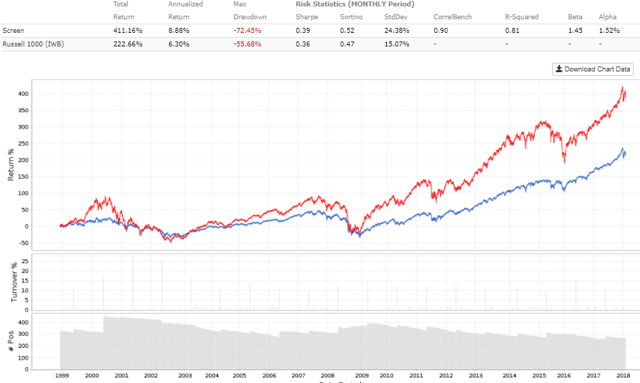 The Danger of Dividends
Yet, just because a stock pays a dividend, this does not mean you should run out and add this to your portfolio wantonly. Stocks with abnormally high dividend yields often have higher risk. You need to ask yourself why this particular dividend stock has such a depressed price in comparison to its dividend.
Is it because growth is flat and the potential for capital returns is negligent?
Is the firm in a cyclical industry that is forecast to turn downwards?
Is the firm in danger of cutting its dividend or even de-listing?
The chart below shows the return of the highest yielding 20 stocks of the Russell 1000 index. Not too pretty.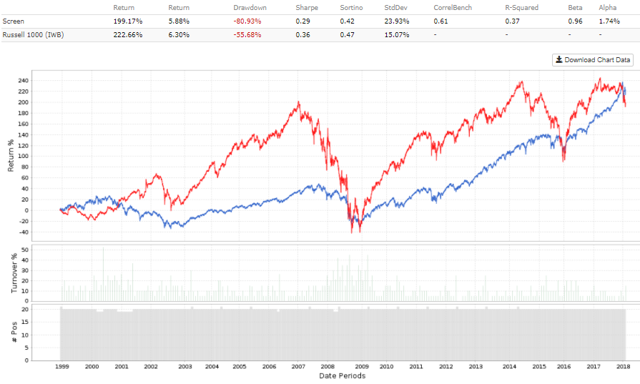 So how can you cut down on risk of higher yielding dividend stocks? To answer that question we will examine two ETFs which focus on higher-yielding stocks. One is very well-known and the other is a newcomer to the ETF market.
iShares Select Dividend ETF (NASDAQ:DVY)
The portfolio dividend yield is a respectable 3% - although this is not huge considering the ETF has a high yield focus. In a nut-shell, this ETF invests in the 100 highest yielding stocks found in the Dow Jones US Index while excluding REITs.
How does the iShares Select Dividend ETF lower its risk towards high yield? One key way is by enforcing a minimum dividend coverage ratio of 167%. Put another way, a company cannot be paying out more than 60% of its earnings in dividends.
This methodology reminds me of the Credit Suisse white paper: High Yield, Low Payout. By adding in the concept of dividend coverage with high yield, you are essentially screening for stocks with low price-to-earnings ratios or value stocks. If a stock is offering a 5% dividend yield and had a P/E ratio of 20, this would mean the payout ratio is 100%. If the payout ratio was 50%, this would mean that the P/E ratio was 10.
While I applaud the effort to ensure the dividend is covered by earnings, is this really the best way?
AAM S&P 500 High Dividend Value ETF (NYSEARCA:SPDV)
This newcomer on the block has a forward dividend yield of roughly 3.8% by my calculations. It selects from the highest yielding dividend stocks in the S&P 500 index, but it uses a different method to add a layer of protection for the dividend – free cash flow yield.
Free cash flow yield is calculated using the annual free cash flow divided by the share price.
Free cash flow represents the operating cash flow minus capital expenditures.
Some feel that using free cash flow is a superior method than earnings when trying to determine the safety of your dividend since dividends are paid out of cash and not accrued earnings. You could have a company with decent earnings but little free cash flow which would put the dividend in danger of being reduced or funded through debt. As well, it is very difficult to manipulate cash flows whereas it is much easier to massage the numbers for earnings.
When it comes to evaluating dividend sustainability, cash flow is king. I give SPDV a big thumbs up for using free cash flow yield as opposed to the price-to-earnings ratio or even payout ratio.
Higher Total Returns
Another large benefit to using free cash flow yield is that high free cash flow yield is linked to higher total return than stocks with a lower yield. So not only does it provide a buffer for dividend sustainability but it also leads to better portfolio performance.
In this S&P report (pdf download link) we find this chart where the S&P 500 is split into 5 portfolios based on free cash flow yield. This chart highlights the performance from 1990 until mid-2017.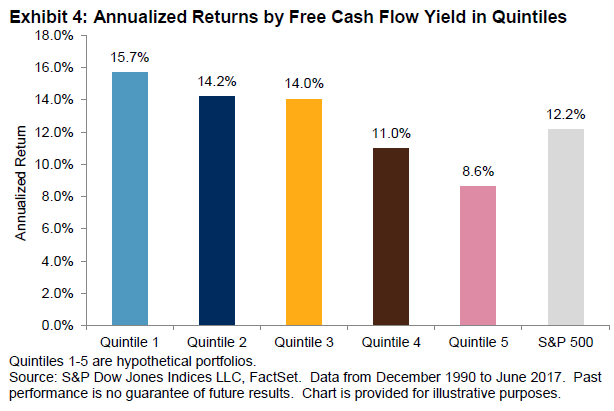 Clearly, higher free cash flow yield has historically resulted in better returns.
Sector Diversification
Another risk when it comes to high yield investing relates to sector risk. When you focus on yield, you tend to bunch your stocks in a few sectors. Have a look at the sector breakdown of DVY vs. SPDV.
DVY Sector Allocation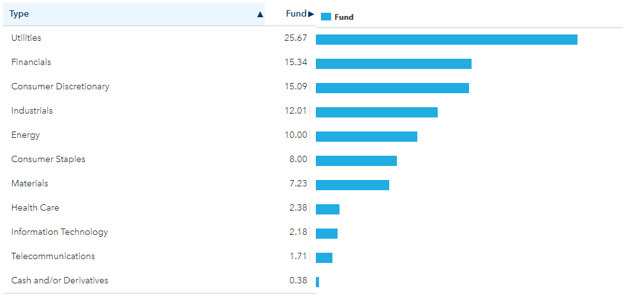 SPDV Sector Allocation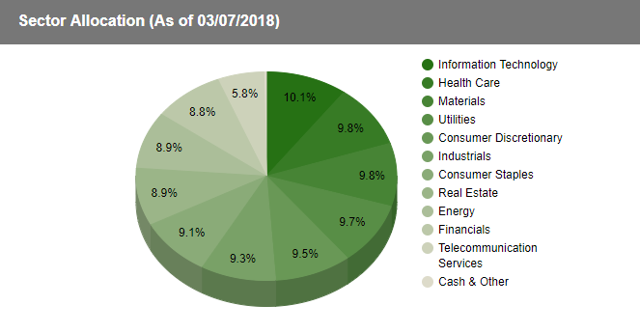 SPDV has very balanced sectors while DVY does not.
Expense Ratios
You can have a great looking fund with strong performance, but if the fees are too high forget about it. Both of these funds have moderately low management fees.
SPDV 0.29% expense ratio
DVY 0.39% expense ratio
When investing in ETFs, every little bit counts. So I give the points to SPDV although there are other ETFs with very low management fees. But these are likely cap-weighted (which I dislike) as opposed to the sector-weighting with SPDV, which will result in a little extra cost due to management.
Summary
What is my viewpoint between DVY and SPDV? If you are looking for an income-focused and low-cost ETF, my vote goes to SPDV. It has lower expenses, a better method (in my opinion) of screening for sustainable dividends using free cash flow yield instead of other metrics such as payout ratio and great sector balancing.
Another point I didn't mention is that when developing factor models (and I do this for a living), simpler is better. The more filtering, screening and factors you play with, the more difficult it becomes to evaluate a system – particularly when it is behaving badly. Again, I have a strong preference for SPDV in this regard with its 2-factor system in the S&P 500 universe. It is simple and effective.
On the downside, the SPDV ETF is fairly new with not much of a track record. But based on the universe it invests in and its transparent and simple methodology, the 'new' factor is of little concern.
I give SPDV a strong two thumbs up if you are that sort of investor looking for higher than average dividends in large-cap stocks with some safety. Perhaps even dividend growth investors who currently invest in such ETFs as SPDR Portfolio S&P 500 High Dividend ETF (SPYD), SPDR Dividend ETF (SDY) or iShares Core Dividend Growth ETF (DGRO) should consider allocating towards this new ETF.
You can read more about the AAM S&P 500 High Dividend Value ETF with this link.