Netflix: 'The New Content King' Is Seemingly Unstoppable
Summary
Netflix is seemingly unstoppable; in addition to being the best performing stock of the last decade, Netflix has already gained 65% in 2018 alone.
With around 120 million subscribers and nearly 50% of total streaming time in the U.S., it's difficult to debate Netflix's status as the king of streaming.
But with an $8 billion content budget this year Netflix threatens to become "the new content king" as well.
The Disney "threat" appears to be significantly overrated.
What to expect from the new content king going forward.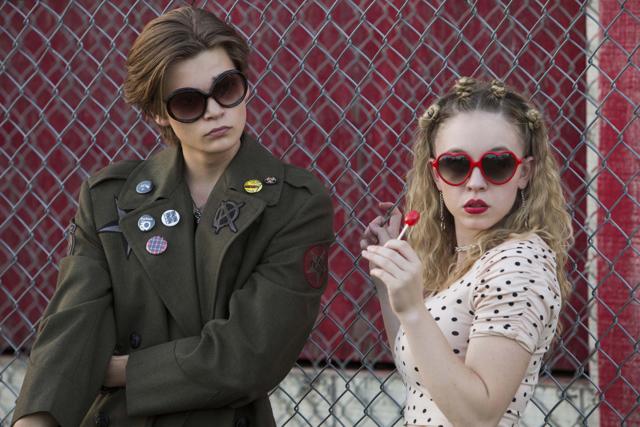 Source: Collider.com
Netflix: Seemingly Unstoppable
Netflix (NASDAQ:NFLX) has been on fire lately and is now up by roughly 65% in 2018 alone. But it's not just lately, Netflix is by far the best-performing U.S. stock of the last decade, yielding an incredible return of around 10,000%. I've been a Netflix subscriber since 2010 and an investor in its stock since 2011. My latest entry into NFLX came prior to Netflix's earnings report when I put out a "Trade Alert" Marketplace article for the company on January 22nd.
I essentially traded in my Microsoft (MSFT) shares to provide room for NFLX in the "technology" portion of my portfolio. Naturally, I am very happy with the tradeoff, as Netflix has gained about 45% over the seven-week period, while Microsoft has remained largely flat. So, what's next for Netflix? Will the stock keep rocking higher? Is a correction in order? Is it time to trade Netflix back in for Microsoft? And what if anything can derail the Netflix train?
Content is King
With about 120 million worldwide subscribers, and nearly 50% of U.S.'s time spent streaming, there is little denying that Netflix is the undisputed king of streaming. Moreover, judging by recent developments, it appears that Netflix is becoming the "new content king" as well. Netflix is investing heavily into expanding its original content library, and it's paying off big. The company has already invested billions, with $6.3 billion spent on content in 2017, and the company plans to invest around $8 billion this year. In comparison, in 2017, Apple invested just $1 billion, Hulu spent about $2.5 billion, and Amazon (AMZN) put up $4.5 billion for content. With the massive time spent streaming advantage, numerous favorable reviews, and 20 Emmy wins, it appears that Netflix may have gotten the most bang for the buck when it came to internet-based content.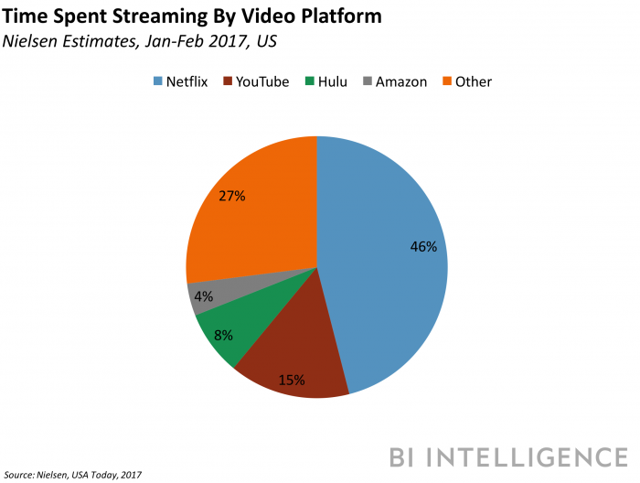 Source: BusinessInsider.com
However, Netflix is not only going after the Internet, with an $8 billion budget in 2018, the company is targeting to better TV's biggest networks. For example, Time Warner's, HBO included total non-sport content budget for 2017 was $8 billion, Fox's total non-sport content budget was $8 billion, and Disney's (DIS) non-sport content budget was $7.8 billion last year.
So, what does Netflix get for its money? Well, the company put out over 100 new hit series and original movies last year, equating to over 1,000 hours of high quality original content. This trend has expanded into 2018 as the company continuously churns out high quality series. New original content such as "Altered Carbon", "Seven Seconds", "Everything Sucks", and many other hit series appear to be a step up from the often-stale competition provided by the TV networks. I think it's fair to argue that while Game of Thrones, Fargo, and others are great shows, HBO, and other major networks are struggling to keep up with Netflix when it comes to putting out a significant number of highly diversified quality shows. This is especially true if we look internationally.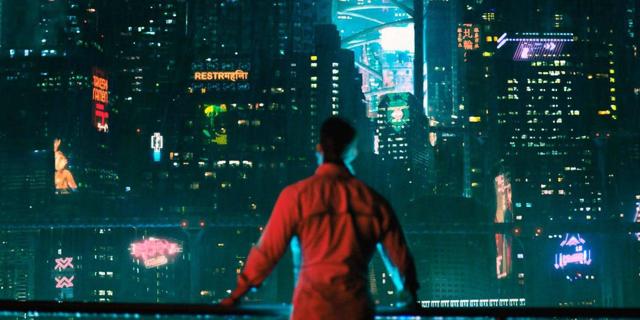 Source: TechCrunch.com
Netflix's International Advantage
Netflix's international subscriptions grew by 6.36 million subscribers last quarter, significantly outpacing estimates of 5.1 million, and growing by a staggering 42% on a yoy basis. International growth is especially key for Netflix as the international market is far less saturated than the U.S. The majority, or about 54% of all Netflix users are outside the U.S. now. It is also important to mention that the 120 million worldwide subscribers Netflix has is a relatively small figure considering the number of people who have access to the internet in the world. In fact, out of the estimated 3.6 billion worldwide users, Netflix's subscribers represent a miniscule 3.3%, which suggests the company has an enormous amount of potential market share to conquer.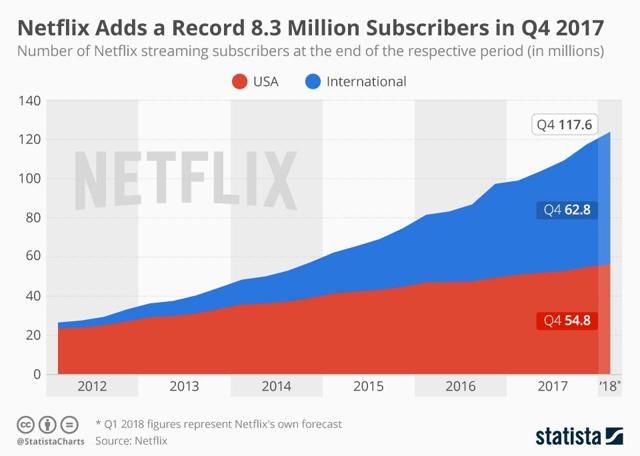 Source: Statista.com
So, how does Netflix expand so effectively outside the U.S.? You would think that Netflix being a U.S. company with predominantly U.S. centered content, it may not experience rampant popularity outside the U.S. Well, aside from offering exclusive, and incredibly innovative U.S.-oriented content, the company also offers an enormous amount of international content. A significant part of Netflix's content budget appears to be wisely aimed at a diversified international audience.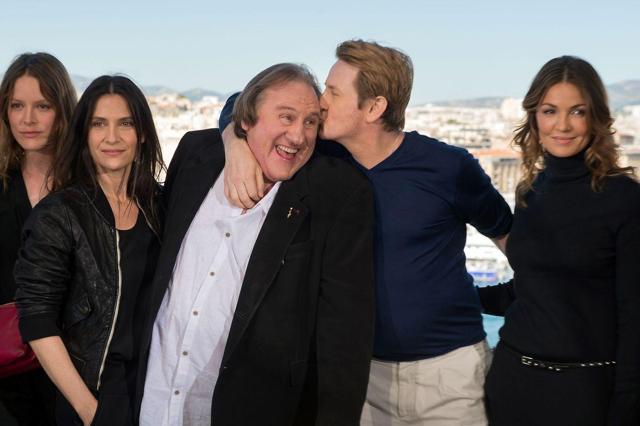 Source: LosAngelesTimes.com
Netflix partners up with enterprises all around the world to produce exclusive content shot in native areas, using popular local actors. There is an increasing number of shows from all around the world populating Netflix's expanding library. France, Germany, Norway, South Korea, Japan, Russia, England, Australia, Mexico, and numerous other regions in the world have their own shows on Netflix, which makes the service much more desirable to subscribe to by local populations.
Disney Threat: Highly Overrated
The "Disney threat" to Netflix appears grossly overrated. Yes, Disney pulled out of its partnership with Netflix. But will I lose sleep over it as a Netflix subscriber and shareholder? No. Perhaps the most significant hit to Netflix will be the eventual loss of its Marvel series, most notably Dare Devil, Jessica Jones, and Luke Cage. These are hit shows that have gained significant popularity, and I will be saddened to see them go. However, it is not clear who this breakup will hurt more Netflix, or Disney. My guess, Disney.
With an $8 billion content budget, Netflix will fill the holes left by the Marvel shows and other Disney content. However, creating such shows and successfully distributing them on a streaming service to 10s of millions of viewers may turn out to be more difficult than people think. Netflix has an established streaming platform with about 120 million subscribers, Disney does not. Moreover, it is not so easy to attract mass subscribers to a streaming plan; just ask HBO. HBO Now, which is HBO's attempt to answer Netflix's streaming service, has roughly 5 million subscribers. Although this is not an insignificant number, it is a long way away from Netflix's 120 million. HBO has been working on its streaming business for about three years, but it doesn't appear to be impacting Netflix's growth all that much, and neither should Disney's streaming service when it launches in 2019/2020.
After all, consumers could easily subscribe to multiple services. Also, it is widely observed that Netflix users are by far the stickiest and most loyal bunch in the industry. Netflix's service continuously enjoys extremely favorable reviews and feedback scores from its users.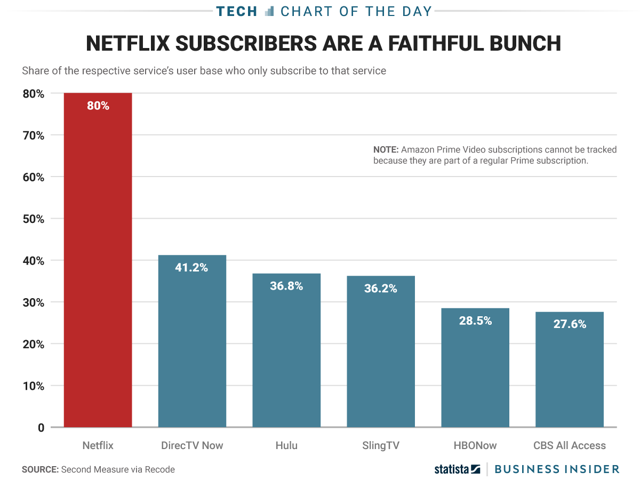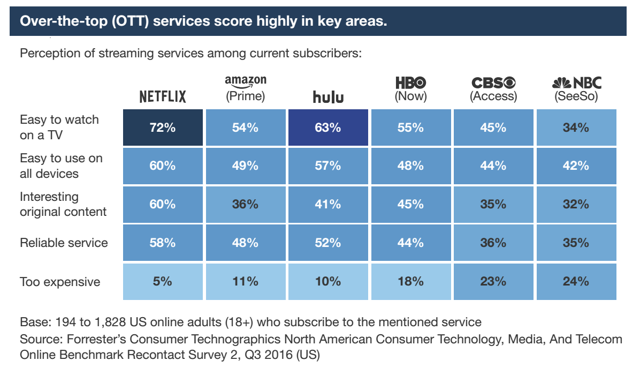 Source: BisinessInsider.com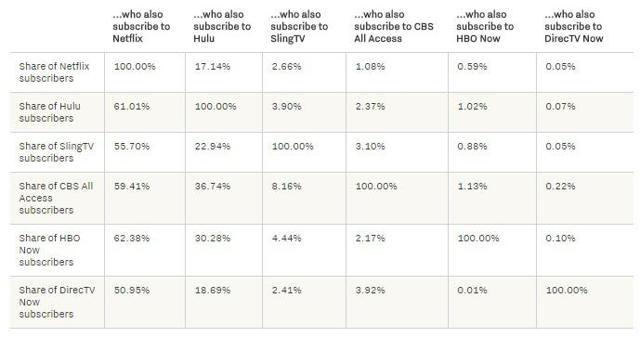 Source: BGR.com
Technical View
With an RSI at 75 and a CCI close to 200, the stock appears to be slightly overbought on a short-term basis. However, the uptrend looks extremely strong, and the stock is supported by significant upward momentum. A short-term pullback to around the $300 level appears possible. However, the overall trend remains strong and suggests the stock should continue its ascending trajectory going forward.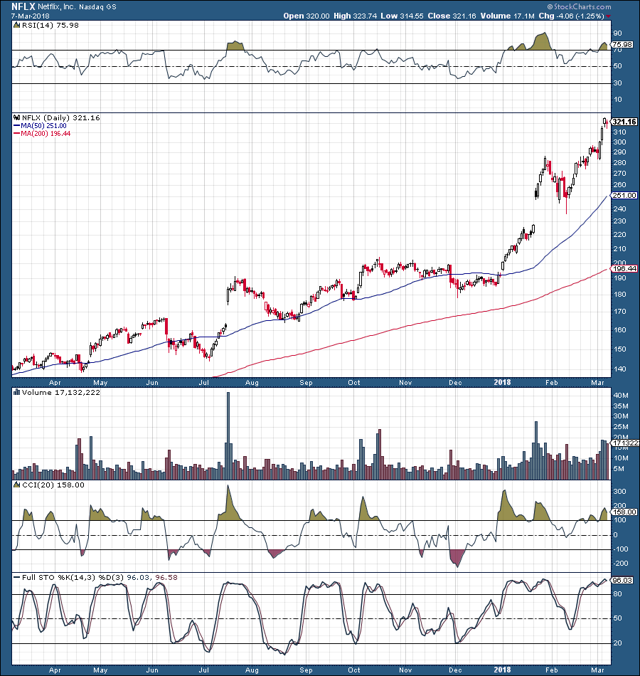 Source: SharpCharts.com
What Could Derail Netflix?
A possible element that could derail Netflix from its path of dominance in the streaming game is a deceleration in subscriber growth. However, this scenario is only likely to occur if a global slowdown or a major recession materializes. Netflix's worldwide subscriptions are still very low at around 3.3% of the addressable market, and significant growth could continue for many years. However, if a global slowdown does occur, Netflix's stock will likely take a big hit as overall risk appetite will be reduced, and Netflix does trade at a very high multiple. Moreover, consumers could cut back on expenses, and streaming could be one of them. Therefore, Netflix will not make for a good stock to hold in a recessionary environment.
Conclusion
In the short to intermediate term, so long as Netflix continues to beat estimates on subscriber growth (and I think that it will), the stock is likely to proceed on its upward trajectory. It is possible that a minor correction to around the $300 level may occur, especially if the broader markets remain volatile. However, a significant decline is extremely unlikely unless a recession or a bear market in stocks materializes. Despite Netflix being "overvalued" by traditional metrics, the stock will likely continue higher as demand should remain robust for its shares.
Demand for shares should remain robust due to Netflix's extremely strong user growth, and user growth should continue to rise because of Netflix's increased popularity, which is being propelled by its increasingly expanding library filled with quality original content. Moreover, continuous user growth should enable robust growth in Netflix's revenues of about 20-30% annually for the next several years (possibly 5-10). Therefore, I remain long Netflix shares despite the sharp run-up in price and plan to continue to hold NFLX throughout the year, maybe longer.
Disclaimer: This article expresses solely my opinions, is produced for informational purposes only, and is not a recommendation to buy or sell any securities. Investing comes with risk to loss of principal. Please always conduct your own research and consider your investment decisions very carefully.
To receive real time updates and get more information about this idea, as well as other topics, please visit the Albright Investment Group trading community. Join us and receive access to exclusive content, trade triggers, trading strategies, price action alerts, and price targets. Theses value-adding features are available only to members of our trading community and are not typically discussed in public articles.
This article was written by
Victor Dergunov is an independent investor and author with 20 years experience. He preaches diversification and shares investment ideas across all market sectors. Victor aims to help readers build portfolios that perform well in all economic conditions.
He runs the investing group
The Financial Prophet
where he covers all market sectors and shares strategies for well-diversified investing. Features include: the All-Weather portfolio, trade alerts, technical analysis, daily reports with his latest updates, covered call strategies, and direct access in chat.
Learn more
.
Analyst's Disclosure: I am/we are long NFLX. I wrote this article myself, and it expresses my own opinions. I am not receiving compensation for it (other than from Seeking Alpha). I have no business relationship with any company whose stock is mentioned in this article.
Seeking Alpha's Disclosure: Past performance is no guarantee of future results. No recommendation or advice is being given as to whether any investment is suitable for a particular investor. Any views or opinions expressed above may not reflect those of Seeking Alpha as a whole. Seeking Alpha is not a licensed securities dealer, broker or US investment adviser or investment bank. Our analysts are third party authors that include both professional investors and individual investors who may not be licensed or certified by any institute or regulatory body.