Does Avadel Pharmaceuticals Have The Potential To 10-Double?
Summary
Avadel has in-licensed a potential blockbuster product.
Noctiva Avadel has an ongoing Phase 3 study for its FT218 compound and a positive outcome could be a major catalyst for the stock.
Avadel already has a cash flow generating in-licensing busines.
Introduction
At present, Avadel (NASDAQ:AVDL) is one of my favorite biotech stocks. And this is because of the combination of these facts:
The availability of several markets' products a high-potential asset in the pipeline (FT218) which is currently in a Phase 3 study the newly in-licensed product (Noctiva) which has a huge market potential.
Dr. Sharma, who I respect a lot, wrote a subscriber-only piece about Avadel. In it, he pitched the Phase 3 for FT218 in narcolepsy as the reason to get into the stock. I don't fully agree with him, and I'll explain why.
Any Phase 3 has 40% failure risk. This rate is for Phase 3 studies that are continuations of positive Phase 2 studies. Now, this is my concern. There is no Phase 2 data for FT218 to show that it is doing what is intended to do. It has a Phase 1 PK study which could work as Phase 2. But considering the fact that the compound is already being used in narcolepsy, we can increase the Phase 3 chance of success to a maximum of 70%.
However, a 30% risk of failure remains. So, I'll go on to say that the ongoing Phase 3 study is a pitfall (risk) rather than a reason to get into AVDL; since if it fails, it will bring down the stock (but not be a determent to the stock price). Kindly check this video where I explain how you should trade the stock and avoid the Phase 3 pitfall.
My aim for buying AVDL is the recently in-licensed product (Noctiva). Why? Because it is already approved, is the ONLY FDA approved product for nocturia due to nocturnal polyuria (no competition), and has a huge potential.
So let's go through each of the aforementioned points to see if Avadel can 10-double.
Marketed Products
Avadel's three marketed sterile injectable products, Akovaz (ephedrine sulfate), Bloxiverz (neostigmine methylsulfate), and Vazculep (phenylephrine hydrochloride) ended 2017 as market share leaders for each of their respective categories. Akovaz and Bloxiverz were both subject to additional generic competitors late in the second half of 2017. In fact, the company expects increased pressure on both share and price as a result in 2018. Avadel's pediatric products showed good growth in 2017 with Karbinal ER showing especially robust growth.
The company expects revenue of about $100 from their marketed products. This isn't exactly a significant amount but it's better than no revenue at all. It gives me the assurance that the company is making money rather than just burning cash. With $100 million in sales, the $300 market cap seems very reasonable. Yet, there's a real opportunity for revenue growth with their other assets and consequently, the share price growth with Noctiva (see below).
Noctiva
Noctiva acquisition ignited my interest in the company. In September 2017, Avadel in-licensed Noctiva, the first and only FDA approved product for nocturia due to nocturnal polyuria. Nocturnal polyuria is the overproduction of urine at night and leads to the condition of nocturia which causes patients to wake two or more times per night to void. Estimates show that nocturia affects approximately 40 million people in the U.S. and represents a large unaddressed and unmet medical need.
Noctiva is the first and only formulation of desmopressin acetate, a vasopressin analog approved by the FDA for the treatment of nocturia. It is a proprietary low-dose formulation of desmopressin acetate administered through a patent-protected preservative-free intranasal delivery system. Interestingly, Noctiva is expected to become available to patients in the second quarter of 2018.
Equally, its commercial launch comes up in the second quarter of 2018 and represents a major catalyst. This is closely tied to the fact that the drug has peak sales potential of up to $750 million (company projection).
FT218 For Narcolepsy
Narcolepsy with cataplexy is characterized by excessive daytime sleepiness due to unrefreshing sleep at night. Sodium oxybate, a hypnotic agent, is used to treat this symptom, and patients are to take it in two doses split throughout the night - half before bedtime and the other half at midnight which is very inconvenient. In spite of the inconvenience, the brand of sodium oxybate, Xyrem (owned by Jazz Pharmaceuticals) (JAZZ) is a blockbuster drug with around $1 billion sales in 2017. And this is because it is the only drug approved for treating narcolepsy with cataplexy.
Remarkably, it'll be a lot easier for patients if they only needed to take sodium oxybate before bedtime as the drug works throughout the night. This is Avadel's target with their Micropump delivery technology. FT218 is Avadel's formulation of sodium oxybate which uses this micropump drug delivery system that extends the half-life of sodium oxybate. Ultimately, it sees that the drug is taken only once before bedtime and provides 7-8 hours of uninterrupted sleep.
Needless to say, it is an impressively convenient option for patients as it provides a significant advantage against Xyrem. Of course, patients don't have to wake up at night to take the second dose.
Drug candidate FT218 is being studied in a Phase 3 study called REST-ON (conducted under Special Protocol Assessment). By the end of 2018, management expects a successful completion of the study and filing of its NDA. Above, I've explained my take on the success of this Phase 3.
Also, on January 10, the company announced that FT218 has received the Orphan Drug Designation from FDA for the Treatment of Narcolepsy. Good news, right?
How About the 10-doubling?
It's not a joke. The stock has the potential to 10-double in a few years if FT218 gets approval and if both Noctiva and FT218 hit their peak sales. Company estimates $750 million sales for Noctiva per year. So, let's be conservative and assume the sales will reach $500 million in a few years. If FT218 is approved, I think it could get 25% of market share of Xyrem (Jazz's product) since it's the more convenient form of Xyrem. Thus, we're talking about revenue of $250 million/year for FT218. So FT218 and Noctiva could add up to $750 million sales per year in 4-5 years.
Some of my colleagues in Seeking Alpha use 7 times sales to calculate market cap but I'll use 5 times sales. Five times $750 million is $3.8 billion which is over 10 times the current company market cap. If Noctiva sales hit $750 million and FT218 takes more market shares, then the market cap could go even higher. In any case, I hope you see my point - there's a great potential for an astronomic price appreciation for Avadel shares.
Stock Performance
In early January, the stock had a nice rally after the company provided a business update and the plan for 2018. The stock pulled back and had a dip after the company announced the convertible loan in late February. Please check this video where I go through the chart and explain how to trade the stock.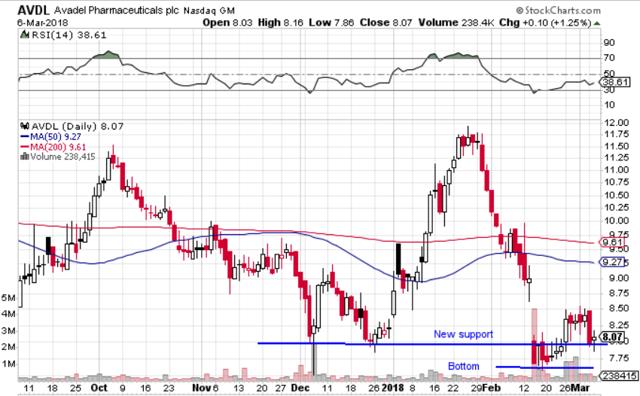 Financials
Due to the generic nature of its hospital business and recent increased competition, the company expects revenues to decline on a year-over-year basis. Likewise, it anticipates generating between $110 and $130 million in revenues for 2018 including $10-$20 million of Noctiva revenues. Hence, in preparation to reach its 2018 strategic objectives, the company expects to invest heavily in both Research & Development and Sales & Marketing.
R&D costs are expected to range from $40 - $50 million, the majority of which will be incurred by the REST-ON trial and subsequent NDA filing. On February 14, 2018, the company announced a $125M offering of 4.50% exchangeable senior notes by 2023 to deliver what they plan for 2018.
In addition, the company has guided for full-year 2018 revenues of $110 to $130 million. This implies stock trading at a cheap 2.5 - 3 times sales. It also reaffirmed the 2017 revenue guidance in the range of $165 million to $175 million.
Risks
One major risk involved is the failure of the FT218 Phase 3 study. However, this failure won't be detrimental to the company and shares, since Noctiva is the revenue generator. Another potential risk is the poor commercialization of Noctiva and difficulties in penetrating the market.
Final Thoughts
Considering the potentials for Noctiva, the financial position, the potential for FT218 success, and the big pull back in the stock after the recent offering, I think it's a great time to get into AVDL.
If FT218 Phase 3 is successful, I won't be surprised if the company gets acquired. Of course, JAZZZ seems like a potential buyer since FT218 is a direct competition to their epic drug.
This article was written by
The opinions are mine and are not intended to be used as a personalized investment recommendation. Please note I am NOT a certified financial adviser."
Analyst's Disclosure: I am/we are long AVDL. I wrote this article myself, and it expresses my own opinions. I am not receiving compensation for it. I have no business relationship with any company whose stock is mentioned in this article.
Seeking Alpha's Disclosure: Past performance is no guarantee of future results. No recommendation or advice is being given as to whether any investment is suitable for a particular investor. Any views or opinions expressed above may not reflect those of Seeking Alpha as a whole. Seeking Alpha is not a licensed securities dealer, broker or US investment adviser or investment bank. Our analysts are third party authors that include both professional investors and individual investors who may not be licensed or certified by any institute or regulatory body.