ECB Drops Easing Bias, EUR Climbs
By Dean Popplewell
As expected by many, the European Central Bank (ECB) has held rates steady, but tweaked some of the language at its monetary policy decision.
The EUR (€1.2423) has rallied after the ECB dropped its easing bias - referring to the option to increase asset purchases under its quantitative easing (QE) program if the eurozone economy deteriorates.
Still, the ECB reiterated that bond purchases "are intended to run until the end of September 2018, or beyond, if necessary."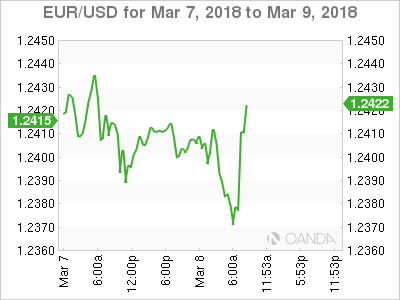 Germany's 10-year Bund yield briefly backed up to +0.70% after the ECB announcement. It had traded at +0.67% before the decision.
ECB President Mario Draghi is due to hold a press conference at 08:30 am EST.
This article is for general information purposes only. It is not investment advice or a solution to buy or sell securities. Opinions are the authors; not necessarily that of OANDA Corporation or any of its affiliates, subsidiaries, officers or directors. Leveraged trading is high risk and not suitable for all. You could lose all of your deposited funds.
This article was written by
Dean Popplewell has nearly two decades of experience trading currencies and fixed income instruments. He has a deep understanding of market fundamentals and the impact of global events on capital markets. He is respected among professional traders for his skilled analysis and career history as global head of trading for firms such as Scotia Capital and BMO Nesbitt Burns. Since joining OANDA in 2006, Dean has played an instrumental role in driving awareness of the forex market as an emerging asset class for retail investors, as well as providing expert counsel to a number of internal teams on how to best serve clients and industry stakeholders.
Symbol
Last Price
% Chg
FXE
-
-
Invesco CurrencyShares® Euro Currency Trust ETF