History is much more the product of chaos than of conspiracy"― Zbigniew Brzeziński
Today, we take a look at small cap concern that is the middle of a transition to what it hopes will be a more beneficial business model. Will this work out for its long-suffering shareholders? Insiders bought a chunk of a recent secondary offering, which is encouraging. We take a look in the paragraphs below.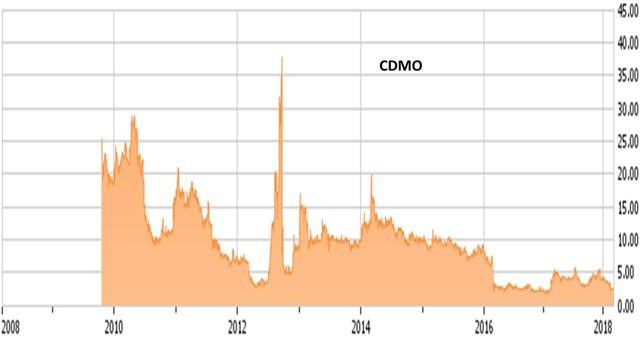 Company Overview:
Avid Biosciences (NASDAQ:CDMO) is a California-based firm that describes itself as transitioning into its new position as a dedicated contract development and manufacturing organization. Consistent with this new focus the company is taking steps to wind down research and development endeavors and expand service offerings in addition to improving manufacturing infrastructure. It previously was known as Peregrine Pharmaceuticals. The shares currently trade for under $2.50 a share and have a market cap slightly south of $150 million.
Management believes the market they are attracting is highly attractive as demand for contract manufacturing to support clinical and commercial scale products continues to trend in the right direction. Valuations of similar businesses have approached 15 to 20 times EBITDA, a clear sign of optimism in the space.
Pipeline:
The firm in its current form offers a wide variety of commercial and clinical stage services which are able to meet clients´ needs as they progress drug candidates from preclinical all the way up to late stage studies and commercialization.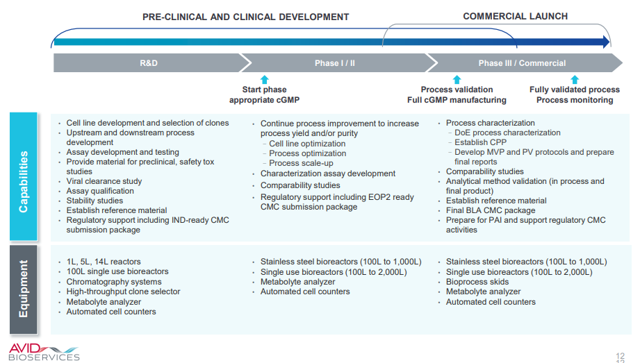 Source: Company Presentation
The company possesses two commercial facilities that have the potential to do revenue exceeding $100 million, the Franklin facility and their Myford facility. The first has been involved in cGMP manufacturing since 1993, has over 12,000 square feet and bioreactors with capacity of up to 1,000 liters. The latter was commissioned in 2016, has 42,000 square feet and single use bioreactors of up to 2,000 liters of capacity.
In early February the company reached an agreement with Oncologie, Inc. to outlicense its phosphatidylserine (PS)-targeting program including bavituximab. For doing so Avid receives $8 million upfront (paid over a period of six months) and remains eligible to receive up to $95 million in development, regulatory and commercialization milestone payments. The partner will remain responsible for research, development and commercialization, while Avid could receive tiered royalties on net sales in the mid-teens.
In late February they closed a secondary offering consisting of over 10 million shares of common stock (includes underwriter option) at a price point of $2.25 per share. Gross proceeds amounted to ~$23 million- the firm apparently didn´t have any trouble getting quality investment banks involved (Wells Fargo Securities, H.C. Wainwright and Roth Capital Partners).
One last bit of encouraging news which bodes well was that the company was selected as the commercial drug substance manufacturer for Enzyvant´s RVT-801 (subsidiary of Roivant Sciences). The drug candidate is a recombinant human acid ceramidase enzyme replacement therapy which is being evaluated as a possible treatment for Farber disease. RVT-801 will be produced at Avid´s Myford facility and the deal adds further credibility to the story here.
In the medium term, their plan is to triple manufacturing capacity at Myford (increase to 6 2,000-liter bioreactor trains). The cost of construction is expected to be around $30 million. As for their regulatory history, the company has had 14 inspections to date and has maintained compliance with the FDA, EU, ANVISA, Canadian Health Authority and Australian Department of Health. Audits by large pharma companies such as Roche and Shire have also yielded successful outcomes.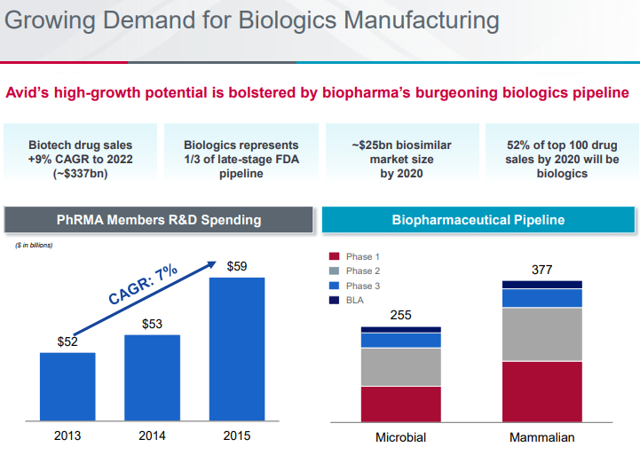 Source: Company Presentation
It should be pointed out that Halozyme represented 58% of 2017 revenues- while there is still concentration risk, it is encouraging that number has come down from 79% in 2015. Avid is the sole manufacturer of human hyaluronidase and joint manufacturer of recombinant human hyaluronidase, another fact that adds even more credibility to the story. As more customers have been signed since January and it appears this trend should continue, customer concentration will continue to fall. The growing demand for in the biologics area should also provide a significant boost to their growth.
A sign that they mean business was the hiring of President and CEO Roger Lias, Ph.D., who has over 20 years of experience in the field. Six new independent directors were elected to the board which also appears to be a step in the right direction. With the hiring of Tracy Kinjersky as Vice President of Business Operations (prior experience at Fujifilm Diosynth) the company has shown it means to significantly strengthen sales and marketing.
Analyst Commentary & Balance Sheet:
Analyst coverage is next to non-existent on the firm at this time. Insiders did add some shares to their stakes during the recent secondary offering, which is encouraging. These included director Mark Bamforth acquiring 50,000 shares on February 15th at $2.25 per share (total value $112,500). Director Jeff McComb did the same while director Joseph Carleone pick up just under 45,000 shares at $2.25 a piece as well.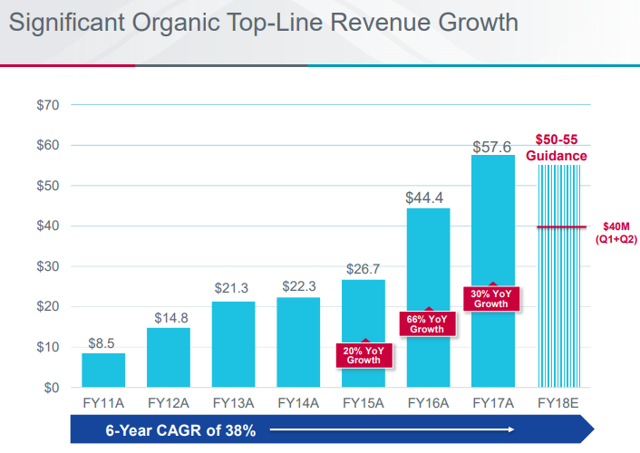 Source: Company Presentation
For the second quarter of 2018 the company reported cash and equivalents of $27.7 million, which was a significant decrease from the $46.8 million reported in the same period last year. Research and development expenses fell substantially to $3.7 million (plans are to wind down all such costs to close to zero). Net loss for the quarter came in at $14.1 million, while contract manufacturing revenue from Avid's clinical and commercial biomanufacturing services totaled $12.8 million (down from $23.4 million for the same period in the previous year). Management gave full year revenue guidance of $50 million to $55 million.
Verdict:
I continue to prefer Adamis Pharmaceuticals (ADMP) to Avid. That concern also has a fast-growing contract manufacturing division, but is not nearly as dependent on one client and should have a partnership deal in place for SYMPEJI which is an approved generic EpiPen competitor in the near future. That said, things do seem to finally be looking up for Avid. I have a small 'watch item' position in the name for the moment pending further developments. I offer this concern up for consideration for aggressive, patient investors within a well-diversified portfolio.
The best kept secrets are those in plain sight" ― George Banister
If you would like to get these types of articles as soon as they are published, just become a real-time follower to the Insiders Forum by clicking here, hitting the big, orange "Follow" button, and selecting the "real-time