In August, I decided to start building an OTC database which should alleviate one of the main problems of the space and that is idea generation. If you found an interesting stock in the OTC haystack, you are halfway there as there is no way to screen the space efficiently.
Thus, by having access to a large database of OTC stocks that run a sensible business and potentially showcase investment opportunity investors should be able to streamline the research process and let the database do some of the work for them.
In my first quarterly review, I showcased why I like the OTC market and why I believe there are valid investment opportunities out there. I believe the sector is inefficient due to several features which are by some perceived as risks or are understood as insurmountable challenges. This creates opportunities for the diligent investor.
This serves as my 'thesis' for working on the database and the associated newsletter which provides investors with research on many of the stocks added to the database.
Via these quarterly reviews, I would like to 'test' the thesis by looking at the underlying performance of all the stocks added to the database.
After the data analysis, I also decided to showcase what I feel are the 'stereotypical' OTC opportunities. This way investors can better understand what drives the performance of some of these stocks.
I am also in the midst of preparing an online presentation (through a live stream) about my experience in the OTC space. If you are interested in attending, please sign up for a mailing list which will announce the details of the event.
Data Analysis
The first quarterly review has supported my original OTC thesis that the market is a valid place to search for interesting and actionable investment opportunities. There was a material amount of companies going up with sufficient volume and relatively straightforward catalysts. There was also an immaterial amount of stocks that went down. The second quarter is no different.
Before delving into the data, please read the following disclosure;
The performance of the stocks is not

a performance of an actual real-life portfolio. The performance merely represents share price movement. Actual results might vary due to the different level of liquidity for each stock. In some instances, the movement in price is the only trade so far. But more often than not, the shares are relatively liquid and thus the data set represents a good starting point.

Also understand why I have not included tickers, share price or precise date of addition. My newsletter is paid and thus I have to hide all information that could show which stocks I am referring to. I only showcase companies that were acquired or that I talked about in public. The volume is from the past 30 days of trading. The price performance is calculated from the day of the addition and I used closing prices for the data points.
The volume ranges are the following;
$0 - $5,000
$5,000 - $10,000
$10,000 -$50,000
$50,000 - $0.1 million
$0.1 million - $0.5 million
$0.5 million - $1 million
$1 million - $10 million
$10 million and above

I have made several stocks visible. They were either acquired (OTCQB:IHRC), (OTCQX:DTRX) (OTCPK:ASHG), (OTCPK:HRZCA) or I have talked about them on Seeking Alpha in my 'Obscure Stock of the Week' series (OTC:PRAC), (OTC:GLUX), (OTC:WXMN), (OTCPK:VPGI), (OTC:TAUX), (OTC:MAKE) or I published my bullish reports on the stocks and made them public which is the case with Inkjet (OTCPK:SORT) and Gainsco (OTCPK:GANS).
I have also unveiled (OTC:IGOI) and (OTCPK:MAAL) as part of my showcase of what a usual newsletter report looks like. The rest remains hidden.
Starting with a general overview of the still active stocks, I would point out that 155 stocks, or 53%, had traded volume bigger than $50,000 in the past 30 days. I would say that this shows that illiquidity might not be such an issue if one's portfolio is adaptable to OTC stocks. 124 stocks, or 42%, recorded volume larger than $0.1 million which I would call sufficient volume for the bigger OTC portfolios out there.
There were more stocks that recorded a positive performance (156 stocks) than went down (101 stocks), and if this was an equal-weighted index (which is nearly impossible), it would register a positive performance of 13.42% in the past six months.
Now to efficiently comment on the viability of the stocks that went up, I chose to dissect the stocks that went up more than 20%.

Only 12 of the stocks are dark (i.e. do not provide public financials) which might present issues for investors to buy the stocks, be it because of volume or the lack of information. Note that if I do not have the financials of the stock myself, I always try to point out at least some public fundamental data which should serve as an indicator that at least one share of the dark stock might be worth owning.
I should also mention that one stock (A25) was added to the database as a short candidate. This is the only stock in the whole database that I would describe as a short opportunity. Shorting is something that I believe is interesting but extremely challenging in the OTC space; thus, I am not going to focus on these stocks just yet. I also do not count the company when featuring the number of stocks that went up etc.
Volume-wise you can clearly see that material amount of stocks had interesting trading volumes. 44 stocks or 65% registered volume higher than $50,000 in the past 30 days.
I would conclude with the assertion that the stocks that have gone up and had sufficient volume were also picks where the upside was visible and the subsequent move made sense. This is obviously a subjective argument potentially fraught with many biases, but the only thing I want to say with this is that randomness in the OTC space might not be that common as investors might think. One can scrutinize SORT and GANS reports to see exactly this.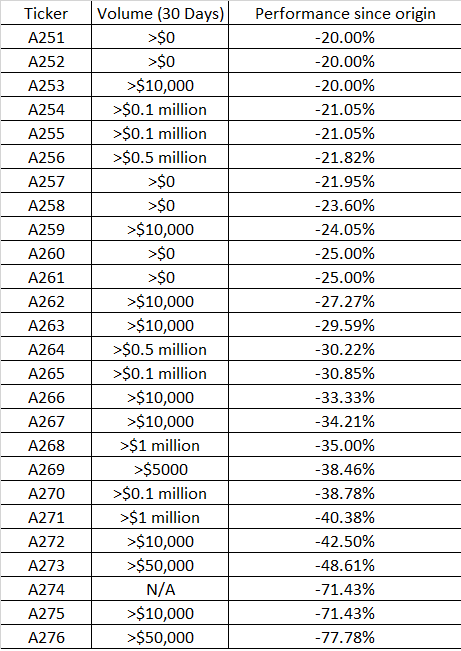 5 companies are dark and two are behind their SEC filings requirement. The worst performer was a risky proposition as it included a binary investment thesis thus the expectations were quite clear. The second worst performer was the same. I wrote about the stock (due to discount to tangible book) and mentioned that it would be beneficial to track the stock closely or enter only a speculative position. A268 is down because this is a liquidation play where the distributions lower the stock price.
Excluding A268 and the worst performer, there were 8 stocks with sufficient volume (over $50,000 in the past month); however, several of these companies were risky due to the nature of their balance sheet which would likely prevent investors from accumulating a significant position. A270 is also a peculiar royalty-based trust which has relatively clear risk/reward thesis. A255 is a 'patent troll' and A256 is again a royalty-based investment. The relatively illiquid rest is a mixture of these companies.
I would conclude that the worst performers are by no means stocks where investors would not be able to identify the risks connected to holding such position. Again, this is subjective and I can be prone to many biases.
These two groups then would suggest that part of the stocks that went up were valid investment opportunities (due to volume and possibly due to fundamentals), while the stocks that plunged exhibited clear investment risks in the first place. This would support the thesis that OTC is a space where you can find valid investment opportunities.
I would further support this by looking at the groups of stocks that appreciated more than 10% but not more than 20% and vice versa in the negative territory.
Starting with the positive performers below, you can see that 27 stocks or 77% had material volume (>$50,000).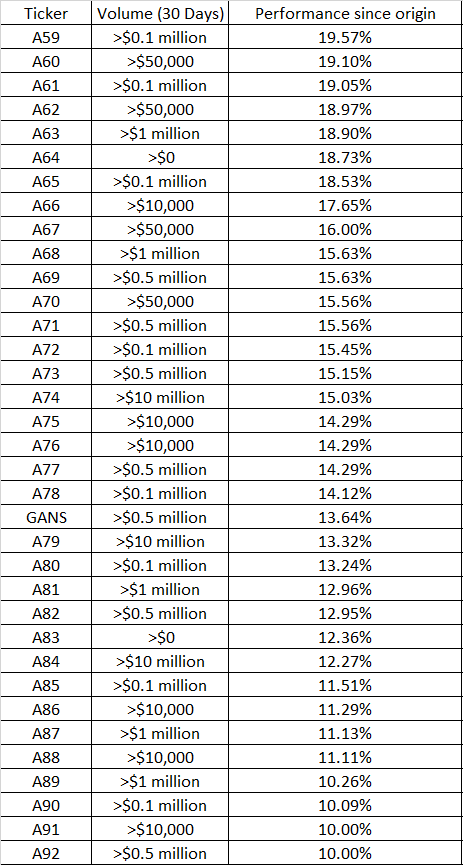 On the other hand, the negative performers were 'illiquid' in comparison, as only 10 stocks or 38% had the volume larger than $50,000.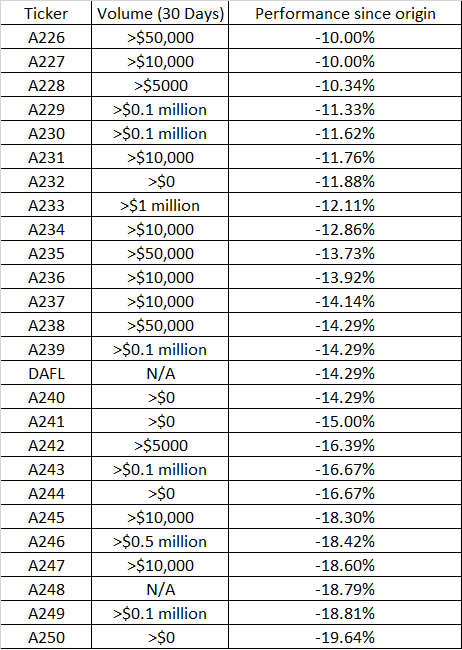 Lastly, I would add that a similar result might not occur on the listed side. One might think that if I were to do this at the listed side, I would come up with a similar result especially in the market environment in the past few months (i.e. more positive then negatives and downside could be protected by shying away from obviously risky stocks).
However, the point here is that there is no easy way to replicate the discovery process that happens in the OTC and OTC stocks are unique in many ways.
Going A to Z on an exchange is unlikely to yield the same type of stocks. The reason for this is the data fragmentation of the OTC space and the lack of efficient screeners available.
Type of opportunities in the OTC market
On top of the data analysis, I decided to provide investors a glimpse of several types of opportunity so that they could better understand the performance of some of the stocks in the database.
Please note that I am not saying that every meaningful OTC stock can be put into these types and that the strategies are somehow guaranteed to work. It is always important to understand the context of the stock through thorough due diligence.
Unknown but valuable businesses
I would say that the most common type of opportunities is tied to businesses that are, simply put, unknown to other OTC investors.
Due to the sheer scale of the OTC market and the factors that prevent efficient screening, it is easy for OTC investors to miss out on stocks that are otherwise undervalued.
An excellent example of such business is Gainsco about which I wrote recently on Seeking Alpha. This is a non-standard car insurance that is trading at a slight premium to tangible book while it is able to generate a significant amount of cash flow. This cash flow stream has also been sometimes used to pay dividends in the past. The insiders also have a formidable track record in managing the business. Their profitability is relatively stable despite the volatile nature of the underlying market.
I have not found any reason that would imply why the current valuation should be a reasonable one. Thus, I believe that the valuation is present due to the fact that even some of the more seasoned OTC investors did not know about the stock when I ran it past them. That is despite the fact that the company's shares have doubled in the past two years. In 2015, the stock was trading at an even more obscene undervaluation.
Although it is no wonder that people might not know about the stock as it is labelled as 'Dark' on OTCmarkets.com. Thus, some investors might believe that they are not providing public reporting. However, if one scrutinizes the website of GANS, he/she finds that they are regularly publishing audited annual results of the consolidated entity and quarterly results of the insurance subsidiary, which is the main source of revenue.
In this type of opportunities, the catalyst is usually either shareholder-friendly management or the fact that other investors will get to know about the stock. The latter usually happens at some point in the future.
This type of opportunity is also one of the key arguments for the value of my database.
A relatively close 'cousin' of the unknown OTC stocks is a type of opportunities tied to businesses that have a large shareholder who does not seem to be interested in unlocking the value of the business. These stocks might be on the radar of investors but perhaps they are shunned because people feel that waiting for a return is like 'watching paint dry'.
However, a lot of times the value present in these stocks (most of the time it is the tangible book value) is unlocked eventually, usually through an outright sale of the company. I have witnessed quite a few of these stocks already.
Perhaps notable is Investors Heritage Capital, an insurance company that was controlled by the founding family. It was eventually acquired for 140% premium last year, but before that was trading at significant discount to tangible book while it was able to remain profitable and generate material cash flow. There was no reason for such undervaluation apart from the fact that the 'catalyst' for share appreciation was not visible.
Investors might say that the 140% upside is attractive but that some shareholders might have been waiting for this to happen for ages. Even if one has held the stock for ten years, the return still roughly matches S&P 500 historical average of around 9% per annum.
A more recent case that has shown even larger upside is Horizon Telcom, a relatively small RLEC operator, which again was controlled by a founding family. Prior to the acquisition, which eventually forced the shares to jump over 700%, the business has been trading at almost half the tangible book which was visibly understated (real estate and deferred revenue). Now it is valued at five times that. A side-note, investors were able to make a profit even after the acquisition notice.
Once again, investors might have concluded that this stock is going nowhere as the management did not seem to be actively looking to unlock the value.
Paradise Inc. (OTCPK:PARF) can be a good example of a similar stock that has yet to fully unlock its value. This company focused on producing candied fruit, a market in which it has near-monopoly, is again controlled by a founding family. However, as I pointed out in this SA article, I believe that this was not a reason for the stock to be valued at a price below NCAV.
It seems that the management is now close to unlocking the value as they have mentioned that they are looking for strategic alternatives.
I would also mention that it is likely that the overall OTC market is shrinking or at least companies that operate reasonable businesses are getting bought out as they usually are better off in private hands.
A slightly different type of opportunities stems from the fact that there are not as many investors in the OTC land as on the listed side. Thus, competition is smaller and investors can find stocks that have undergone an important fundamental change which was not yet accounted for by the market.
One of the recent example can be Inkjet, a company that has in September 2017 announced that it is looking to sell one of the two subsidiaries it owns. The stock reacted relatively appropriately by jumping 100%. However, just a few days afterward, the stock has plummeted back to levels before the acquisition news.
Thus, investors were able to snap the shares at obviously undervalued prices. Once the sale closed, the stock shot up more than 100% again, and thus, investors were able to flip the shares into the rally. Thus clocking in impressive profits.
I wrote about the stock before it showcased for how much it sold the subsidiary where I stated that I kept some leftover shares as there could be more upside. Unfortunately, the subsidiary was sold for a modest amount. While it did not really push the share price up much more, it certainly did not present downside risk for the current shareholders. Especially since the leftover subsidiary seems to grow in a relatively stable manner.
I would also note that GeoInvesting has been doing well following this type of opportunities.
Complex or Obscure Situations
One other niche that I am personally a big fan of is investments that are relatively challenging to understand. Be it that the entity is only tied to a legal situation, the business nature is unusual or that the entity is undergoing bankruptcy proceedings.
There are plenty of such stocks out there, but they are usually shunned by other OTC investors because they are not interested in figuring out the situation. Due to this, the situations can also be relatively unknown.
An example of such an opportunity might be Fund.com (OTC:FNDM). This entity was previously run by a fraudulent management which mismanaged the assets of the company (among which was ownership of the URL - fund.com). Then came an activist OTC investor, Thomas Braziel (who was also behind the legendary Ethanex investment) and started to clean up the company. He started to sue the previous management for the URL asset and also took control of the other outstanding litigation connected to a dispute that the fraudulent management had with a third-party.
He was successful in settling the dispute which put a significant margin of safety inside the stock. The potential upside now rests on the URL litigation.
The analysis of this stock then rests on having a view on the litigation process which can be a complex exercise.
Another example of an obscure entity could be Mills Music Trust (OTCPK:MMTRS), a royalty-based trust that derives its value from a portfolio of songs from the 1920s and 1940s. It receives royalties which it then pays out. It has been doing so even during the 21st century which might seem unlikely, but given the cultural significance of some these songs, it might be that the company is going to pay out similar dividends in the years ahead. The stock even appreciated materially since my initial report.
I believe that the aforementioned types are only a part of a larger group of OTC opportunities that can result in a profitable investing strategy. For example, community banks are a standalone sector in the OTC market which can yield interesting results. Just look at Takeout Portfolio of CompleteBankData (Nate Tobik) from 2016. There are also smaller opportunities such as insurance companies or local telecom companies.
If you are interested in hearing more about the OTC stocks and the opportunities that exist in the market, do not forget to sign up for the mailing list that will let you know about the upcoming presentation.
Conclusion
As can be seen in my dataset, more stocks have traded higher than lower and there were plenty of stocks that had a material amount of volume. I also suggest that the randomness of the share price was low.
This is clearly positive and supports the thesis that OTC is a sector with valid investment opportunities, but nonetheless one must exert extreme diligence when looking into the space.
I also showed that there are quite a few stereotypical OTC opportunities which can turn into profitable strategies if one has a good coverage of the whole OTC space.
With that in mind, I repeat the fact that OTC stocks are unique and are not suitable for every investor. They are especially not suitable for investors that are not willing to do their own due diligence and that do not understand the risks connected to volume and corporate governance.
Lastly, I hope that you enjoyed this rather lengthy account of my experience with OTC stocks. I will try to update the arguments and the dataset on a quarterly basis. I will appreciate any sort of feedback that you might have about this report, my database or newsletter.
Editor's Note: This article covers one or more microcap stocks. Please be aware of the risks associated with these stocks.