February Dividend Income Report
Back in September 2017, I received slightly over $100K as a result of the commuted value of my pension plan. I decided to invest 100% of this money into dividend growth stocks. Each month, I publish my results. I don't do this to brag; I do this to show you it's possible to build a portfolio during an all-time-high market. The market will crash… eventually. In the meantime, I'd rather cash some juicy dividends!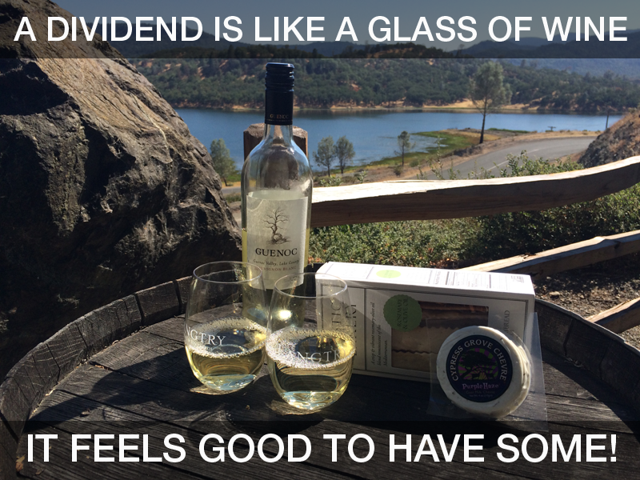 Portfolio holdings
Since last month, my portfolio is running full speed as I'm fully invested. In fact, I'm currently gathering dividends in both accounts. I have about 1% in cash, the rest are busy making money.
Canadian portfolio (CAD):
| | | |
| --- | --- | --- |
| Company Name | Ticker | Market Value |
| Alimentation Couche-Tard | ATD.B.TO | $5,348.34 |
| Andrew Peller | ADW.A.TO | $7,063.30 |
| Royal Bank | RY.TO | $6,012.60 |
| Canopy Growth Corp | WEED | $5,385.35 |
| Enbridge | ENB.TO | $4,488.00 |
| Fortis | FTS.TO | $4,137.21 |
| Lassonde Industries | LAS.A.TO | $5,189.72 |
| Magna International | MG.TO | $4,811.79 |
| Shopify | SHOP.TO | $6,976.79 |
| Cash | | $779.85 |
| Total | | $50,175.24 |
My Canadian holdings took quite a hit over the past 2 months. First, FTS is a victim of the rise of interest rates. I'm not surprised and I hold this company mainly for its current higher dividend. The short-term noise doesn't bother me at all. My other high yielding stock, Enbridge (ENB), is also not doing so good. Then again, the whole pipeline industry has been hit as many think it will have to pass the U.S. tax reform gains to clients. Plus, Enbridge's large debt scares lots of people. In the meantime, ENB announced a dividend 10% higher. I've had a crazy ride with Canopy Growth (TWMJF), but I expected no less!
However, my portfolio is still up by 7% compared to my purchase price mainly because of the success of Andrew Peller (OTCPK:ADWPF) and Shopify (SHOP). ADW is set for another year of growth where I just happened to buy SHOP in a good timing (right after the Citron's report back in October).
U.S. portfolio (USD):
| | | |
| --- | --- | --- |
| Company Name | Ticker | Market Value |
| Apple | AAPL | $5,411.67 |
| Disney | DIS | $4,582.80 |
| Gentex | GNTX | $5,273.40 |
| Hasbro | HAS | $4,345.84 |
| Honeywell | HON | $4,720.55 |
| Lazard | LAZ | $5,404.98 |
| Microsoft | MSFT | $5,543.40 |
| Starbucks | SBUX | $4,757.02 |
| Texas Instruments | TXN | $5,316.00 |
| United Parcel Services | UPS | $3,922.00 |
| Visa | V | $5,991.00 |
| Cash | | $884.68 |
| Total | | $56,156.05 |
My U.S. portfolio is full of strong performers. I have two companies showing over 20% return (excluding dividend): Lazard and Microsoft. Plus, I also have Gentex and Texas Instruments at +17% and +18%, respectively. This portfolio is up by 9% since I started it (dividend excluded).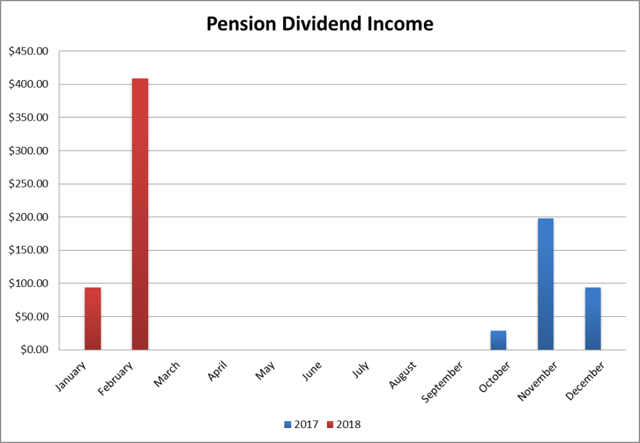 No transaction… Kinda boring...
I know, this is probably the "worst" part of being a dividend growth investor; once you made your purchase, all you have to do is wait and count your money! Hahaha! Speaking of which, I received lots of money this month.
Dividend income: $408.75
When I reported my first dividend income report in October, I completely forgot the dividend that was paid in USD. I realized that now since I received both CAD and USD dividend this month. Therefore, from now on, I will post the dividend received by each company in their currency, but use a total dividend payout in CAD. The conversion rate will be mentioned at each time for transparency purposes.
Canadian Holdings payouts: $54.60 CAD
Royal Bank: $54.60
U.S. Holding payouts: $276.68 USD
Lazard: $174.43
Starbucks: $25.50
Apple: $19.53
Hasbro: $26.22
Texas Instruments: $31
Total payouts: $408.75 CAD
*I used a USD/CAD conversion rate of 1.28.
This is a record month since I started my portfolio. This could be explained by two different factors. First, Lazard paid its special dividend. This is a one-time event that may not reproduce in the future as this dividend is paid based on performances. Second, the USD is currently stronger (1.28 vs. 1.22 during my last update). I'm not trying to make my dividends look better; I'm simply using the conversion rate of the day provided by my broker. Since I started this portfolio, I have received a total of $822.16 in dividends.
Final thoughts
I don't know about you, but I barely felt the market drop from last month. My portfolio rapidly got back on track while I was cashing my best dividend month so far. In fact, I don't really mind where the market is going as my dividends will always go up!
In March, my goal will be to take the time to call my broker and start dripping some of my stocks. Since it's impossible for me to add money to this account (it is locked), I might as well make sure most of my cash is invested at all times!
This article was written by
My name is Mike and I'm the author of The Dividend Guy Blog & The Dividend Monk along with the owner and portfolio manager here at Dividend Stocks Rock (DSR). I earned my bachelor degree in finance-marketing, own a CFP title along with an MBA in financial services. Besides being a passionate investor, I'm also happily married with three beautiful children. I started my online venture to educate people about investing and to be able to spend more time with my family. I started my career in the financial industry back in 2003. I earned several promotions along with a good pile of diplomas. I had lots of fun working with clients in private banking for half a decade, but thought I could do more with my life. In 2016, I decided to take a leap of faith and left everything behind to travel across North America and Central America with my family. We drove through nine countries and stayed three months in Costa Rica before returning home. This was an eye-opening adventure that led me in 2017 to quit my job in the financial industry and pursue my dream; helping others with their personal finance through my investing websites. You just found the reason why I quit my suit & tie job!