Predictable Non-Residual Seasonality
Mar. 09, 2018 12:32 AM ET
SPY, QQQ, DIA, IWM, VOO, SH, SDS, TZA, TNA, IVV, SSO, TQQQ, SPXU, UPRO, SPXL, RSP, CRF, SQQQ, SPXS, PSQ, VFINX, USA, QID, QLD, UDOW, DOG, DXD, UWM, SDOW, SCHX, ZTR, DDM, TWM, URTY, VV, RWM, EPS, SRTY, VTWO, QQQE, QQEW, FEX, ILCB, BXUB, EQL, SPLX, EEH, SPSM, SPUU, QQXT, BXUC, SFLA-OLD, IWL, SPDN, SPXE, SPXT, FWDD, EDOW, OTPIX, SYE, JHML, PPSC, PPLC, SMLL, UDPIX, GSEW, SPXV, ESGL, HUSV, RYARX, SPXN, CHGX, DMRL, YPS, SCAP, USSD, DUSA, USMC, USWD, BIBL, OMFS, PMOM, RYRSX
2 Comments
Our contention behind "residual seasonality" has always been that there is no residual, but to some extent an understandable and easily explainable, seasonal issue. Each Q1 appears to be unusually weak because, well, it is unusually weak. The reason is simply Christmas. Americans splurge for the holiday and then spend the first several months of the following year to some degree regretting it.
It's all the worse given that the splurge part has since 2011 been stretching the word to a significant extent. It pertains only to the degree which consumers spend with respect to their individual budgets, these constraints that are tied to non-existent income growth. That's what makes the backlash each Q1 so frustratingly weak.
The influence and appeal of revolving credit in this process is a relative latecomer. Starting in the middle of 2015, aggregate reported revolving credit balances began to rise just in time for that Christmas. A data discontinuity in December 2015 renders any analysis along these lines for that particular year moot.
There was in November 2016, however, a large increase in revolving balances, followed by a smaller one the following month. Starting in January 2017, however, revolving credit balances plummeted, and for a second month last February, therefore suggesting that our arguments for residual seasonality may have held for the very weak Q1 last year.
As noted over the past several months, the Federal Reserve reported massive increases in revolving credit for both November and December 2017 - just in time for last year's holiday shopping period. Given that income growth has been continuously weak since the 2015-16 downturn, those historically large increases would appear to have been in response to lack of wage gains and income growth in still keeping with the intent to splurge as much as possible for Christmas - and the inability to do so on earned income alone.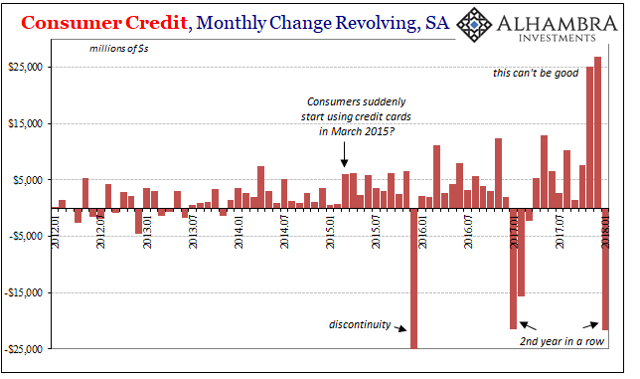 The Fed's consumer credit update yesterday shows us what we have expected, namely that in January, revolving credit balances have declined by a huge amount. Similar to January 2017, the apparent drawdown in revolving credit fits with economic weakness recorded in PCE estimates, retail sales, as well as, importantly, the overall the Personal Savings Rate.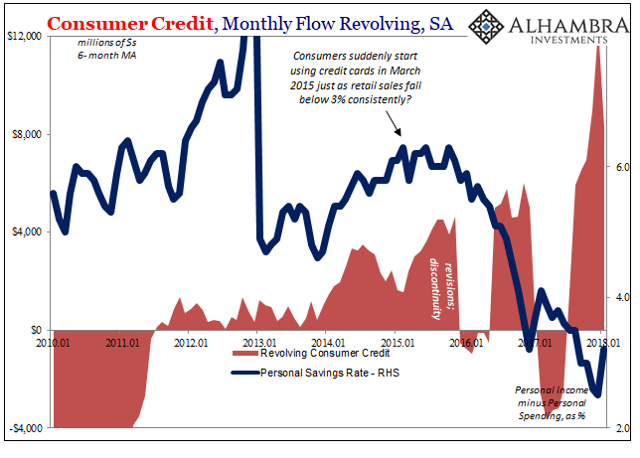 As you would expect, if Americans have been using consumer credit as an increasing supplement to weak income growth, the savings rate would fall as an overall indication of that deficiency. It would contrarily rise in any particular month where revolving balances were paid down and new draws on credit lines were eschewed by overextended consumers. The bills come due, and the results are predictably nothing like an economic boom.
Not residual seasonality, then, but still weak economy Christmas regularity.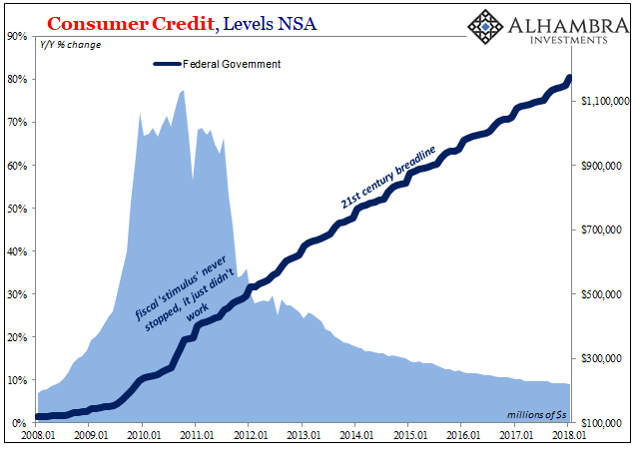 In terms of non-revolving credit, overall balances rose sharply, by more than $30 billion in January from December (seasonally adjusted). That does not, though, represent a rapid expansion in this form of consumer debt, rather it is simply the regular January pay-up for whatever it is the federal government does in the sector these days (student loans, mostly).
Credit card delinquency rates for smaller bank issuers have risen noticeably over the past year. Non-bank issuers of consumer credit, both revolving and non-revolving, have been scaling back issuance during that time. Though nowhere close to definitive, it is, and has been in the past, one of the more pertinent cyclical indicators. Banks, as is typical, won't have any idea a peak is passed until long after it has passed.
This article was written by
As Head of Global Investment Research for Alhambra Investment Partners, Jeff spearheads the investment research efforts while providing close contact to Alhambra's client base. Jeff joined Atlantic Capital Management, Inc., in Buffalo, NY, as an intern while completing studies at Canisius College. After graduating in 1996 with a Bachelor's degree in Finance, Jeff took over the operations of that firm while adding to the portfolio management and stock research process. In 2000, Jeff moved to West Palm Beach to join Tom Nolan with Atlantic Capital Management of Florida, Inc. During the early part of the 2000′s he began to develop the research capability that ACM is known for. As part of the portfolio management team, Jeff was an integral part in growing ACM and building the comprehensive research/management services, and then turning that investment research into outstanding investment performance. As part of that research effort, Jeff authored and published numerous in-depth investment reports that ran contrary to established opinion. In the nearly year and a half run-up to the panic in 2008, Jeff analyzed and reported on the deteriorating state of the economy and markets. In early 2009, while conventional wisdom focused on near-perpetual gloom, his next series of reports provided insight into the formative ending process of the economic contraction and a comprehensive review of factors that were leading to the market's resurrection. In 2012, after the merger between ACM and Alhambra Investment Partners, Jeff came on board Alhambra as Head of Global Investment Research. Currently, Jeff is published nationally at RealClearMarkets, ZeroHedge, Minyanville and Yahoo!Finance. Jeff holds a FINRA Series 65 Investment Advisor License.