Fastenal (NASDAQ:FAST) continues to carry what appears to be an elevated price tag, but it seems to always trade at an elevated multiple of its earnings, barring a major recession. Tax-reform has shifted the picture a little, however, especially considering the company's relatively high tax rate. This is a tailwind that the company can ride into its fiscal 2018, and also provides some relief to its P/E ratio - as the "E" in P/E is likely to automatically increase just from the tax savings.
Domestic focus provides more benefits than just taxes
The firm also looks like a good play on a potential ramp up in domestic US infrastructure spending, as well as construction. Its end markets are perfectly positioned for manufacturing growth as well.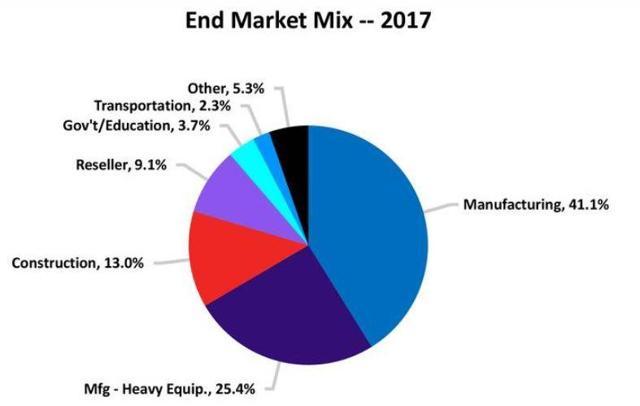 Source: FAST 2017 Q4 earnings call slides
Fastenal's national reach likely gives it a competitive advantage due to scale, but in recent years, its store count has actually been declining. While this appears to be a worrying trend at first glance, the company has been more focused on expanding its total "in-market" locations by expanding its onsite locations.
Taking its declining public branches but increasing onsite locations together, its total presence through a combination of both is actually increasing:

Source: FAST 2017 10-K
One of the company's guiding principles is getting closer to the customer (it does mostly business-to-business sales), which it's traditionally done through its branch network. The company explains in its 10-K that:
In our view, this [expanding its branch network] has proved to be an efficient means of providing customers with a broad range of products and services on a timely basis. These branches have represented, and continue to represent, the foundation of our service approach. However, we are constantly evaluating the efficacy of our branch network, and in recent years, we have developed additional models that get us still closer to the customer, including vending, bin stocks, and Onsite locations.
The company defines an "onsite location" as a "dedicated sales and service provided from within, or in close proximity to the customer's facility." This gets the company as close to the customer as possible, and establishing these closer relationships (along with specialized expertise and service) could actually help insulate it from emerging threats like Amazon (AMZN) Business long term.
Return on invested capital analysis
Fastenal earns economic profits (aka excess returns), by generating return on invested capital, or ROIC, in excess of its overall weighted-average cost of capital, or WACC.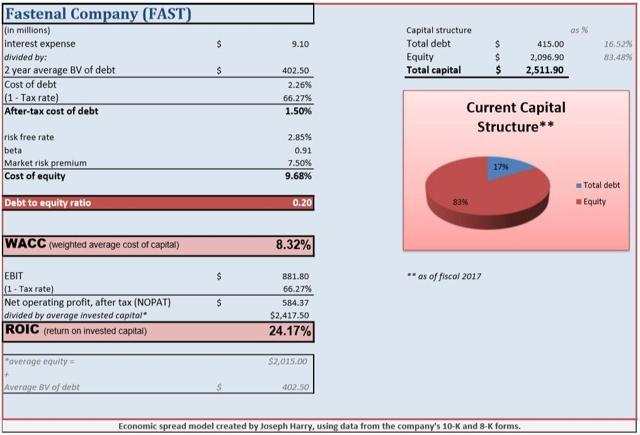 This is its moat embedded in the numbers, and I expect its ROIC will continue to expand next year as a result of a lower effective tax rate (which was almost 34% in fiscal 2017).
I think the company's source of a moat has traditionally been its wide-reaching branch network, which I think will continue to face competitive pressures, especially from Amazon. This is why I think that the company's increasing focus on shifting its mix to more onsite locations is a wise move.
This gets it even closer to its customers, and provides differentiated, "sticky" services that can't be easily duplicated by online competition (which doesn't provide the same level of direct knowledge and expertise that Fastenal does).
The company is also investing in initiatives such as inventory placement at its branches that will improve its same-day capabilities, for instance. This includes, according to the company in its 10-K, "selling (in-market and otherwise) and non-selling (engineering, product specialists, manufacturing, etc.) employees, we offer a range of capabilities that is difficult for large and small competitors to replicate."
I think that Fastenal needs continuing focus on its relationships and "closeness" to its customers to keep its moat in place, and its level of service will continue to be key going forward. The traditional, public branches might not continue to expand like the onsite locations, but they will still be instrumental for the company to maintain a robust service network that smaller entrants can't easily duplicate.
Conclusion
I think Fastenal is a wonderful business, where service (as well as closeness to the customer), specialized expertise, and efficiency are all contributing factors that blend with its unrivaled national scale to give it a moat around its economic castle.
I think that its moat is one that needs to be constantly protected, however, and a lapse in the company's standards of service and/or its efficiency also needs to be constantly monitored, in my opinion. In other words, I don't think it's a business that "any idiot could run," but as long as it sticks to its core competencies I see it remaining an above-average operation. A price-tag close to 30 times earnings is also probably too high for a cyclical company such as this one, despite its high quality.
If you enjoyed this article and would like to receive further updates and articles in the future, please feel free to hit the "Follow" button at the top of the page next to my name.