DAX Gains Ground On Dovish Draghi
By Kenny Fisher
The DAX index has posted slight losses in the Friday session, after sharp gains on Thursday. Currently, the DAX is trading at 12,320.00, down 0.29% since the Thursday close. On the release front, German industrial data continues to disappoint. Industrial Production declined 0.1%, missing the estimate of 0.6%. This marked the fourth decline in the past five months. In the US, the focus is on employment reports. Wage growth is expected to tick lower to 0.2%, while Nonfarm Payrolls are forecast to improve to 205 thousand.
The ECB didn't change the benchmark interest rate, which remained pegged at 0.00%. Still, the Thursday meeting had plenty of drama, as policymakers removed a long-standing clause known as 'easing bias', which stated that monthly asset purchases could be increased if economic conditions were to worsen. The removal of easing bias can be seen as a small step towards winding up the asset program, which is scheduled to end in September.
However, Mario Drahgi dampened the party, saying that eurozone inflation could remain subdued, so the Bank's monetary policy would remain 'reactive'. Investors took the comments as a sign that the ECB is in no rush to tighten monetary policy, which boosted the German stock markets, while sending the euro sharply downwards.
US President Trump may have said that trade wars are a "good thing," but his enthusiasm for upheaval in global markets is certainly not shared by investors. On Thursday, US President Trump made good on his threat, and signed an order imposing 25% tariffs on steel imports. EU policymakers have threatened to retaliate with tariffs on US goods, and European Commission President Jean-Claude Juncker was particularly blunt, saying "we can also do stupid."
Fears of an all-out global trade war are weighing on the US dollar and the stock markets, and the resignation of Gary Cohn, a senior economist in the White House who opposed the tariffs, will only dampen investor risk appetite. The ball is now in the EU court, and if the Europeans retaliate and Trump responds with further tariffs, we could see some sharp movement in the stock markets.
Economic Calendar
Friday (March 9)
2:00 German Industrial Production. Estimate +0.6%. Actual -0.1%.
2:00 German Trade Balance. Estimate 21.2B. Actual 21.3B.
8:30 US Average Hourly Earnings. Estimate 0.2%.
8:30 US Nonfarm Employment Change. Estimate 205K.
*All release times are EST
*Key events are in bold
DAX, Friday, March 9 at 7:25 EDT
Prev. Close: 12,245.36 Open: 12,235.00 High: 12,267.50 Low: 12,176.63 Close: 12,205.00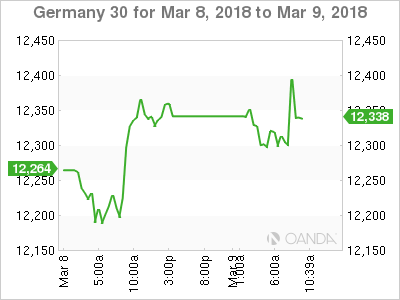 This article is for general information purposes only. It is not investment advice or a solution to buy or sell securities. Opinions are the authors; not necessarily that of OANDA Corporation or any of its affiliates, subsidiaries, officers or directors. Leveraged trading is high risk and not suitable for all. You could lose all of your deposited funds.
This article was written by
Dean Popplewell has nearly two decades of experience trading currencies and fixed income instruments. He has a deep understanding of market fundamentals and the impact of global events on capital markets. He is respected among professional traders for his skilled analysis and career history as global head of trading for firms such as Scotia Capital and BMO Nesbitt Burns. Since joining OANDA in 2006, Dean has played an instrumental role in driving awareness of the forex market as an emerging asset class for retail investors, as well as providing expert counsel to a number of internal teams on how to best serve clients and industry stakeholders.