Quick Take
Homology Medicines (NASDAQ:FIXX) intends to sell shares of its common stock for gross proceeds of $100 million from a U.S. IPO, according to an S-1 registration statement.
The firm is a genetic medicines company focused on translating proprietary gene editing and gene therapy technologies into novel treatments for patients with rare diseases. Through a new multidimensional technology platform, the company is focused on moving beyond current limitations of gene editing and gene therapy approaches.
FIXX is developing a promising technology to reduce genetic editing errors, but the firm is not even at Phase 1 safety trial stage yet.
Company
Bedford, MA-based Homology Medicines was founded in 2015 'to transform the lives of patients suffering from rare genetic diseases with significant unmet medical needs by curing the underlying cause of the disease.'
Management is headed by President and CEO Arthur Tzianabos, who has been with the firm since 2016. Tzianabos was previously President and CSO of OvaScience and also served in various upper-level positions with Shire.
The company's gene editing platform, AMEnDR (AAV-Mediated Editing by Direct Homologous Recombination), harnesses the naturally occurring process of homologous recombination to correct gene mutations. Through this platform, Homology is focused on developing product candidates to treat monogenic diseases in the liver, CNS, bone marrow, lung and the eye.
Investors in Homology include Deerfield, 5AM Ventures, ARCH Venture Partners, Novartis (NVS) and TLS Beta, among others.
Technology
Homology Medicines uses a gene editing approach that begins with designing homology sequence arms which are highly specific to a region of the human genome. This results in a permanent therapeutic correction in the DNA upon cell delivery. The technology is based on the discovery of a novel class of human-derived adeno-associated virus [AAV] vectors. These vectors can be used to achieve efficient in vivo and ex vivo gene editing and gene therapy.
Homology is focused on monogenic diseases where the genetic abnormality is known to occur in a single diseased gene. Most of monogenic diseases are home to thousands of individual mutations within the diseased gene resulting in a loss of function. To address these monogenic disorders effectively, management says an optimal therapeutic approach is to replace an entire diseased gene with a whole functional gene.
Homology has developed a proprietary suite of 15 novel AAVHSCs which enables the company to focus on a method of gene editing called gene correction. This method can be done either through the replacement of an entire diseased gene in the genome with a whole functional copy or the precise repair of individual mutated nucleotides (harnessing the naturally occurring deoxyribonucleic acid, or DNA, repair process of homologous recombination, or HR).
The chart below shows the three methods the firm proposes to use to treat genetic conditions: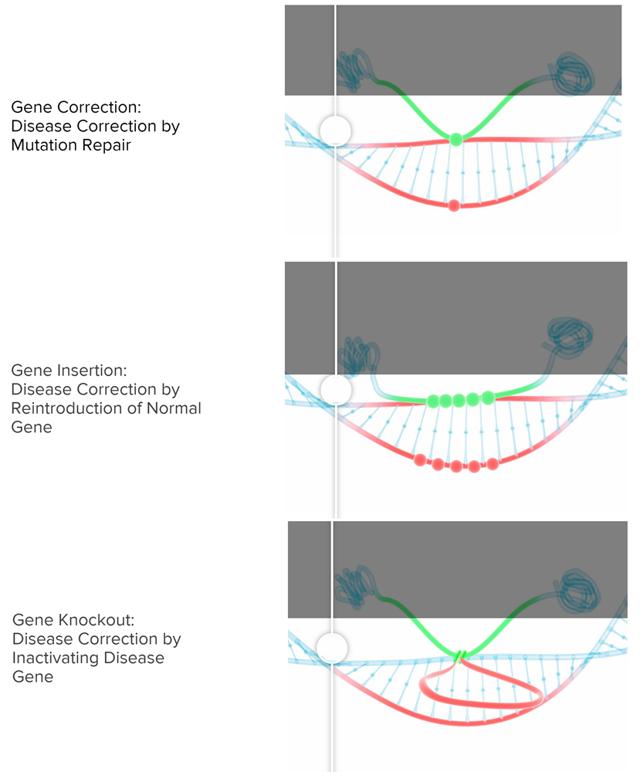 (Source: Homology Medicines)
The HR-driven gene editing approach should allow for efficient gene correction at therapeutic levels without unwanted on- and off-target modifications. The approach should also 'directly measure and confirm those modifications in an unbiased manner to ensure only the intended changes are made.'
Below is the current status of Homology's pipeline: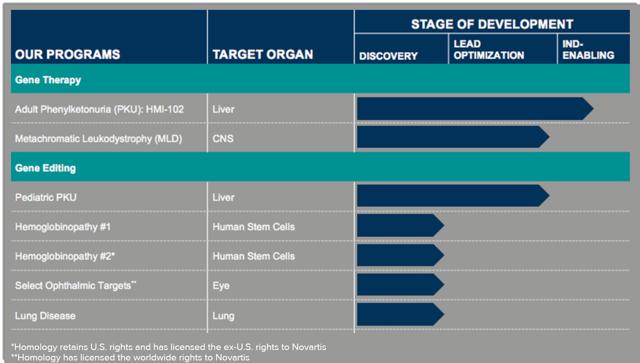 (Source: Homology Medicines)
Homology has generated preclinical data for the first and lead product candidate, HMI-102, a gene therapy for the treatment of phenylketonuria, or PKU based on the company's proprietary technology. The company is now advancing HMI-102 into a Phase 1/2 clinical trial. Homology plans to initiate the Phase 1/2 trial in PKU patients and to receive initial clinical data in 2019.
Homology plans to nominate a lead gene editing product candidate for the treatment of PKU in 2018. The company requires additional capital to advance HMI-102 beyond the planned Phase 1/2 clinical trial.
Market
According to a 2018 market research report by Persistence Market Research, PKU affects one among 10,000 to 15,000 newborn babies in the U.S. Most PKU cases are detected by after-birth screening. This screening test includes bacterial inhibition assay, immunoassay with fluorometric detection, and mass spectrometry for the amino acid measurement.
The major factor driving market growth is the growing burden of incidence of PKU. The incidences of PKU varies based on demographics and ethnic groups. The market is also majorly driven by developed economies due to the large patient base suffering from phenylketonuria, high disease awareness and high diagnostic rate of the disease.
The report is segmented into North America, Latin America, Europe, Asia-Pacific, and MEA. The North America phenylketonuria treatment market is projected to increase over the forecast period of 2017-2025 due to the growing number of newborns suffering from phenylketonuria, the rise in awareness among people and improved healthcare infrastructure in the region.
The Asia-Pacific market is expected to grow with steady CAGR over the forecast period due to the large population, increase in R&D activities for the development of drugs for phenylketonuria, and growing awareness.
Competition
Major competitive vendors that compete in the global phenylketonuria diagnosis and treatment market include:
Cambrooke Therapeutics
Daiichi Sankyo Company Limited (OTCPK:DSKYF)
American Gene Technologies International
Danone Nutricia
Dimension Therapeutics (DMTX)
Synthetic Biologics (SYN)
SOM Innovation Biotech SL
Codexis (CDXS)
BioMarin Pharmaceutical (BMRN)
Erytech Pharma SA
Management believes that Homology possesses a competitive advantage due to the team's successful track record of discovering, developing and commercializing therapeutics with a particular focus on rare diseases. Management also believes that the robust intellectual property portfolio and the breadth and depth of the intellectual property provides a significant competitive advantage.
Financials
FIXX's recent financial results are typical of a clinical-stage biopharma in that they feature no revenues and significant expenses associated with its development programs.
Below are the company's operational results for the past two years (Audited GAAP):

(Source: Homology S-1)
As of December 31, 2017, the company had $129.7 million in cash & equivalents and $39.2 million in total liabilities.
IPO Details
Homology Medicines intends to raise $100 million in gross proceeds from an IPO of its common stock.
Management says it will use the net proceeds from the IPO as follows:
We anticipate that we will use the net proceeds of this offering to advance our lead and other product candidates, scale-up our manufacturing processes, build-out our internal manufacturing capacity, expand our intellectual property portfolio and pursue additional research and development efforts.
Management's presentation of the company roadshow isn't currently available.
Listed bookrunners of the IPO are BofA Merrill Lynch, Cowen, Evercore ISI, and BTIG.
Editor's Note: This article covers one or more microcap stocks. Please be aware of the risks associated with these stocks.
An enhanced version of this article including commentary on the IPO is available on my Seeking Alpha Marketplace research service, IPO Edge. I write in-depth research about U.S. IPOs and members learn the latest IPO research, news, market trends and industry analysis. Start with a Free Trial.