Sangamo Therapeutics Part III: Elucidating The Prospects Of Amyotrophic Lateral Sclerosis
Summary
Part I research analyzed the overall investment thesis in Sangamo while emphasizing the Kite/Gilead partnership for zinc finger nuclease ("ZFN") to enhance CAR-Ts.
Part II featured the HIV franchise as a hidden asset to add further upside.
Part III seeks to elucidate the prospects of amyotrophic lateral sclerosis ("ALS").

The successful investor is usually an individual who is inherently interested in business problems. - The Father of Growth Investing (Philip Fisher)
In the past 3-month, the shares of Sangamo Therapeutics (NASDAQ:NASDAQ:SGMO) - a gene-editing bioscience focusing on the innovation and launch of novel medicines to treat cancers and life-threatening diseases - traded up more than 50%. Following the uptrend of other gene-editing stocks (like Crispr Therapeutics (NASDAQ:CRSP) that procured over 174% for subscribers of Integrated BioSci Investing), Sangamo exchanged hands $8.6 higher at $25.50. Of note, Sangamo shares appreciated due to the fundamentals developments, as featured in our parts I and II research. In this report, we'll elucidate the underlying prospects of the ALS franchise.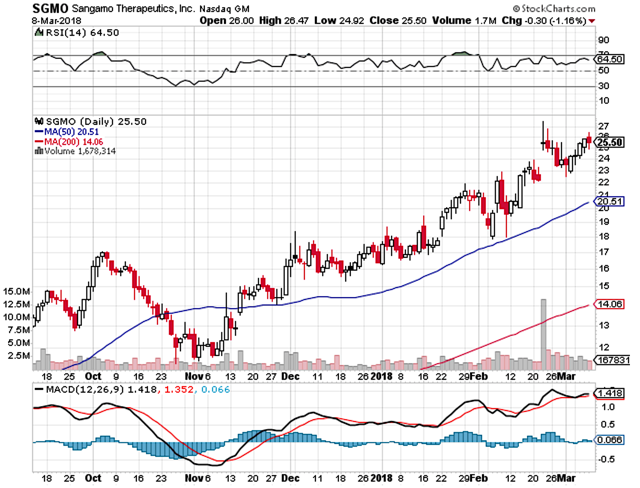 Figure 1: Sangamo stock chart. (Source: StockCharts).
Fundamentals Analysis
Harnessing the power of the ZFN gene-editing platform, Sangamo is brewing an enriched pipeline of medicines to service various markets (as depicted in figure 2). Notably, there are several collaborative relationships of interest. The most notable is the recently inked partnership with Kite Pharma (NASDAQ:KITE) - a Gilead Science (NASDAQ:GILD) acquisition that is one of our 2017 top performers - for the innovation of the off-the-shelf CAR-Ts. Moreover, Bioverativ (NASDAQ:BIVV) is working with Sangamo for the development of medicine to treat both hemoglobinopathies (sickle cell disease and beta-thalassemia). With Shire Plc (NASDAQ:SHPG), the firm is developing a cure for Huntington's disease. Furthermore, the Pfizer (NYSE:PFE) deal entails the therapeutic innovation for Hemophilia A and ALS.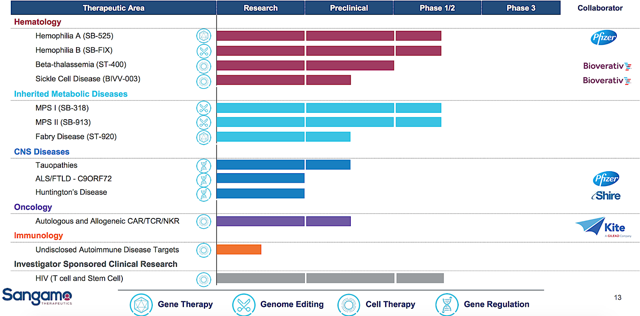 Figure 2: Therapeutic pipeline. (Source: Sangamo)
That being said, we'll elucidate the underlying fundamentals of the ALS segment, which is another hidden asset to add further value to Sangamo. To better appreciate the prospects of ALS, we wish to go over key underlying science. The motor neuron degenerative disease (ALS) is a relentlessly-progressive and presently-incurable condition, characterized by muscle weakness, disability, and eventually death. As one of the most common forms of motor neuron disease, ALS is diagnosed based on the involvement of upper and/or lower motor neurons lesion. After diagnosis, patients usually die within three to five years. Nevertheless, there are people who live much longer: the world renown physicist (Stephen Hawking) is a prime example.
In terms of disease management, a multidisciplinary care approach (that focuses on symptomatic treatment and aims to preserve the pulmonary function) tends to deliver the best survival outcomes. For disease-modifying agents, there is limited option (with riluzole being the only drug to improve survival and to slow down progression but only to a modest degree). In specific, riluzole 50mg twice daily is recommended for patients. And, it delivers the most benefits to those having the definitive or probable ALS diagnosis with symptoms present for less than five years, the force vital capacity ("FVC") >60%, and no tracheostomy. Contrarily, edaravone is recommended for patients with the disease for two years or less (and having an FVC of at least 80%). As shown, the demand for novel and more efficacious treatments are quite strong.
Notably, research suggested that the GGGGCC (G4C2) repeats expansion in a noncoding region of C9ORF72 is the most common cause (of the sporadic and familial forms of ALS). Accordingly, patients afflicted by ALS has the said disease allele (i.e. a copy of the gene) that expressed the G4C2 100X greater than normal individuals (as illustrated in figure 3). Using the ZFN transcription factors ("ZFN-TFs), Sangamo can disrupt/suppress the G4C2 sequences, thereby preventing the disease manifestation.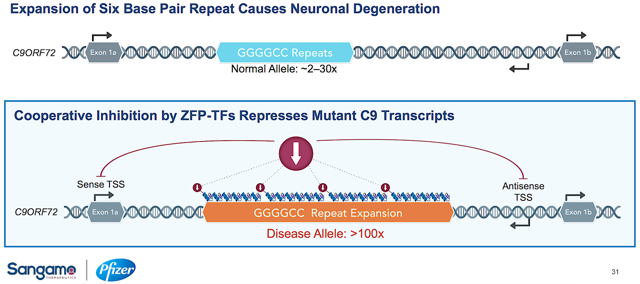 Figure 3: Mechanism of C90RF72 in causing neuronal degeneration (Source: Sangamo)
Per figure 4 below, ZFN-TFs are packaged inside the adeno-associated virus ("AAV") that, in and of itself, will carry and transmit the ZFN-TFs to the inside motor neurons. The key is that ZFN-TFs will repress the tau DNA as well as the G4C2 repeats to keep the disease at bay. The aforesaid method of disease treatment is much more efficacious and safe, as it solves the problem at the root level.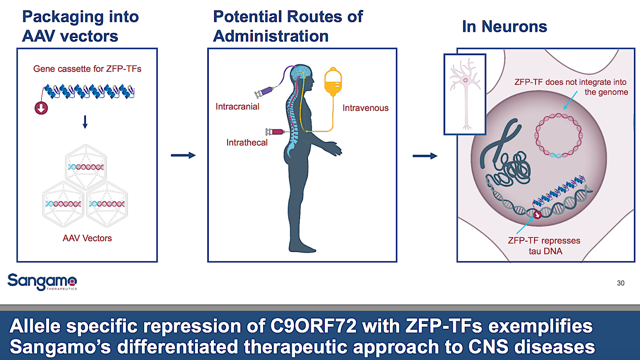 Figure 4: ZFN to potentially treat ALS (Source: Sangamo investor presentation)
Final Remarks
While there are different approaches to edit genes for therapeutic development, Sangamo utilizes the ZFN platform to power an enriched pipeline of promising medicines. In part I, we elucidated the ramifications of the Kite/Gilead partnership. We then featured the HIV franchise as a hidden asset in part II. In this article, we assessed the underlying prospects the ALS segment. Despite that Sangamo is a speculative bet, there is a favorable chance of a positive data that can double the share price; whereas, a negative binary can cause the stock to tumble over 60%. Hence, the rewards trump the risks to warrant this bet. Of note, there is a higher-level intelligence that we published in advanced for subscribers of Integrated BioSci Investing. In the said research, we elucidated this thesis in much greater details with specific data forecasting and market assessment.
Author's Notes: We're honored that you took the time to read our market intelligence. Founded by Dr. Hung Tran, MD, MS, CNPR, (in collaborations with Analyst Vu, and other PhDs), Integrated BioSci Investing ("IBI") is delivering stellar returns. To name a few, Nektar, Spectrum, Atara, and Kite procured over 476%, 128%, 214%, and 83% profits, respectively. Our secret sauce is extreme due diligence with expert data analysis. The service features a once-weekly exclusive Alpha-Intelligence article, daily analysis/consulting, and model portfolios. Subscribe to our marketplace now to lock in the current price and save money for the future.
This article was written by
As an astute devotee of Warren Buffet, Ben Graham, Phillip Fisher, Sir John Templeton, and Peter Lynch, Dr. Harvey devoured any resources/books on these gurus to learn their craft for over two decades. In the process, he refined their investment approaches specifically to biotech and founded Integrated BioSci Investing: The Number #1 Biotech Service for Long-Term Growth Investing and Power Catalyst Trading.  Since inception, our flagship portfolio has delivered over 31.23% annual average (i.e. 187.39% for roughly six years). As you can appreciate, we're adept at assisting and serving institutional/retail investors/traders who are looking for alpha. Dividend investors wanting to boost your return can also benefit greatly from our investment research. We currently have over 20 docs in our service for us to tap into their clinical insight for your gains. Check out some of our binary event forecasts that lead to meteoric gain like the 359% single-day pop from Madrigal Pharmaceuticals (MDGL)'s NASH data release. During his training at the world-renown Columbia University, Harvey Tran, M.D., M.S., developed a passion/edge for analyzing the intricacies of various preclinical/clinical studies, biostatistics, and science/medicine. Importantly, it allowed the physician-scientist Harvey to realize the internal working of various therapeutic in-development that the market tends to overlook. In recent years, Dr. Harvey founded and led two healthcare roll-up companies. The endeavor helped him gain deep insight into the inner working of a corporate board. His experience as a consultant to common/professional investors and institutions gave him a huge advantage in biotech analysis. The combination of elite training and a passion for biotech provided Dr. Harvey with an aptitude for delivering highly accurate clinical data forecasting that is crucial to picking winning biotech investments for you.Follow us for the latest research. And, take our FREE 2-week trial to Integrated BioSci Investing to start your winning process now!Check out Dr. Harvey's LinkTree for his complete experience. You can make your one good decision a year as Mr. Buffett recommended by checking out  Integrated BioSci Investing!
Analyst's Disclosure: I/we have no positions in any stocks mentioned, and no plans to initiate any positions within the next 72 hours. I wrote this article myself, and it expresses my own opinions. I am not receiving compensation for it (other than from Seeking Alpha). I have no business relationship with any company whose stock is mentioned in this article.

I like to inform our readers of Seeking Alpha's recent policy change, in which the company implemented the paywall (not only to my articles but to all articles that are published over 10-day). This is in place, as the company is, after all, a business. And, the revenues from ads are not adequate to support the high-quality research that the company is providing. If you are a REAL TIME FOLLOWER, you will be notified immediately of our new research for you to continue to benefit from our due diligence.
Seeking Alpha's Disclosure: Past performance is no guarantee of future results. No recommendation or advice is being given as to whether any investment is suitable for a particular investor. Any views or opinions expressed above may not reflect those of Seeking Alpha as a whole. Seeking Alpha is not a licensed securities dealer, broker or US investment adviser or investment bank. Our analysts are third party authors that include both professional investors and individual investors who may not be licensed or certified by any institute or regulatory body.