Prior to February 2018, the recent equity market performance had lulled all of us into a false sense of security about the risks embedded in our portfolios. The S&P 500 had gone 15 STRAIGHT months without a negative return and had only gone negative ONCE in the prior 23 months! The phrase "peak-to-trough drawdown" was exorcised from our vocabulary, replaced by "new all-time highs" and "low volatility environment." The hidden consequence of this remarkable run is that all of the "trailing" standard deviation risk statistics are overweighted with the most recent low volatility environment. For fans of the "reversion to mean" philosophy, we need to know where we are now relative to the past.
From a recent article I wrote about the characteristics implied by the word "moderate" in the names of mutual funds and ETFs, I found that the average annualized standard deviation of "moderate" funds measured over a 3-year horizon was 6.11%. Generally, these were all balanced portfolios that had equity content allocations in the 50% to 70% range that drove their risk measure. Perhaps not so surprisingly, the annualized standard deviation for these same funds when reviewed over a longer 10-year horizon jumped to 10.29%!
So, what is the real risk (measured as annualized standard deviation) in your portfolio: 6.11% or 10.29%? Or More or Less? Or somewhere in the Middle? I believe the jury is still out on this topic; just like the academics and practitioners have a pretty tough time forecasting returns. The best we can do is understand where we are now and combine all relevant data into a mosaic of information. I have found that there is almost never a one-point measure of anything; whether of investment performance or intelligence, wealth, or income!
I expanded the scope of this review to include a dataset we are all familiar with; the SPDR S&P 500 ETF (SPY). I looked at the monthly total returns of SPY over the last 24 years starting in January 1994 and calculated series of annualized standard deviations over 1-, 3-, 5-, 7- and 10-year trailing time horizons. As expected, per the chart below, the 10-year trailing horizon (the flatish black line in the middle) showed a more stable time series by virtue of the larger population of observations and the 1-year trailing horizon (the jagged blue line) showed a more volatile profile. The 10-year horizon showed a value centered just over 15%; a long-term volatility value we are accustomed to associate with U.S. equities. However, the 1-year horizon showed values ranging from a high of 30.37% in August 2009 to a low of 3.87% in November 2017.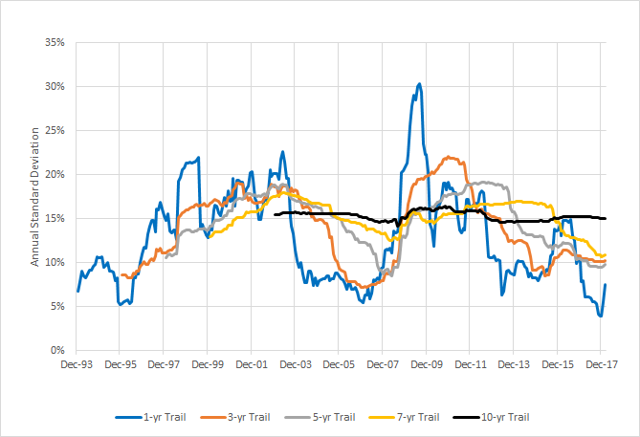 Source: Portfoliovisualizer.com; Excel functions and charting.
The above chart clearly shows that the current SPY 1-year trailing standard deviation of about 7.5% is well below the long-term trend of 15%, off its recent wide gap of 11.2% in November 2017, but where it goes from here is anyone's guess. In July of 2016 the 1-year standard deviation almost touched the 10-year horizon value and I doubt that anyone would have forecast the great decline in volatility that we saw up to February 2018; or even the bounce back up we experienced in February.
So, what do we do when we try to measure the embedded risk in our portfolio? The best approach is to arm yourself with all the data points you can get to gauge your current position on multiple bases. This would include standard deviations over different time horizons, as highlighted, but also includes measures of metrics like historical drawdown, correlations to other assets, and performance profiles relative to benchmarks like beta. Also, as we know, exposure to other assets in a multi-asset universe have a better chance of diversifying your risk; things like different sectors of fixed income bonds, real estate, commodities, emerging markets, etc.