Stereotaxis Is Back To Stay
Summary
Strong balance sheet after $10.0 million non-dilutive financing.
Positive operating income (Excluding a non-cash inventory-related charge).
Two quarters in a row of recurring revenue growth.
Procedures for the full-year 2017 grew 3% over the full-year 2016, the first year of annual procedure growth since 2012.
I follow Stereotaxis (NYSE:STXS) since 2006. I bought my first shares in 2008, then subsequently added a couple of times, before the final collapse you can see in the chart below, circa 2012. I have been down 97% overall. It's been not pretty.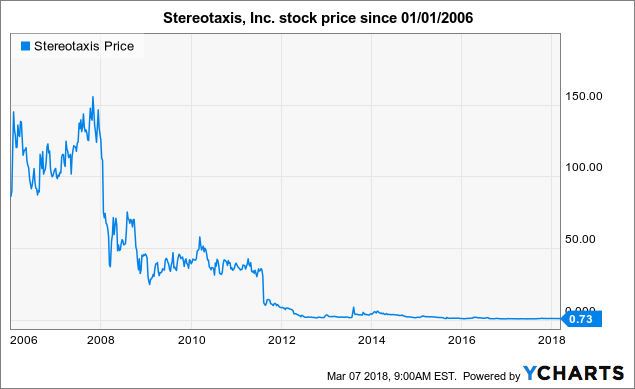 I bought a few new shares recently.
Why did I buy? What's my investment thesis? What changed?
A broader overview of Stereotaxis
Stereotaxis has developed and is commercializing a suite of robotic technologies that enable better treatment of cardiac arrhythmias. Cardiac arrhythmias are common conditions, where the heart beats irregularly. Tens of millions of individuals in the developed world suffer from arrhythmias, prevalence is growing rapidly, and when left untreated, arrhythmias increase the risk of stroke, congestive heart failure and sudden death. (Source: Q4 2017 Results - Earnings Call Transcript).
A Very Short History Of Stereotaxis
Stereotaxis had, since inception, strong products and strong competitive advantages over the competition. On the other hand, it had poor overall execution and a weak balance sheet. There's been a time when it looked like this Company was going to flourish: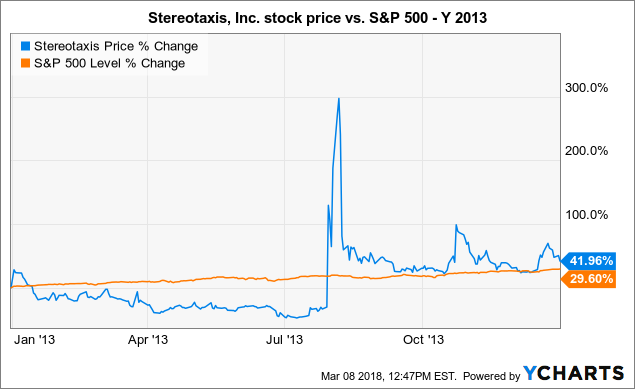 It didn't last much. Sales did not cover expenses, debt soared; so, in 2016, existing shareholders were almost completely wiped out and new shareholders brought in some much needed fresh capital.
With new shareholders, also new board members and management came in.
Stereotaxis' competitive advantages
I will let David Fischel - Chairman and Chief Executive Officer, speak:
The primary therapies prescribed to arrhythmia patients include pharmaceuticals, implantations of pacemakers, ICDs and cardiac ablation procedures. Cardiac ablation refers to a minimally invasive procedure, where a catheter is introduced into the vein in the upper leg of a patient and then snaked up several feet into the heart chamber. The tip of the catheter delivers a blade of energy to specific parts of the heart muscle to stop rogue electrical impulses that are causing the arrhythmia. (...)


While traditional manually operated cardiac ablation procedures provide significant clinical value, they have inherent limitation. In order to move a manual catheter, physicians apply force with their fingers on to the base of the catheter in order to move its tip. To translate force from the base to the tip, manual catheters require internal pull wires and rigidity along this catheter shaft, which limits the catheter's precision, reach and stability and can cause safety issues in sensitive anatomy.

The reliance on x-ray for visualization exposes patients and physicians to radiation. And finally, these procedures are difficult and complicated and require significant skill to perform. The technique of navigating a manual catheter is akin to gardening delicate flowers by holding a hose from its base or writing in small font holding a pencil from the eraser.

Stereotaxis' robotic mechanism of action fundamentally transforms the experience of catheter navigation. Our products include a robotic magnetic navigation system composed of two magnets next to the operating table on which the patient lies. During the procedure, a physician sits behind a large screen computer controlled station and using a mouse and intuitive interface, manipulates those magnets to adjust the magnetic field around the patient. This allows a physician to precisely direct and steer the cardiac ablation catheter that has a magnetic at its tip.

By moving the catheter directly from the tip, a robotic magnetic catheter has unprecedented reach, precision and stability. Since we do not rely on pull wires or shaft rigidity, we can design catheters that are very gentle like a piece of cooked spaghetti and far safer when moving in delicate anatomies.

The benefits for patients and physicians are multiple fold. Unmatchable catheter precision, reach and stability enables the treatment of complex arrhythmias that can otherwise not be treated at all or cannot be treated well with manual catheters.

Robotic precision helps ensure that therapy is delivered effectively to the right target tissue. The gentler magnetic catheter reduces the risk of perforations and other adverse events improving patient safety. Radiation exposure per patient is reduced as the physician's reliance on x-ray for navigation decreases.

Physicians perform a robotic procedure, seated, un-scrubbed, protected from radiation with all the procedure information on a large screen in front of them and all the controls over the procedure at their fingertip. This allows them to focus on the design and delivery of therapy rather than the mechanical manipulation of a catheter. They do so from an ergonomic, comfortable position with reduced dependency on staff and with improved personal safety and career longevity.

The long-term safety risk for physicians performing non-robotic manual interventional procedures is significant, with a study showing 49% suffering orthopedic injury as a direct result of their work and 85% of brain tumors in interventional physicians being found in the left side of the brain as opposed to the right side, as the physician usually stands with their left side closer to that resource.

These benefits of robotic cardiac ablation are not theoretical. They have been demonstrated extensively in the real world experience of hundreds of physicians at over 100 leading hospitals treating over 100,000 patients with our technology to date.
(Source: Q4 2017 Results - Earnings Call Transcript)
Why did I buy?
Stereotaxis enjoys a moat, so to speak, which is slowly widening. Motives revolve around the following:
Intellectual Property rights. If you want to go magnetic, it's Stereotaxis' IP.
Companies that have magnetic catheters or that are developing them, must use those catheters with Niobes (which are Stereotaxis' catheter guiding machines). STXS gets a royalty every time those catheters are used.
Leading international physicians are endorsing STXS. You can check this via PubMed and other peer-reviewed publications. Soon every EP lab will want to have a Niobe (I wrote this paragraph in 2010, and it still holds true).
What's my investment thesis?
Clean balance sheet: no debt and plenty of cash available following the recent warrants exercise;
Positive operating income, albeit modest so far; with the tailwind of two quarters in a row of recurring revenue growth: procedures around the world are gaining traction at last;
STXS' stock market valuation is a fraction of annual turnover, essentially because Stereotaxis is so small; while competitors' stock market valuation is a multiple of it, as are large, established companies like them are inherently less risky. Total revenue for the twelve months ended December 31, 2017, was USD 31,144,100 (source: Co. press release); while market cap as of the time of writing this article was USD 15.689 M. Price to sales ratio is around 0.5.
Major competitors are: Biosense Webster (a division of Johnson&Johnson - JNJ - most recent price to sales ratio or P/S was 4.69), Boston Scientific (BSX - most recent P/S was 4.31), Medtronic (MDT - P/S 3.80), and St. Jude Medical (now part of Abbott Laboratories - ABT - P/S 4.05). These four companies accounted for approximately 93% of global cardiac ablation catheter sales (source: LSI).

Cardiac ablation has become a widely accepted therapy over the last two decades with approximately 850,000 global cardiac ablation procedures performed annually and over $4 billion in annual sales of medical devices

What changed?
Basically, two things: one is new money has poured in, and in turn this fact has greatly stabilized the Company. Two is management. On an operating basis, Stereotaxis wasn't doing poorly overall. One thing that caught my attention at the time was that management was overpaying itself. An aligment of managers' compensation might have been enough to reach cash flow equilibrium.
Here are David Fischel's most recent words:
In the three quarters of 2017 since joining Stereotaxis, our operating expenses were on average 19% lower year-over-year, an annualized saving of approximately $5.9 million. The reduction in operating expenses continues to reflect the year-over-year impact of lower executive compensation and more efficient management of expenses across the organization, but does not represent any material changes in organization's personnel, infrastructure or capabilities.

I'm confident that the reduction in expenses did not cut Stereotaxis' muscle. On the contrary, we reduced expenses, while being much more active, nimble and effective in a broad range of commercial and innovation initiatives. I expect operating expenses to grow modestly, as we advance our innovation initiatives in 2018. But I'm comfortable that with continued vigilance, we'll maintain a relatively low burn rate and with our strengthened balance sheet, we can advance our initiatives and reach profitability without the need for additional financing.
(Source: Q4 2017 Results - Earnings Call Transcript)
Final take
Stereotaxis is a tiny Company. STXS actually has significant growth opportunities: it commands just around a 1% share in a $4B market. Market is growing >10% per year; it's got the only robotic option. With high risks (although mitigated by the recent equity financing) there are potential high rewards.

Editor's Note: This article covers one or more microcap stocks. Please be aware of the risks associated with these stocks.
This article was written by
I work as a community pharmacist and I work and live in Northern Italy. My interests are not limited to: dividend and biotechnology investing. I enjoy to share my experience: I write about things where I have skin in the game.
Analyst's Disclosure: I am/we are long STXS. I wrote this article myself, and it expresses my own opinions. I am not receiving compensation for it (other than from Seeking Alpha). I have no business relationship with any company whose stock is mentioned in this article.

Material presented here is for teaching and entertaining purposes only. It is not intended to be taken as financial advice, a recommendation to buy or sell the stocks mentioned above. Investing includes risks, including loss of principal.
Seeking Alpha's Disclosure: Past performance is no guarantee of future results. No recommendation or advice is being given as to whether any investment is suitable for a particular investor. Any views or opinions expressed above may not reflect those of Seeking Alpha as a whole. Seeking Alpha is not a licensed securities dealer, broker or US investment adviser or investment bank. Our analysts are third party authors that include both professional investors and individual investors who may not be licensed or certified by any institute or regulatory body.