Welcome to the takeaway capacity edition of Oil Markets Daily!
US oil production will grow and surpass 11 million b/d this year. Our trued-up US oil production calculation had February coming in at 10.195 million b/d (as explained here). And in our EIA drilling productivity report coverage released last month, we said Permian will power more than 60% of the US shale oil production growth this year.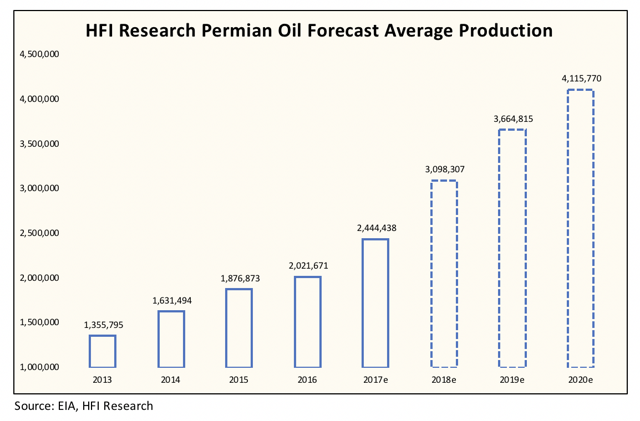 For the Permian, we have an average production increase of ~650k b/d this year with the annual average around 3.1 million b/d.
Much of this production growth, however, will be contingent on increases in takeaway capacity. Plains All American (PAA) is the top midstream operator in the Permian basin, and PAA is expected to massively increase takeaway capacity in 2019. See chart below: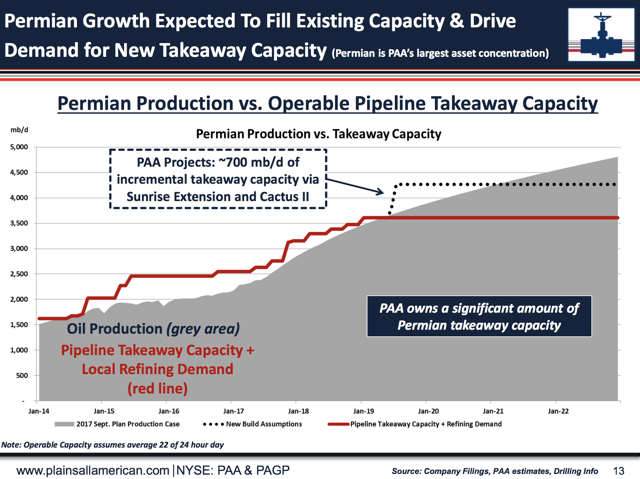 Rystad Energy also came out with a tweet today reiterating the view that the projected takeaway capacity from Plains All American has to come online on schedule for 2019 growth to be secured.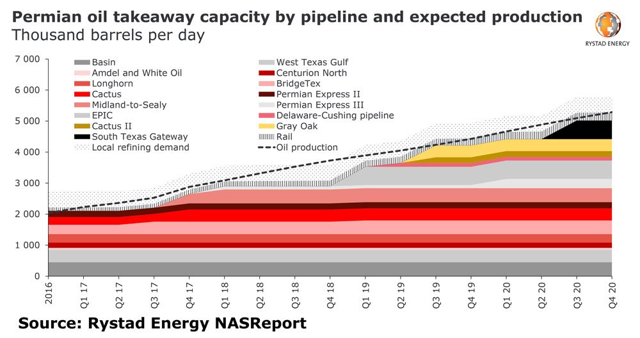 According to PAA, the growth that's set to come in 2019 will be dependent on the start-up of Cactus II and Sunrise Extension. While it's much harder to decern from Rystad's chart the exact timeline, this is what PAA has put out for when the two pipelines will be in operation:
Sunrise Extension/Loop - Q1 2019
Cactus II - Q3 2019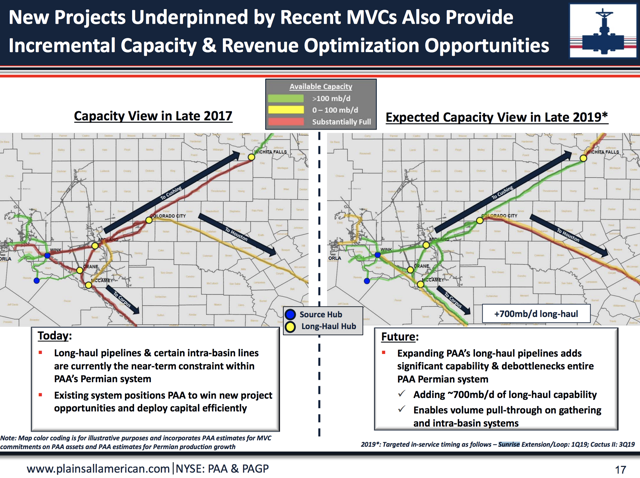 As long as these pipelines come online when they are meant to, Permian takeaway capacity will be fine for the time being. However, as you can see in the chart from PAA above, the exit production for Permian will likely be around ~3.5 million b/d, putting the exit-to-exit growth around ~700k b/d due to available takeaway capacity.
HFI Research Premium
For those of you who have found our articles insightful, interesting and different, we think you should sign up for HFI Research. Our incentive is aligned with our readers as we put our money where our mouth is, and our contrarian analytical framework was what set us apart when we made the $65/bbl Brent call in June 2017 and $60/bbl WTI call for the end of 2017. For more information about our service, please click here. We look forward to seeing you join the HFI Research community.
Disclosure: I/we have no positions in any stocks mentioned, and no plans to initiate any positions within the next 72 hours. I wrote this article myself, and it expresses my own opinions. I am not receiving compensation for it (other than from Seeking Alpha). I have no business relationship with any company whose stock is mentioned in this article.