Will MLP Distribution Cuts Pay Off?
Summary
MLP Distributions are down 30%.
Many cuts were justified to fund growth.
Will that reinvested cash show results?
It's surprisingly difficult to find out what MLP distributions have been doing. Alerian claims that their index has been growing its payouts at a 6% average annual rate for 10 years, with growth continuing in 2016 (it's not yet updated for 2017). However, their methodology is odd. They take the trailing growth rate of the current index constituents, which are regularly updated. This tends to bias the growth rate up, because they dump poor performers and add good ones. We examined this in a recent blog (see MLP Distributions Through the Looking Glass).
Because Alerian doesn't publish the actual experience of its index investors, it's necessary to look at how investment products tied to those indices have done. Not surprisingly, payouts have fallen. As the chart shows, for the JPMorgan MLP ETN (AMJ) and for the Alerian MLP Fund (AMLP), two of the largest vehicles in the sector, dividends are down approximately 30% from their highs in 2014-15. This is what MLP distributions have been actually doing – falling, not rising — in spite of what is sometimes implied. Perhaps coincidentally, the cut in payouts is similar to the drop in the sector (38%) from its August 2014 highs.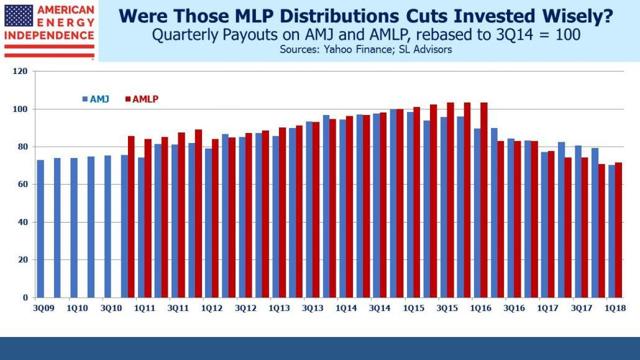 As we've written before, the Shale Revolution induced many MLP managers to pursue growth opportunities (see More on the Changing MLP Investor). The need for growth capital pressured financial models that historically distributed 90% of Distributable Cash Flow (DCF), when growth needs were minimal. Leverage rose, growth projects were favored over reliable payouts, and distributions were cut. Investors felt let down if not deceived.
Although the big picture is simple, at each company level there are more detailed reasons why growth plans that were not expected to threaten payouts nonetheless led to cuts. Plains All American (PAGP) saw its Supply and Logistics business drop from $900MM in EBITDA to less than $100MM over two years. Kinder Morgan (KMI) was hurt by the cyclicality of its Enhanced Oil Recovery business. But broadly speaking, the dividend cuts were a redirection of cashflows into new projects, rather than reflective of poor operating results.
Over the next couple of years we'll see if that redirection of cash pays off. The Miller-Modigliani model of corporate finance holds that investors should be indifferent to a company's capital structure, and should not value dividends (since anybody can create a 5% dividend by selling 5% of her shares annually). Although financial markets don't always operate that way, the question hanging over the industry is whether these redirected cashflows will eventually deliver their pay-off. If the foregone dividends have been wisely invested, DCF should grow.
We've looked at this for the components of the American Energy Independence Index. It consists of 80% corporations and only 20% MLPs. Since many MLPs have converted to C-corp status, energy infrastructure is leaving MLPs with a diminished status. It includes some Canadian companies, since they also operate U.S.-based infrastructure assets and, as we've noted, have been rather better run of late than their American peers (see Send in the Canadians!).
Using company data and estimates from JPMorgan, we calculate a two year compound annual growth rate of DCF for this group of businesses of 15%, from 2017 to 2019. Some of these companies were in the Alerian index but left as they became C-corps, some were never in, and some still are. A perfect match is impossible because the constituents of the Alerian MLP index have changed over the years. But that 15% growth rate will significantly support the correctness of those decisions to redirect cashflows from payouts to new opportunities. It won't be true in every case, and to be sure many investors would have preferred it didn't happen. But it will provide a form of vindication for managements that increased investment back into their businesses.
The sector has been priced as if the distribution cuts were fully reflective of weaker operating results, whereas in most cases they've been to support future growth. Investors appear to be assuming away the foregone distributions, as if the operating cashflows supporting them have disappeared, whereas many companies have been financing growth plans with this internally generated cash. MLP investors are likely not passionate about Miller-Modigliani, but we'll see in the months ahead whether the theory has worked.
We are invested in KMI and PAGP
This article was written by
Following 23 years with JPMorgan, in 2009 Simon Lack founded SL Advisors, LLC, an SEC Registered Investment Adviser. SL Advisors manages investments in energy infrastructure, including the Catalyst MLP & Infrastructure Fund (MLXIX), the American Energy Independence Fund (USAI), and separately managed accounts. Prior to this, much of Simon Lack's 23-year career with JPMorgan was spent in North American Fixed Income Derivatives and Forward FX trading, a business that he ran successfully through several bank mergers ultimately overseeing 50 professionals and $300 million in annual revenues. Simon Lack sat on JPMorgan's investment committee allocating over $1 billion to hedge fund managers and founded the JPMorgan Incubator Funds, two private equity vehicles that took economic stakes in emerging hedge fund managers. Simon chairs the Memorial Endowment Trust Investment Committee of St. Paul's Episcopal Church in Westfield, NJ. He is the author of The Hedge Fund Mirage: The Illusion of Big Money and Why It's Too Good to Be True, published in 2012 to widespread praise from mainstream financial press including The Economist, Financial Times and Wall Street Journal, and Bonds Are Not Forever: The Crisis Facing Fixed Income Investors (September 2013). Simon is a CFA Charterholder and a member of the New York Society of Security Analysts' Market Integrity Committee, and makes regular media appearances discussing energy infrastructure. Simon is also a contributor to Forbes.com.
Analyst's Disclosure: I am/we are long KMI, PAGP. I wrote this article myself, and it expresses my own opinions. I am not receiving compensation for it. I have no business relationship with any company whose stock is mentioned in this article.
Seeking Alpha's Disclosure: Past performance is no guarantee of future results. No recommendation or advice is being given as to whether any investment is suitable for a particular investor. Any views or opinions expressed above may not reflect those of Seeking Alpha as a whole. Seeking Alpha is not a licensed securities dealer, broker or US investment adviser or investment bank. Our analysts are third party authors that include both professional investors and individual investors who may not be licensed or certified by any institute or regulatory body.