Great Uncertainty - Today's Editors' Picks
Good morning! I'm your curator, Jason Kirsch
Here are today's Editors' Picks:
Chart of the day: Yield Curve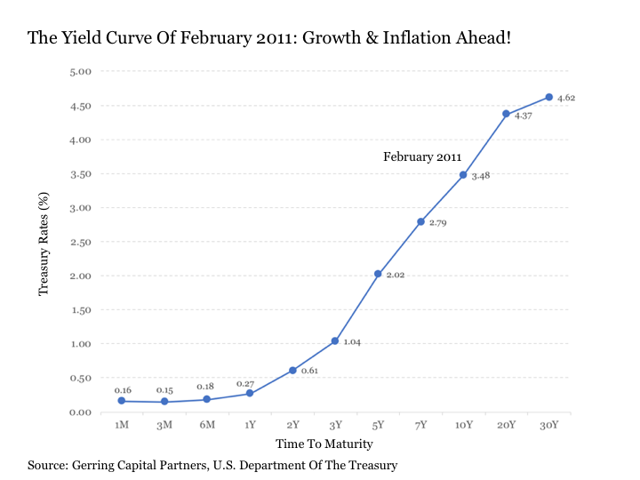 Comment of the day, by contributor Eric Parnell, CFA
The movements in the yield curve particularly over the past year should highlight why investors much exercise caution and do their own homework before reacting too swiftly on any news about economic growth, higher inflation, higher interest rates and steepening/flattening yield curves. If one were to listen only to the news, they might perceive that these indicators are flying all over the place. But the reality remains that while such moves may seem dramatic in the isolation of a handful of trading days, they have still been relatively minor in a broader historical context. Put more simply, avoid being reactive and maintain your discipline amid any seemingly major market moves at any given point in time.

The yield curve may ultimately find its mojo and start sustainably steepening as the elusive hopes and dreams of economic growth and higher inflation are finally realized. But to date, the latter remains unconfirmed while the former continues to foretell an entirely different tale as evidenced by the hanging curve.
Quote of the day:
"Whenever I hear people talk about Bitcoin's limitless future, I think about Dow 100,000. I first saw it in the old Borders bookshop at the World Trade Center. A few years later, the store was destroyed, and the book title was a sad joke. The markets lost interest in tech for years. Today all the Borders are gone, too.

Bubbles are melancholy things—swirls of lies and optimism used to hide a million unrealized yearnings. Bitcoin will crash because of course it will. Bubbles burst. The real estate and athletics management people go home, and the believers remain, meeting up, planning new markets. It could take years, it could take a decade, but the blockchain freaks have a world in their heads, and they won't rest until it's real. That the rest of us live here, too, is the least of their concerns. Some of the things they'll do will be magical, community-building, economically thrilling. Others may keep us up at night.

Still, I can't help but look on in envy. Not for the believers' possible wealth, because that will elude most. (Even in a distributed money platform, wealth has a way of finding only a few pockets.) I'm jealous that they'll experience it all: the crash, the rejection, and then the slow rebuild as they learn the difference between toys and tools. They get to participate in the screaming edge of culture."

- Paul Ford
Thanks for reading. Please share your 'Editor's Pick' with fellow investors by posting it in the comments.
Have a great day!
Jason
This article was written by
We're the folks who pick the best articles on SA every day and share them with you. Follow us to get a daily email with the day's best articles.