Trump And The Not-So-New Trade Wars
Mar. 09, 2018 6:45 PM ET
BDRBF, KO, SPY, QQQ, DIA, SH, IWM, TZA, SSO, TNA, VOO, SDS, IVV, SPXU, TQQQ, UPRO, PSQ, SPXL, UWM, RSP, SPXS, SQQQ, QID, DOG, QLD, DXD, UDOW, RWL-OLD, SDOW, VFINX, URTY, EPS, TWM, SCHX, VV, RWM, DDM, SRTY, VTWO, QQEW, QQQE, FEX, ILCB, SPLX, EEH, EQL, SFLA-OLD, QQXT, SPUU, IWL, FWDD, SYE, SBUS, SMLL, SPXE, PPLC, PPSC, UDPIX, JHML, OTPIX, RYARX, SPXN, USSD, HUSV, RYRSX, SCAP, SPDN, SPXT, SPXV, USWD, BBD.B:CA
29 Comments
Summary
Since the 2008 financial crisis, protectionism has been accelerating globally in the aggregate.
Previous to the 2016 US election, protectionist measures received little attention from the mainstream media.
The US President is only the most recent (and bombastic) manifestation of a longer-term trend.
Expect protectionism to continue, as recent elections in the US and Europe demonstrate that an intractable split has occurred between the Western World's elites and its working classes.
Avoid industries that are heavily subsidized, as these will present protectionists with juicy targets. If good buying opportunities arise, seek the safest of blue chips, and only if you have a long time horizon.
Your humble author finds himself in a rather odd position this week. As you, dear reader, are doubtless aware, there has been much talk about the age of protectionism that the US President is said to be ushering in. Like most macro observers, this concerns me, as I am outwardly in the camp that believes free trade is largely a good thing, and escalating protectionism risks stunting what little growth has been achieved in the post-Financial Crisis era. However, the odd position I find myself in has less to do with the protectionism the President is advocating than with the way it is being portrayed by an ideologically-motivated media machine. As I will show, protectionism has been gathering force for at least 10 years, a fact that seems to have been forgotten in the hyper-charged climate of our time.
As much as anything, this is an indictment not just of the media, but of the Western intelligentsia of which it is a part. Its inability to see the obvious cracks forming in the foundation of global trade is symptomatic of the contempt too many elites hold for those who have either suffered from global trade, or benefited least from it. The rising tide of protectionism is neither a Trump-phenomenon nor a US-phenomenon, and it will almost certainly continue to gain momentum.
The Forgotten Trade Wars
A casual consumer of news media might be forgiven for believing that the election of Donald Trump signaled a turning point in global trade, specifically towards the more inward economic policies that "America First" would imply. On the contrary, we shall see that Mr. Trump is merely the most bombastic and explicit manifestation of the gradual distancing from freer trade by not only grass-roots voters but also of policy-makers themselves, in spite of what the latter may profess publicly.
It is not unusual for nations to become more protectionist during economic hard-times, and the aftermath of the 2008 financial crisis was no different. From the earliest days of the crisis, there came warnings that protectionist policies were likely to arise and exacerbate a bad situation. As early as 2009 critics were already emerging, pointing to what they saw as politically self-serving bail-outs and other programs that seemed designed to isolate powerful national interests from the wrath of global markets, especially the discriminatory nature of policies that prop up domestic banks, financial institutions, and auto makers. The warnings seem to have proved prescient. By 2012, the WTO was already chiming in. From The Economist:
The WTO is worried. It detects a steady rise in barriers, despite the promises at G20 summits. The new restrictions range from higher tariffs to costly import licenses and customs controls.
In 2013, The European Commission published this report, declaring that trade protectionism was on the rise globally, and lobbed its harshest criticisms at Argentina, Brazil, Ukraine, and Russia. This was not a temporary blip, either. In its 2016 Report on G20 Trade Measures, the WTO was still worried. It noted that since 2008, protectionist measures have far outpaced policies aimed at reducing or eliminating trade barriers, with the latter accounting for only 25% of new measures. Interestingly, the report also specifically mentions the pre-Trump US for more than doubling the number of anti-dumping investigations it initiated from 2014 to 2015.
The measures lamented by the WTO are but the most explicit means by which nations protect their domestic industries and firms. Currency devaluation is less explicit, but has a long history. In the wake of 2008, the topic became increasingly heated. Government policies ostensibly aimed at stimulating national economies brought forth tensions and accusations of currency manipulation. Japan was accused of starting a "currency war" by multiple rivals as early as 2012. Quantitative Easing policies also stoked considerable ire, especially in the emerging markets. Brazil's president was already speaking of currency war in 2010 in response to policies undertaken by developed nations, specifically referring to QE in the US and direct currency market interventions by Japan. By 2013, Germany had joined the chorus accusing Japan of manipulating its currency. Meanwhile, the US has long complained that China is a currency manipulator. In 2015, led by top Senate Democrat Charles Schumer, the US Senate passed a bill, widely assumed to be aimed at China, which punishes alleged currency manipulators. Not to be overlooked is the fact that at the same time angry critics in developing economies were accusing the US of currency manipulation, if not in name then in effect, by engaging in quantitative easing.
Of course, the US was not the only developed economy to experiment with quantitative easing. In September 2014, Mario Draghi announced that the ECB would begin its own program of bond purchases inviting the ire of many emerging markets, including India. Of course, ostensibly, the ECB denied that its intention to purchase bonds was to devalue the currency, but was rather an attempt to fight deflation. Be that as it may, once rumours began to swirl early in 2014 that the ECB was considering QE the Euro experienced a precipitous drop vis a vis the US dollar, and that drop gained further momentum once the official announcement was made in September of that year. The chart below shows the Euro's drop from roughly US $1.35 to roughly US $1.05, a 22% drop in less than one annum!
Euro-Dollar Exchange Rate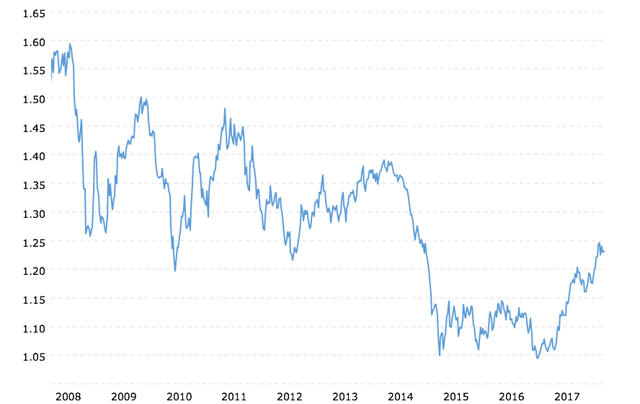 Source: Macrotrends
Now, the debate about whether quantitative easing programs are actually intended to weaken currencies, or merely "combat deflation" as central bankers claim, can seem largely irrelevant when the end result is still a weakening of currencies. The effect of QE on currencies is indisputable. The Broad Trade Weighted US dollar index clearly shows how the value of the greenback began to soar at precisely the time (Autumn 2014) when The Fed ended quantitative easing and the ECB announced the beginning of its own bond-buying program.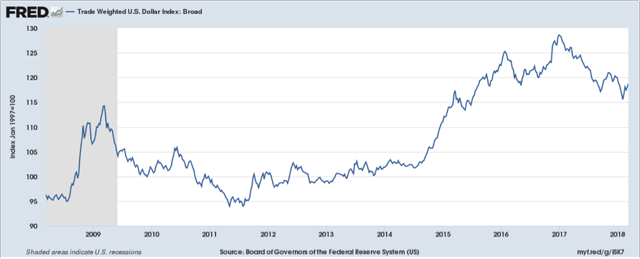 Source: Federal Reserve Bank of St. Louis
If you are not convinced that world leaders are far less committed to the principles of free trade than their rhetoric would imply, let's fast-forward to the most recent year. Not surprisingly, recent headlines have been dominated by President Trump's threat to impose tariffs on steel and aluminum, as well as his claims that the Yen and Euro are deliberately undervalued. These have been met with condemnation by world leaders and commentators.
Somehow, these words ring hollow. Just five years after Germany accused Japan of currency manipulation, the two countries now stand together declaring that Mr. Trump's allegations of currency manipulation against both countries are false. But not to be forgotten is the fact that in June of 2017 the EU imposed a 35.9% tariff on Chinese hot-rolled steel, while opening the possibility of taking similar action against steel from Brazil, Iran, Russia, Serbia, and Ukraine. Moreover, in December, the EU passed punitive "anti-dumping" measures against China, claiming the latter employs unfair trade practices. China, for its part, has denied these accusations, and filed a complaint with the WTO. Thus, it would appear to be an act of world-historical chutzpah, that in the wake of these measures, Germany is sternly recommending that the US President "rethink" his steel and aluminum tariffs, lest he start a trade war.
Somehow, the mainstream media has largely missed or overlooked a much larger trend. Whether the reason is because they are too busy drooling in anticipation of the President's next tweet, or because such facts simply don't fit the standard narrative can be debated. What cannot be debated is that at least since 2008 world leaders' commitment to free trade has waned sharply, despite their public posturing and grandstanding.
The current US President garners a lot of headlines, which is hardly surprising considering his apparent predilection for endlessly garnering headlines. However, Mr. Trump is but one player in a much larger act. Protectionism and hostility to free trade are nothing new. Investors need to prepare for more of the same. Ignore the media narrative. This trend is not going away, and the likelihood of increased protectionism must factor into all our long-term strategies. Here is what I consider to ultimately be at the bottom of this.
The Forgotten People
I submit that the Western World's intelligentsia is rapidly losing credibility with the peoples of their nations. Most recently, in Italy, we saw an election send "shockwaves" to Brussels, according to the BBC, where both of the big vote-winners were explicitly anti-establishment parties, unfriendly to the EU. In the US, we saw the unlikely election of Donald Trump over the much-favoured establishment pick, Hillary Clinton. Indeed, Trump's nomination was itself a slap in the face for the Republican Party's own establishment, some of whom refused to endorse the nominee. Just prior to Trump's victory, the people of the UK voted to exit the EU, creating more uncertainty for the future of that increasingly troubled union. In Greece, a referendum on acceptance of an austerity package imposed by the EU, ECB, and IMF was overwhelmingly rejected at the polls. Of course, the Greek voters would be quickly double-crossed by very self-professed anti-establishment Prime Minister who called the referendum. This former academic turned out to be very much a creature of the establishment after all. In Catalonia, we saw Spanish police forces use extreme violence, reminiscent of Third World dictatorships from the Cold War, in an attempt to stop an independence referendum.
The elites of the West were apparently shocked with each of these developments, the media included. Unlike years past, the derisive labeling of parties and policies as "populist" or worse is no longer dissuading voters from upsetting the proverbial applecart. Something has truly changed, and the establishment cannot see it, for doing so would mean admitting that in democracies no one enjoys sole possession of "right and wrong," and "true and false." It is now a fight to the death between an isolated and sequestered intelligentsia that believes first and foremost in its own superiority, and a population that no longer takes them seriously. For this reason, the societal divide now appears intractable.
The financial crisis of 2008 blew a hole in the livelihoods of the working class, and a few portions of the white collar crowd as well. While we hear daily platitudes about "full employment" in the economies of the West, the truth is that pre-2008 living standards and qualities of life are forever gone for large swaths of the population. In 2015, the UN reported that, globally, 75% of workers are now part-time or temporary. A few headlines manage to break through the full employment narrative and bear out what the UN claims:
"America's Middle-Class Meltdown: Fifth of US Adults Live In or Near to Poverty,"

"Less Than Half of All Canadians 25-54 Now Have Full-Time, Year-Round Jobs,"

"Greeks Stuck in Lousy, Part-Time Jobs as Government Claims Success,"

"Rise of Part-Time Work to Blame for Stunted Pay Growth, Says IMF."
The fact that the US labour participation rate has dropped by 5.4% since the so-called Great Recession is troubling, especially since labour economists struggle to adequately explain the phenomenon: yes, baby boomers are retiring, yet the percentage of older workers in the workforce is increasing; meanwhile, there is the so-called "job flight" among men (so to where are they fleeing, exactly?).
Meanwhile, suicide rates surge, US cities resemble war zones of gang activity and astronomical homicide rates, not to mention prescription drug addiction, which has become an epidemic throughout the developed world, particularly devastating rural communities and the working poor. All this as the media is preoccupied with kneeling NFL players, the activisms of Hollywood celebrities, and enforcing political correctness upon an increasingly agitated population.
The ranks of forgotten people, for whom their presumed moral and intellectual superiors hold such deep contempt, are growing by the day, despite "full employment". The economy that has enriched the establishment has apparently failed the working class, and the establishment is in serious denial about it. Increasingly impotent attacks on so-called "populism" reveal how disassociated from the people it has become, and how desperately it needs to not confront its own isolation. How can the US mainstream media point out that free trade has been under attack for 10 years when it sees its primary job as defeating Trump? How can the European mainstream media focus on the subversion of the democratic process in Greece or Catalonia when it sees its job as preserving the European Union at all costs?
The most important conclusion that can be drawn is, ironically, that even our leaders and intelligentsia objectively either do not themselves believe in their own rhetoric, or do not practice what they preach. The growth of protectionism since 2008 noted by the WTO was almost exclusively undertaken by mainstream political parties. When countries protect, for example, their domestic banks and auto-makers they are deeming, rightly or wrongly, that these institutions are crucial to the national economic lifeblood. When they subsidize domestic firms that develop, say, aerospace firms, they are doing so because they feel, rightly or wrongly, that such firms are necessary for national security or prestige.
But beyond the technocrats and bureaucrats of the governing class, there is the much wider intelligentsia of our academic class, which also includes members of the media. It has been quite easy for this segment to forget how recently it was that its ranks gathered in places like Seattle and Quebec City to protest, sometimes violently, against free trade and globalization. However, the memories of today's unemployed and working poor are not quite so short, nor as selective. They are fully aware of being under daily attack when they attend rallies for Trump, Brexit, or Five Star by some of the very people who once vandalized the occasional Starbucks outlet in the name of saving the workers from the ravages of global trade. Unable to recognize its own hypocrisy, the intelligentsia simply adds additional fuel to the fire in the form of the disgust it showers upon those it once ostensibly claimed to speak for.
In summary, the Western working classes and its intelligentsia hold each other in mutual contempt from which there appears no resolution. Worst of all, for those of us who genuinely want freer trade, neither side of this fissure can be relied upon to fight for it. The working class no longer cares what the intelligentsia thinks, and as for the intelligentsia, its members either do not truly believe their own rhetoric regarding free trade, or do so superficially, only when convenient.
Protectionism Isn't Going Away
The question that lies before us is not whether Mr. Trump will usher in an age of protectionism, but whether Mr. Trump will accelerate the movement towards protectionism that was already gaining momentum when he took office. It is certainly not clear to me whether the President truly intends to enshrine protectionist policies as permanent features of US trade policy, or whether he is simply using the threat of such as a means to negotiate more favourable deals. Indeed, it is not even clear to me that the President himself is certain. However, barring a drastic change in the chasm between those who identify with the intelligentsia and those who do not, we can feel pretty confident that protectionism will increase, no matter who wins the next election in whichever country happens to be going to the polls.
I think big picture investors will rightly avoid industries notorious for receiving government subsidies or tariff protection, as these will be glaring targets for punitive measures by foreign leaders. An obvious example that I alluded to earlier would be aircraft manufacturers, which are universally known to receive generous government subsidies. This is especially true of the smaller manufacturers that can't fall back on military contracts, the way Boeing (BA) can, for example. So, even though Bombardier (OTCQX:BDRAF, OTCQX:BDRBF), for instance, recently managed to overturn US tariffs on its C-Series jet, the company nevertheless remains embroiled in escalating disputes with Brazil's Embraer (ERJ). Personally, if we assume that protectionism continues gaining momentum, I would avoid both companies, as each has a long history of receiving government support leading to trade disputes.
On the other hand, companies with broad-based international consumer appeal may escape being targeted. Coca-Cola (KO) comes to mind. That said, at current valuations, I would wait for a sizable pullback and would not be interested in taking on a position at this time and at these prices. Though if you're one of the smart ones who bought it in the twenty-to-thirty dollar range, I would hold it for the long term.
No one knows how long this movement away from freer trade will last. What is certain is that the political climate in most Western nations is increasingly volatile, and this is in the midst of one of the longest periods of GDP expansion in history. A recession is almost statistically certain within the next five years. It may be a long time before the world sees another unified commitment to step back from protectionism.
Editor's Note: This article discusses one or more securities that do not trade on a major U.S. exchange. Please be aware of the risks associated with these stocks.
This article was written by
Mr. Salus specializes in macroeconomic topics. He's the author of Twilight of a Middle Class: Retirement Crises in Our Two Economies World, which is widely available on Amazon and elsewhere. He holds a master's degree in Political Theory, as well as a bachelor's degree in Political Science and Economics. He lives somewhere in the Americas.
Analyst's Disclosure: I/we have no positions in any stocks mentioned, and no plans to initiate any positions within the next 72 hours. I wrote this article myself, and it expresses my own opinions. I am not receiving compensation for it (other than from Seeking Alpha). I have no business relationship with any company whose stock is mentioned in this article.
Seeking Alpha's Disclosure: Past performance is no guarantee of future results. No recommendation or advice is being given as to whether any investment is suitable for a particular investor. Any views or opinions expressed above may not reflect those of Seeking Alpha as a whole. Seeking Alpha is not a licensed securities dealer, broker or US investment adviser or investment bank. Our analysts are third party authors that include both professional investors and individual investors who may not be licensed or certified by any institute or regulatory body.