Bojangles' (NASDAQ:BOJA) has struggled mightily for the past few quarters as it has grappled with perpetually low sales and margin numbers. I was once a bull on BOJA, but in the recent past, that has been an untenable position because the issues the company is facing are so great. Indeed, I'm not the only one that feels that way because the chart below shows us that investors have completely lost confidence in BOJA's ability to pull itself out of the funk it is in. M&A chatter has buoyed the stock a bit of late, but apart from that, the Q4 report was pretty ugly.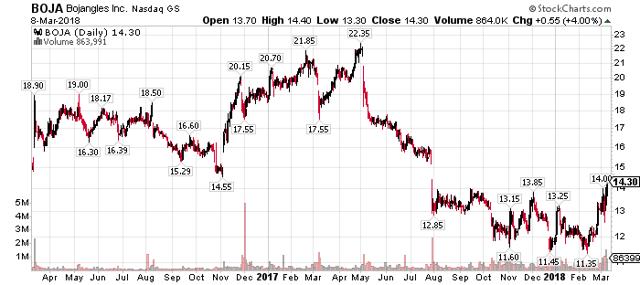 Comps are falling rapidly
Total revenue was up 6% in Q4, but it wasn't because BOJA has figured out how to fix its demand problems. An extra operating week in this year's Q4 helped as well as the fact that 48 more units were open in this year's Q4 as opposed to last year's. System-wide comps were down 3.1% as company-owned stores fell 4.4% and franchised stores fell 2.2%. These aren't good numbers, and they aren't even acceptable to be honest, as BOJA has proven once again that it is unable to stop the loss of traffic at its stores. What's more, price and mix moved higher in Q4, but was more than offset by a sizable loss in traffic, meaning that the comp problem is even worse under the surface than the headline number would suggest. Traffic is the lifeblood of any restaurant, and given what management said, its traffic loss was in excess of the 3.1% system-wide comp loss. That's at the point where it is a bit alarming, and given that BOJA doesn't really do menu innovation, I'm not sure how it is going to fix these problems.
Margins are even
worse
In case that wasn't enough, unit margins fell markedly during Q4. That number came in 13.2% lower in Q4 despite the fact that company-owned revenue rose 6.1% in Q4. This means that unit margins not only didn't rise as quickly as the rate of revenue growth but also fell significantly. In other words, margins took an absolute beating in Q4 and this was the case for the full year as well. This is to be expected when comps are falling the way that they are for BOJA right number, but the sheer magnitude of the loss is stunning. This led adjusted earnings to fall 18% YoY as BOJA just cannot seem to catch a break.
An abrupt change at the top
BOJA's CEO resigned abruptly a few days ago just in front of the earnings report. It is difficult to speculate why he decided to leave as the standard "personal reasons" message was provided, but given the state of this company's operating performance, a CEO change is probably the last thing it needs. It will be interesting to see if the new headman can enact some change that will get BOJA back to some sort of success, but the odds are stacked against him right now.
Terrible guidance and an expensive stock
Guidance for this year was equally as bad as operating results from Q4 as BOJA sees basically flat revenue on comps that are going to be slightly negative to flat. We'll see a total of ~35 new stores and unit margins in the 14% area, leading to adjusted EPS of 68 cents or so and adjusted EBITDA of ~$66M. For some context, adjusted EPS was 83 cents last year and $1.00 in 2016, meaning BOJA is still seeing much lower earnings YoY. The same is true with adjusted EBITDA if that is your preferred measure; that was $77M last year and $89M the year before. These numbers are really ugly and it just seems BOJA has no end in sight to its pain.
At roughly 20 times this year's earnings, I certainly don't want anything to do with BOJA from the long side. It is possible BOJA will get bought out as its market cap is in the $500M area and thus is small enough for a lot of potential buyers. The challenges it is facing, however, are daunting and appear to be continuously getting worse, not better. The only hope for longs here is a buyout because if BOJA has to stand on its own, $14 looks very pricey to me.
If you found this article interesting, please consider hitting orange "Follow" button at the top of the page. Thanks for reading!