Sentiment And Economic Data Laying The Foundation For Higher Stock Prices
The headline number of an increase of 313,000 in February's non-farm payrolls this morning was big. This is the largest monthly increase since July 2016. The high end of consensus estimates was for a 230,000 increase in payrolls. December and January reports were also revised higher.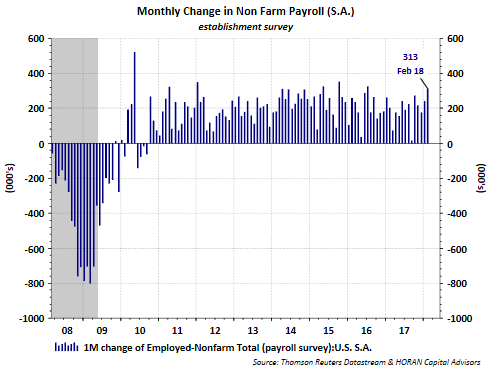 In addition to the strong payroll report, estimated 12-month forward earnings growth is anything but disappointing. As the below chart shows, the I/B/E/S forward earnings estimate for the S&P 500 Index now has earnings anticipated to grow 20% over the course of the next 12 months. Certainly the tax cuts are a tailwind for this earnings expectation, but it is 20% growth nonetheless and the equity markets are reacting accordingly.
With the payroll report, the market has responded favorably at this morning's open, yet individual investors are not reporting they are bullish on this market. Earlier this week, The American Association of Individual Investors reported a nearly 11 percentage point drop in bullish investor sentiment. In the Sentiment Survey, AAII reported the bullishness level at 26.4% versus the prior week's bullishness reading of 37.3%. The less volatile 8-period moving average has turned lower; however, remains elevated.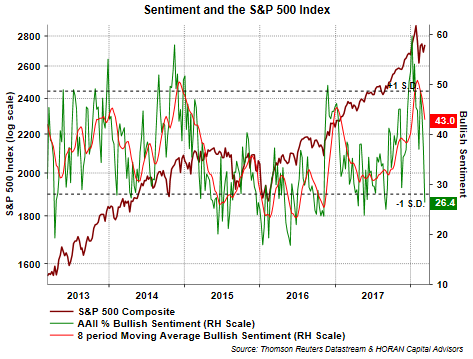 Newsletter writers have also turned less bullish. The Investor Intelligence Advisors' Sentiment bull/bear ratio has declined over 18 percentage points since mid-January. The II Advisors' Sentiment Survey studies over a hundred independent market newsletters and assesses each author's current stance on the market: bullish, bearish or correction.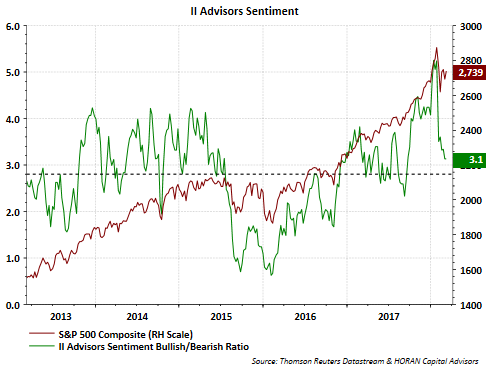 These sentiment surveys are contrarian indicators and the tilt towards less bullishness is viewed as a positive for higher stock prices. Also positive for stocks is the strength of earnings growth. The stock market is not the economy, or vice versa, yet the non-farm payroll report this morning is another indication that companies are experiencing improved operating conditions. The recent economic reports are not indicating a recession near term. This nine-year old bull market just might make it to ten.
This article was written by
HORAN Capital Advisors is an SEC registered investment advisor that manages investment portfolios for individuals and institutions. Our firm utilizes a disciplined investing approach that should create wealth for our clients over time. Our investment bias is to invest in companies that generate a steady return over time, i.e., singles and doubles. This singles and doubles approach tends to lead to investments in higher quality dividend growth/cash flow growth companies. On the other hand, there are times when a company's stock price seems to be trading below its fair valuation. Short term gains are possible in these situations. I have been managing investment portfolios for individuals and institutions for over fifteen years and believe investing is like running a marathon and not a sprint. Taking the road less traveled, more often than not, leads to higher returns. Visit: The Blog of HORAN Capital Advisors at (https://horanwealth.com/insights/market-commentary-blog)