Here's An Easy Way To Play Artificial Intelligence
Summary
Robotic Companies have the best exposure to A.I. growth.
Japanese robotic companies have cutting edge robotic technology.
Early year correction gives investors a great entry point into this A.I. passive fund.
Suppose there was an exchange traded fund that focused on the single most important technology trend in the world today.

You might think that I was smoking California's largest export (it's not grapes). But such a fund DOES exist.

The Global X Robotics & Artificial Intelligence ETF (NASDAQ:BOTZ) drops a golden opportunity into investors' laps as a way to capture part of the growing movement behind automation.

The fund currently has an impressive $2.2 billion in assets under management.

The universal trend of preferring automation over human labor is spreading with each passing day. Suffice to say there is the unfortunate emotional element of sacking a human and the negative knock on effect to the local community like in Detroit, Michigan.

But simply put, robots do a better job, don't complain, don't fall ill, don't join unions, or don't ask for pay rises. It's all very much a capitalist's dream come true.

Instead of dallying around in single stock symbols, now is the time to seize the moment and take advantage of the single seminal trend of our lifetime.

No, it's not online dating, gambling, or bitcoin, it's Artificial Intelligence.

Selecting individual stocks that are purely exposed to A.I. is a challenging endeavor. Companies need a way to generate returns to shareholders first and foremost, hence, most pure A.I. plays do not exist right now.

However, the Mad Hedge Fund Trader has found the most unadulterated A.I. play out there. A real diamond in the rough.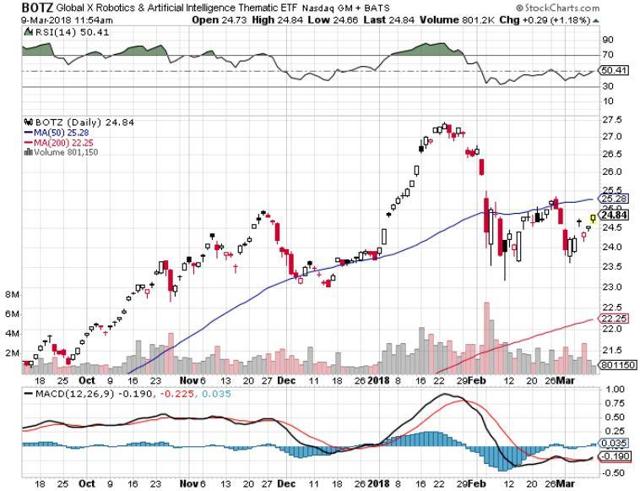 The best way to expose yourself to this A.I. trend is through Global X Robotics & Artificial Intelligence ETF (BOTZ).

This ETF tracks the price and yield performance of ten crucial companies that sit on the forefront of the A.I. and robotic development curve. It invests at least 80% of its total assets in the securities of the underlying index. The expense ratio is only 0.68%.

Another caveat is that the underlying companies are only derived from developed countries. Out of the 10 disclosed largest holdings, seven are from Japan, two are from Silicon Valley, and one, ABB Group, is a Swedish-Swiss multinational headquartered in Zurich, Switzerland.

Robotics and A.I. walk hand in hand, and robotics are entirely dependent on the germination prospects of A.I. Without A.I., robots are just a clunk of heavy metal.

Robots require a high level of A.I. to meld seamlessly into our workforce. The stronger the A.I. functions, the stronger the robot's ability, filtering down to the bottom line.

A.I. embedded robots are especially prevalent in military, car manufacturing, and heavy machinery. The industrial robot industry projects to reach $80 billion per year in sales by 2024 as more of the workforce gradually becomes automated.

The robotic industry has become so prominent in the automotive industry that they constitute greater than 50% of robot investments in America.

Let's get the ball rolling and familiarize readers of the Mad Hedge Technology Letter with the top 5 weightings in the underlying ETF (BOTZ).

Nvidia (NVDA)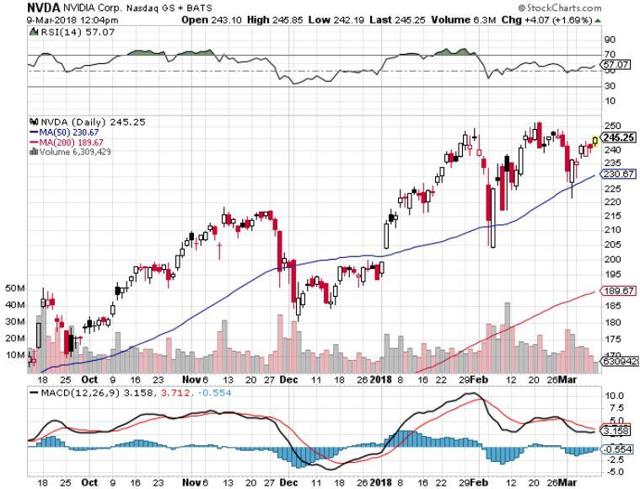 Nvidia Corporation is a company I often write about as their main business is producing GPU chips for the video game industry.

This Santa Clara, California based company is spearheading the next wave of A.I. advancement by focusing on autonomous vehicle technology and A.I. integrated cloud data centers as their next cash cow.

All these new groundbreaking technologies require ample amounts of GPU chips. Consumers will eventually cohabitate with state of the art IOT products (internet of things), fueled by GPU chips, coming to mass market like the Apple Homepod.

The company is led by genius Jensen Huang, a Taiwanese American, who cut his teeth as a microprocessor designer at competitor Advanced Micro Devices (AMD).

Nvidia constitutes a hefty 9.38% of the BOTZ ETF.

To visit their website please click here.

Yaskawa Electric (Japan)

Yaskawa Electric is the world's largest manufacturer of AC Inverter Drives, Servo and Motion Control, and Robotics Automation Systems, headquartered in Kitakyushu, Japan.

It is a company I know well, having covered this former zaibatsu company as a budding young analyst in Japan 45 years ago.

Yaskawa has fully committed to improve global productivity through Automation. It comprises 7.83% of BOTZ.

To visit Yaskawa's website, please click here.

Intuitive Surgical (ISRG)

Intuitive Surgical Inc (ISRG) trades on Nasdaq and is located in sun drenched Sunnyvale, California.

This local firm designs, manufactures, and markets surgical systems and is industriously focused on the medical industry.

The company's da Vinci Surgical System converts surgeon's hand movements into corresponding micro-movements of instruments positioned inside the patient.

The products include surgeon's consoles, patient-side carts, 3-D vision systems, da Vinci skills simulators, and da Vinci Xi integrated table motions.

This company comprises 7.93% of BOTZ. To visit their website, pleaseclick here.

Fanuc Corp. (Japan)

Fanuc was another one of the hit robotics companies I used to trade in during the 1970's, and I have visited their main factory many times.

The 4th largest portion in the (BOTZ) ETF at 7.84% is Fanuc Corp. This company provides automation products and computer numerical control systems, headquartered in Oshino, Yamanashi.

They were once a subsidiary of Fujitsu, which focused on the field of numerical control. The bulk of their business is done with American and Japanese auto makers and electronics manufacturers.

They have snapped up 65% of the world wide market in the computerized numerical device market (CNC). Fanuc has branch offices in 46 different countries.

To visit their company website, please click here.

Keyence Corp (Japan)

Keyence Corp is the leading supplier of automation sensors, vision systems, barcode readers, laser markers, measuring instruments, and digital microscopes.

They offer a full array of service support and closely work with customers to guarantee full functionality and operation of the equipment. Their technical staff and sales teams add value to the company by cooperating with its buyers.

They have been consistently ranked as the top 10 best companies in Japan and boast an eye opening 50% operating margin.

They are headquartered in Osaka, Japan and and make up 8.02% of the BOTZ ETF.

To visit their website please click here.

(BOTZ) does has some pros and cons. The best AI plays are either still private at the venture capital level or have already been taken over by giant firms like NVIDIA.

You also need to have a pretty broad definition of AI to bring together enough companies to make up an decent ETF.

However, it does get you a cheap entry into many for the illiquid foreign names in this fund.

Automation is one of the reasons why this is turning into the deflationary century and I recommend all readers who don't own their own robotic led business, pick up some Global X Robotics & Artificial Intelligence ETF (BOTZ).

And by the way, the entry point right here on the charts is almost perfect.

To learn more about (BOTZ) please visit their website by clicking here.
This article was written by
John Thomas is a 50-year veteran of the financial markets. He spent 10 years as a financial journalist, ten more years trading for a major investment bank, and another decade running the first dedicated international hedge funds. Seeing the incredible inefficiencies and severe mispricing offered by the popping of multiple bubbles during the Great Crash of 2008, and missing the adrenaline of the marketplace, he returned to active hedge fund management. With The Diary of a Mad Hedge Fund Trader, his goal is to broaden public understanding of the techniques and strategies employed by the most successful hedge funds so that they may more profitably manage their own money. He publishes a daily research newsletter, and offers one of the most successful trade mentoring services in the industry. He currently has followers in 134 countries. In his free time, John Thomas climbs mountains, does long distance backpacks, practices karate, performs aerobatics in antique aircraft, collects vintages wines, reads the Japanese classics, and engages in a wide variety of public service and philanthropic activities. His career has taken him up to 20,000 feet on Mount Everest, to the edge of space at 90,000 feet in the Cockpit of a MIG-25, and to the depths of a sunken Japanese fleet in the Truk Lagoon. Why they call him "Mad" he will never understand.
Analyst's Disclosure: I/we have no positions in any stocks mentioned, and no plans to initiate any positions within the next 72 hours. I wrote this article myself, and it expresses my own opinions. I am not receiving compensation for it (other than from Seeking Alpha). I have no business relationship with any company whose stock is mentioned in this article.
Seeking Alpha's Disclosure: Past performance is no guarantee of future results. No recommendation or advice is being given as to whether any investment is suitable for a particular investor. Any views or opinions expressed above may not reflect those of Seeking Alpha as a whole. Seeking Alpha is not a licensed securities dealer, broker or US investment adviser or investment bank. Our analysts are third party authors that include both professional investors and individual investors who may not be licensed or certified by any institute or regulatory body.