The market has punished preferred shares from PREIT (PEI).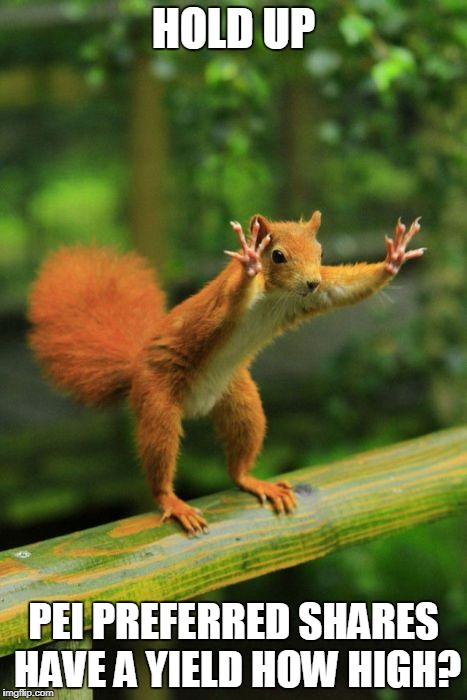 Over 8%. All of them.
Investors have a good opportunity to get all 3 preferred shares from PREIT.
For investors following my preferred share ratings, here ismy guide to preferred shares.
Common stock
PREIT isn't as strong as Simon Property Group (SPG), but they do have some great properties.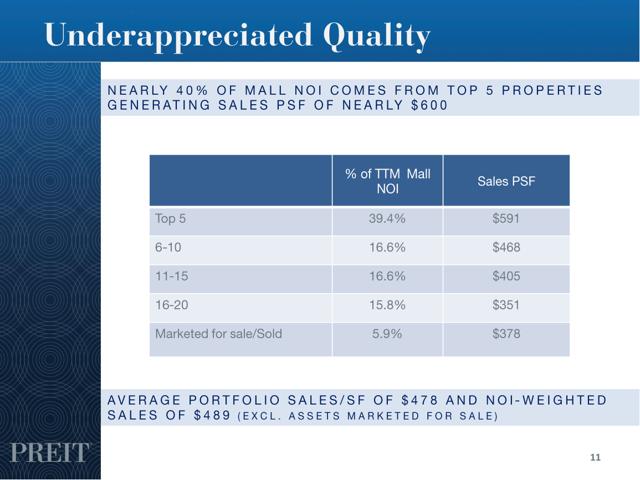 Source: PEI investor presentation
PEI's top 5 properties are fantastic. However, as you can see, they do have properties that aren't nearly as good. This puts PEI in an interesting position. They are actively improving the portfolio.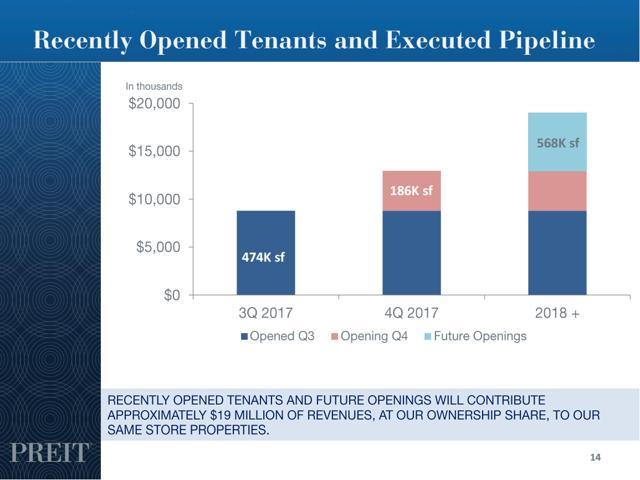 Source: PEI investor presentation
The company has a significant amount of operating income coming online by 2019 and 2020. This is a nice move, but it does require a significant amount of capital as they continue to have redevelopment spending.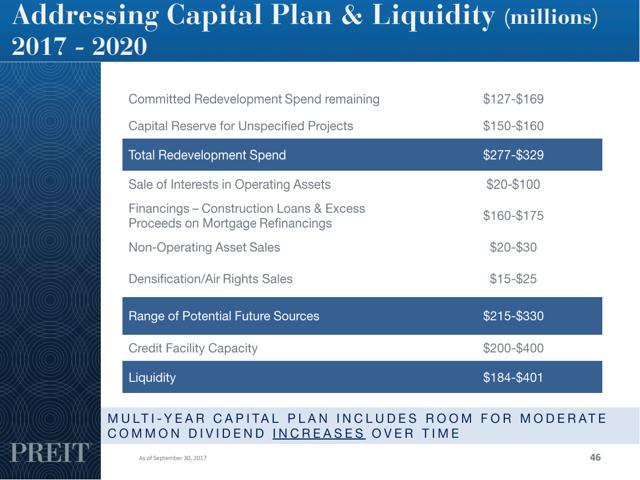 Source: PEI investor presentation
As these new properties come online, PEI's leverage multiples should decrease naturally due to higher net operating income. Currently, PEI is carrying higher leverage than I would like to see for an equity REIT. It would be nice to see a reduction in their leverage over the next few years, but the ratios may expand in 2018 and early 2019 due to the expenditures on redevelopment. In 2020, I expect the leverage multiples to be improving. Despite this leverage, I believe PEI deserves a buy rating. They are attractively priced and the dividend continues to be covered. Management indicated they were comfortable with the current level and they expect increases as redevelopment plans come online.
Another risk, and the biggest risk for the preferred shares, is that a huge amount of PEI's equity comes from preferred shares. Despite that, the preferred shares are trading at a massive discount.
Preferred shares
PREIT has 3 series of preferred stock.

Source: CWMF's subscriber spreadsheet (subscription required for 50+ preferred share/baby bond coverage with relative price targets)
All three preferred shares are trading well below the call value of $25. The market has punished equity REIT preferred shares recently. CBL & Associates Properties (CBL) preferred shares took a dive recently. However, PEI does not carry the same risks as CBL.
All three stripped yields are over 8%. I believe they are all strong buys right now.
These preferred shares carry a risk rating of 3. That means these preferred shares are better suited for the aggressive buy-and-hold investors or for traders.

Source: CWMF
There is call protection on the calendar until 2022 for PEI-C and PEI-D. There is no call protection left for PEI-B except the 30-day notice of a call. However, call protection (on the calendar) doesn't matter as much as the current prices. All three preferred shares have call protection in the form of trading at a material discount to the call value of $25. Note, it would be a stupid choice for PREIT to buy any of these at call value. If they wanted to retire PEI-B, or at least part of it, they should be buying them at the current market price.
One material risk
As I said early, a large chunk of PEI's equity comes from their preferred shares:

Source: CWMF
The market capitalization over preferred share liquidation is only 1.85x. I would like to see this metric be over 5x. This ratio is bad for preferred shareholders in the extremely unlikely event that the company is liquidated. This risk does need to be taken into account. Therefore, I do not believe these preferred shares are a good fit for the most risk-averse buy-and-hold investor. These are great securities for investors willing to take on more risk.
Final thoughts
I believe PEI is currently in the buy range. PEI-B, PEI-C, and PEI-D are all in the strong-buy range. The preferred shares are trading at a significant discount to the call value of $25. They also carry less risk than the common stock.
PEI-B doesn't have call protection on the calendar, but it has a healthy discount to call value.
A warning is needed here: the market treated CBL's preferred equity quite harshly over the last several months. PEI has much higher quality properties and would be a better target for a buyout, but the market can turn abruptly on preferred equity.