KMG Chemicals (NYSE:KMG) is a small-cap speciality chemicals manufacturer that not many people have heard of, but the company's stock has significantly outperformed the broader market over the last year.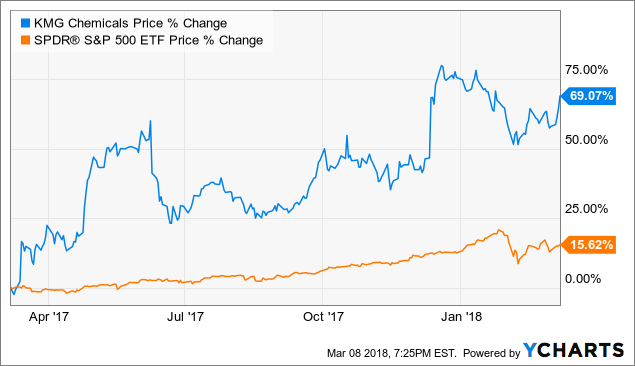 As described in "KMG: An Unknown Specialty Chemical Company, But Not For Long", I believe that KMG Chemicals has extremely bullish long-term business prospects and, more importantly, the company's backdrop continues to improve. More recently, KMG Chemicals reported blow-out Q2 2018 financial results and raised its full-year 2018 guidance. As such, I believe that this unknown speciality chemicals company is worthy of investment dollars, if your time horizon is longer than 12-18 months.
The Q2 2018 Results, A Lot To Like Here
On March 8, 2018, KMG Chemicals reported Q2 2018 results that beat the top- and bottom-line estimates. For the quarter, the company reported adjusted EPS of $1.04 ($0.32 beat) on revenues of $113.8M ($1.28M beat). Additionally, the company's Q2 2018 results were significantly better than what was reported in the same period of the prior year.

Two things to note: [1] the company recorded a benefit in the amount of $11M as a result of the US tax reform bill (i.e., a one-time benefit), and [2] the company made a material acquisition (Flowchem), in addition to several other smaller acquisitions, in 2017 that positively impacted the most recent operating results. As such, the period-over-period comparison may seem a little too good to be true but, at the end of the day, this management team had KMG Chemicals in a great position heading into fiscal 2018. The results prove it.
Both of the company's operating divisions reported impressive results, but Electronic Chemicals was the real standout for the quarter.


As shown, the Performance Materials division was no slouch though. Again, Performance Material's net sales and operating income were both positively impacted by the acquisitions, but the current period operating margin was nothing to brag about. This should have been expected, in my opinion, as the company builds its expense base to properly integrate the acquired assets. The impressive top-line growth should continue for this operating division over the next few years, but I believe that management will eventually be able to cut out costs and improve the operating margin as the company continues to work through the integration process.
Electronic Chemicals, on the other hand, experienced strong net sales and operating income growth, in addition to seeing its operating margin increase by 100 bps. During the conference call, management mentioned that the prior quarter results (i.e., Q2 2017) were extremely strong for this division, so the Q2 2018 results were actually better than advertised. This an important point to consider because, in my opinion, it shows that the future growth prospects for Electric Chemicals (and Performance Materials to a lesser extent) are strong and something to get excited about, of course, as long as management is able to keep the momentum going.
The Future Looks Bright
I have long believed that KMG Chemicals was well-positioned to benefit from a favorable [and improving] backdrop, especially in the electronic chemicals space, but I underestimated how quickly this company's management would be able to squeeze out costs and show this type of growth potential. I believe that this company's bull case still has legs. As described in "KMG: The Story Is Playing Out", KMG Chemicals not only has tailwinds in the electronic chemicals space but the company's Performance Materials operating division also has a great setup for the next few years, mainly fueled by the recent acquisitions (Flowchem and Sealweld).
Plus, management expects for KMG Chemicals to finish the year strong, which should be a short-term tailwind for the stock. Management made the following changes to the company's full-year 2018 guidance:
Net sales to be in the range of $445M-$455M, which is an increase from the prior range of $435M-$$450M.
Adjusted EBITDA to be in the range of $114M-$118M, which is an increase from the prior range of $110M-$115M.
It is also important to note that KMG has a strong balance sheet to work with as the company heads into the second half of 2018.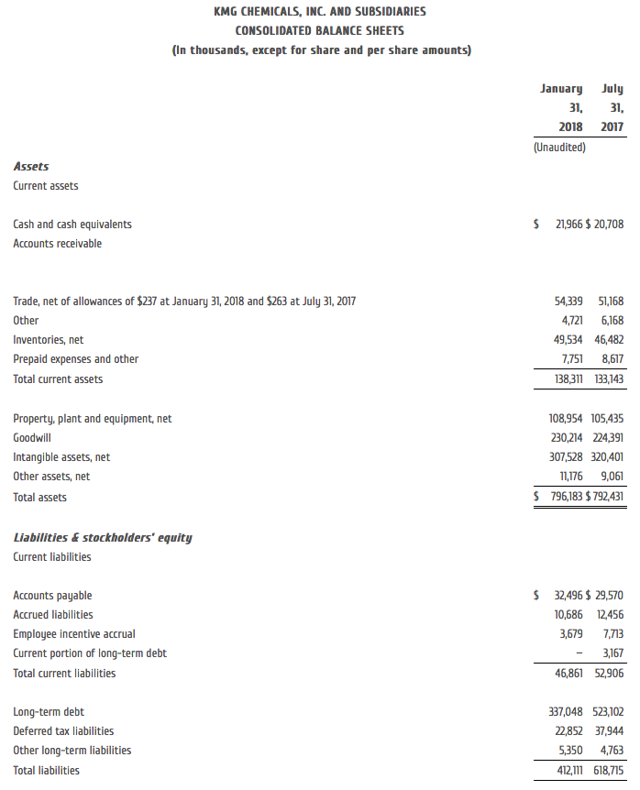 The company's current ratio is almost 3, its debt-to-equity ratio is 1.07 (down 3.73), and most importantly, its net debt position is down almost 40% (from $505M to $315M). KMG Chemicals' leverage improved and the company has the flexibility to either make additional acquisitions or continue to invest heavily in its business. Plus, the industries that the company operates in have promising near-term prospects. What's not to like?
Looking into the second half of 2018 and beyond, I believe that KMG Chemicals is in a great position and I fully anticipate for its stock to outperform the market over the next three-to-five years. It also helps that KMG shares are still trading at a reasonable valuation.
Valuation
KMG Chemicals is trading at 20x forward earnings estimates, which is reasonable when compared to the company's peers.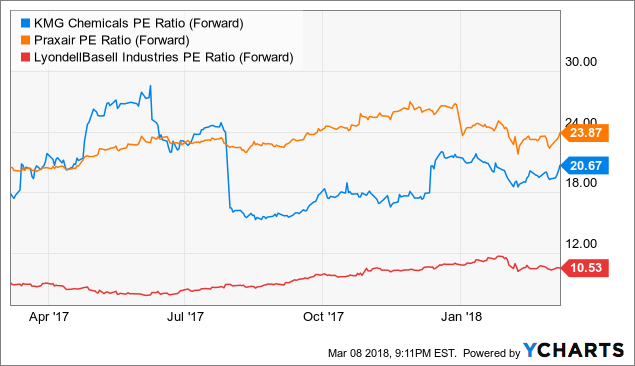 The 20x may seem high, but let's not forget that the broader market is currently trading at (or near) all-time highs. Lastly, KMG Chemicals is expected to grow its EPS by 22% over the next five years (per finviz.com), and I do not believe that the acquisitions, specifically Flowchem, are fully baked into these estimates, so this company should be able to more than grow into its current valuation.
Risks
Investing in small-cap companies comes with many risks, but the major risk for KMG Chemicals is related to the oil and gas industry. Another prolonged downturn for this industry will potentially negatively impact KMG Chemical's operating results, and future growth prospects.
Moreover, a U.S. recession would have a negative impact on the company's near-term prospects. Please also refer to KMG Chemicals' 2017 10-K for additional risk factors that should be considered before investing in the company.
Bottom Line
There was a lot to like about KMG Chemicals' Q2 2018 results and management expects to report even better numbers in the second half of fiscal 2018. In my opinion, management has this company well-positioned not only for the second half of 2018 but also for the next few years, which is obviously bullish for KMG shares.
In my opinion, KMG shares are a steal around the $60 range so, in my opinion, prospective investors should treat any pullbacks, especially if they are a result of a broader market selloff, as long-term buying opportunities.
Author's Note: I hold a small but growing KMG Chemicals position in the R.I.P. portfolio.
Full Disclosure: All images were taken from KMG Chemicals' Q2 2018 Earnings Presentation, unless otherwise stated.
Disclaimer: This article is not a recommendation to buy or sell any stock mentioned. These are only my personal opinions. Every investor must do his/her own due diligence before making any investment decision.