The More Things Change...
In the latter half of last year, we highlighted how Saudi deliveries to Motiva's Port Arthur refinery had been surpassed by Iraqi barrels for the first time on our records. While this trend has now reversed, when it comes to total OPEC flows, the more things change, the more they stay the same.
As our ClipperData illustrate below, Iraqi flows outpaced Saudi deliveries last September into Motiva's Port Arthur refinery, the largest in the United States. This was, however, more a function of lower Saudi flows to the refinery, which dropped under 33,000 bpd after averaging close to 200,000 bpd through the first eight months of the year.
Iraqi flows into Motiva rose through the first half of the year, but have since come off, with a complete absence in the first two months of 2018. Despite lower total Saudi imports to the U.S., normal service was resumed to Port Arthur to close out 2017, and Saudi barrels ended up accounting for around 70 percent of total deliveries to the refinery last year - in keeping with the level seen in recent years.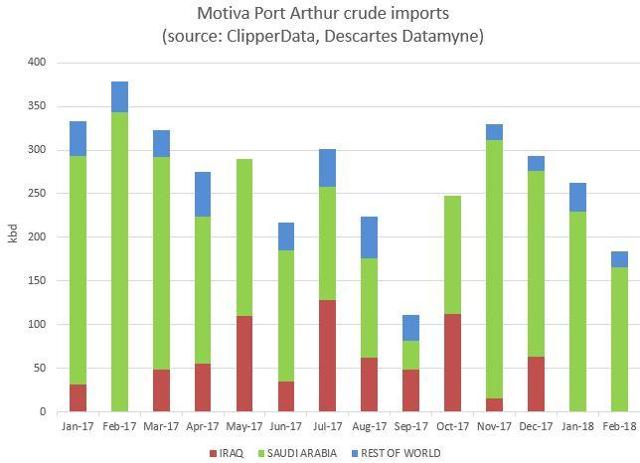 As Saudi has dialed back on its flows to the U.S., we have seen a change in imports to a couple of key destinations. After sending an average of 140,000 bpd to Marathon's Garyville refinery in the first seven months of last year, deliveries have dried up completely since.
On the flip side, after averaging 95,000 bpd through the first seven months of last year, Iraqi arrivals at the refinery have increased to 150,000 bpd in the last six months, after neither Iraqi nor Saudi crude was discharged at the refinery in August.
As Iraqi deliveries to Motiva have dropped off amid higher Saudi flows, Iraqi barrels have ramped up into Garyville instead.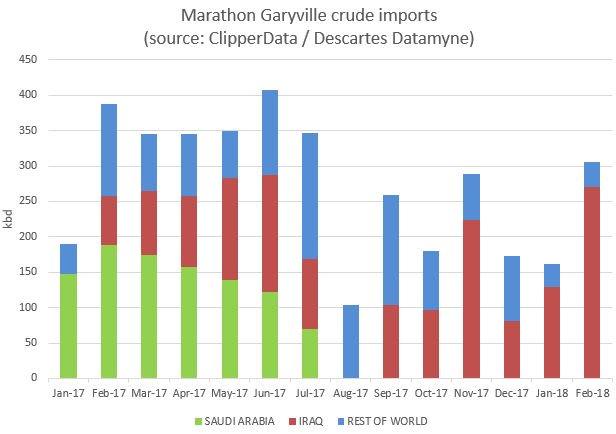 We have been fairly vocal about how we believe that a good deal of OPEC's success in boosting oil prices has been to do with them directing exports to emerging markets instead.
Our ClipperData below illustrate this, highlighting how OPEC loadings bound for Asia have been higher than October 2016's reference level in 12 out of the last 14 months, averaging over 500,000 bpd more over the period. These flows reached their highest differential last month, being higher by 1.4 million bpd.
In absolute contrast, OPEC loadings bound for North America have been lower in 12 out of the last 14 months, down by just over 300,000 bpd over the same period. This differential has been consistently wider in the last 5 months. The more things change, the more they stay the same.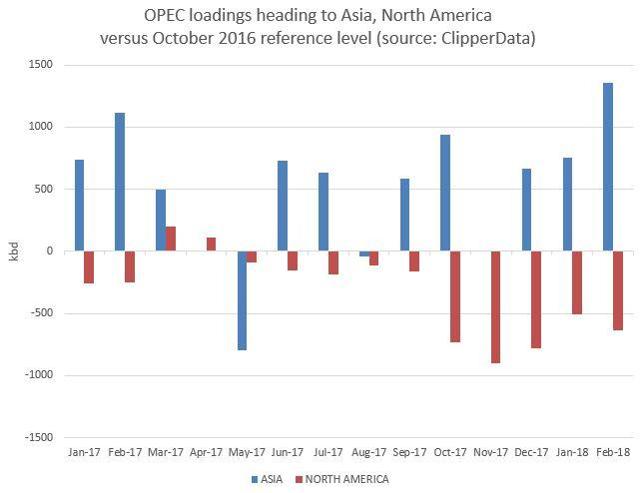 This article was written by
Matt Smith is a Director of Commodity Research at ClipperData. Matt specializes in extracting key themes from technical and fundamental analysis of the global energy market, and communicating these through daily and weekly deliverables. He also provides oil and natural gas analysis and commentary to national and international media outlets that include CNBC, Fox Business, Russia 24, the Wall Street Journal, MarketWatch, AFP, Reuters, and The Oil Daily. Prior to ClipperData, he spent eight years at Schneider Electric as a Commodity Analyst, where he also founded and authored the blog, Energy Burrito. Prior to Schneider, he spent eight years at the Royal Bank of Canada in London as a portfolio manager and financial analyst. When he is not reading, writing (or dreaming) about financial markets, he can be found enthusing about music, red wine, spicy food, or his family. And lamenting his soccer team, West Ham.