9 Years And Counting: Looking Back On The Bull Market
Summary
It has been nine years since the S&P 500 Index hit its bear market low, and some investors may worry that the party for stocks could soon end.
However, we argue that not all bull markets are the same. Macroeconomic concerns, low interest rates and subdued volatility, among other things, have worked to skew the market's recovery.
As such, we believe a return to more natural market conditions and earnings growth should help support stocks in the near term.
By Adam Schor
Today marks the ninth anniversary of the market low during the Global Financial Crisis, but not everyone may be in a party mood. The recent 10% pullback in the S&P 500 Index and the return of volatility has likely startled some investors. Indeed, for some, today's anniversary could be a negative omen, fueling fears that the end of one of the longest bull market's in history is near, rather than heralding continued momentum and strength.
We still see strength ahead. Here, we explore several key lessons from the last nine years, and offer three reasons for why we remain optimistic about the future for equities.
Key Lessons
Nine years ago, market sentiment was in the doldrums. Major U.S. banks were about to report the results of their "stress tests," which measure how banks might cope with an economic and market shock. The world's financial system appeared broken, and, as a result, there was talk of a depression, not a recession. For many indices, price-to-earnings ratios were close to single digits.
Of course, we eventually began to rebound from these dire conditions. But we have had a long way to climb - with still more to potentially go. Consider: Even though stocks have been on an upward trajectory, the 10-year, rolling average returns for U.S. and world markets have been below average for the past decade.
Room to Climb
Trailing 10-year returns (%) for U.S. and global equities have rebounded since 2009, but are still below the long-term average.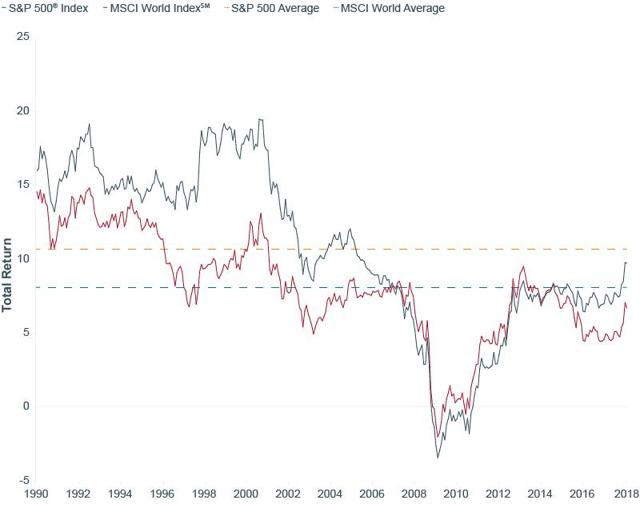 Source: Bloomberg. Data reflect rolling, ten-year average returns (%) on a monthly basis and are from 1/31/90 to 2/28/18.
Not all bull markets are the same, and the run from 2009 had some surprising aspects. In the wake of the financial crisis, macroeconomic factors tended to drive market moves and defensive strategies outperformed. As such, we experienced prolonged periods of below-average volatility. Further, low-beta and yield-oriented strategies thrived, turning the traditional risk-reward paradigm on its head.
The world is not without risks, but markets tend to absorb them when the issues are dispersed and, to some degree, uncorrelated. Nine years ago, the health of the financial system was the dominant worry. Later, concerns turned toward the future of the euro. Italian elections, Brexit, tariffs and North Korea - all of these events matter but, so far, no single one has had a significant impact on markets long term.
Looking Ahead
With these lessons in mind, we think equity markets remain attractive globally. Almost all major economies are expanding, and both companies and consumers are feeling confident. With corporate earnings getting a boost from U.S. tax reform and worries about elections abating, we think earnings growth could surprise - and, therefore, justify - today's valuations.
The return of volatility is not necessarily bad. Along with lower stock correlations, it can open up opportunities for active investors. Further, February's sharp spike in volatility did not have a lasting effect on the market and was likely exacerbated by the rise of strategies that short volatility (collecting premiums while market gyrations are subdued) over the past few years.
Rising interest rates and moderate inflation can still support equity prices, so long as growth comes through. As such, we think markets could move in line with earnings growth over the next two years.
In short, this anniversary should be a celebration of the fact that the market has emerged from a macro-obsessed, highly defensive environment to one that should favor growth and active investors. For some, it is another tick on the countdown to a bear market. We think that is too pessimistic. While we have climbed a long way from the valley of despair in 2009, we don't think we are at the mountain-top yet.
S&P 500® Index reflects U.S. large-cap equity performance and represents broad U.S. equity market performance.
MSCI World IndexSM reflects the equity market performance of global developed markets.
Index performance does not reflect the expenses of managing a portfolio as an index is unmanaged and not available for direct investment.
Beta measures the volatility of a security or portfolio relative to an index. Less than one means lower volatility than the index; more than one means greater volatility.
Disclaimer: Please consider the charges, risks, expenses and investment objectives carefully before investing. Please see a prospectus or, if available, a summary prospectus containing this and other information. Read it carefully before you invest or send money.
The views presented are as of the date published. They are for information purposes only and should not be used or construed as an offer to sell, a solicitation of an offer to buy, or a recommendation for any security or market sector. No forecasts can be guaranteed. The opinions and examples are meant as an illustration of broader themes, are not an indication of trading intent, and are subject to change at any time due to changes in market or economic conditions. There is no guarantee that the information supplied is accurate, complete, or timely, nor are there any warranties with regards to the results obtained from its use. It is not intended to indicate or imply in any manner that any illustration/example mentioned is now or was ever held in any Janus Henderson portfolio, or that current or past results are indicative of future profitability or expectations. As with all investments, there are inherent risks to be considered.

Janus Henderson Investors © 2001-2017. All rights reserved.
This article was written by
Janus Henderson Investors exists to help clients achieve their long-term financial goals. Formed in 2017 from the merger between Janus Capital Group and Henderson Global Investors, we are committed to adding value through active management. For us, active is more than our investment approach – it is the way we translate ideas into action, how we communicate our views and the partnerships we build in order to create the best outcomes for clients. While our investment managers have the flexibility to follow approaches best suited to their areas of expertise, overall our people come together as a team. This is reflected in our Knowledge. Shared ethos, which informs the dialogue across the business and drives our commitment to empowering clients to make better investment and business decisions.www.janushenderson.com