Healthcare Will Catalyze Apple's Growth
Summary
Apple is launching its own clinics with technology-enabled healthcare for employees.
The move is Apple's answer to the team of Amazon, Berkshire Hathaway, and JPMorgan.
It is likely the clinics will be used to test Apple's own healthcare-related technologies.
The venture is one of the points why Apple's future remains to be bright, despite slowing growth in smartphones.
Apple pushes into the healthcare industry with a network of clinics for its employees
Apple (NASDAQ:AAPL) has been somehow associated with the health products since the launch of its HealthKit on WWDC 2014, and at that time, the scope of the corporation's efforts in the filed was limited to having an API for health-related software developers. Since then, the iPhone maker has created and used several data platforms to "connect its users' health information across third-party apps and into clinical research projects." In other words, Apple has been researching different ways to use data and technology for better health treatment.
Recently, the corporation has made another significant step in the direction of the medical industry. At the end of February, it was reported Apple is creating its own healthcare service, so-called "wellness" program, for the employees. This is believed to be a network of in-house medical clinics for "compassionate, effective healthcare to the Apple employee population." It is revealed by The Guardian the first two clinics will be opened in the spring near Apple Park and Infinite Loop headquarters.
The website for AC Wellness, which is likely to be the name of the initiative, was also published by the company. It is revealed by Financial Times:
According to records from the Internet Archive, the domain name acwellness.com was bought, presumably by Apple, sometime in the second half of last year.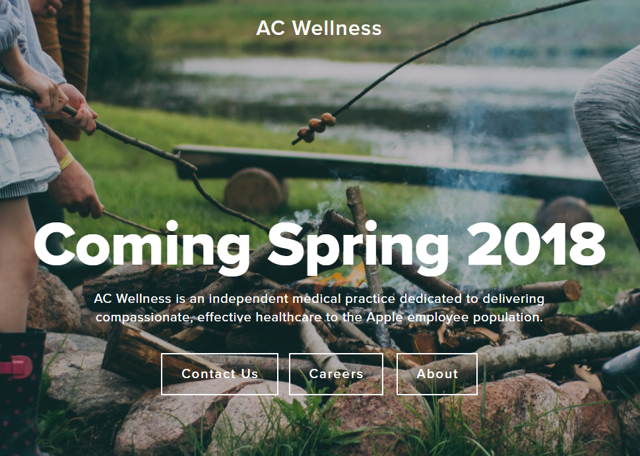 (Source: AC Wellness website)
The page also provides some more details about the clinics and includes a career page, listing such jobs as primary care physician, exercise coach, health partner, nurse coordinator and other. The major emphasis is made on such points as "unique concierge-like healthcare experience," continuous learning, and accessible relationships with patients, enabled by technology. In other words, this means a smartphone or tablet will serve as the primary communication channel between doctors and patients. I also find it clear that Apple gadgets, such as Apple Watch, will be used to collect data about a patient's conditions, in order to make the treatment more personalized.
Apple primary website also gives some insights on the topic. Hence, the search for jobs with the keyword "health" returns more than 130 results, with such positions as a certified medical coder for AC Wellness Network LLC, posted on February 8.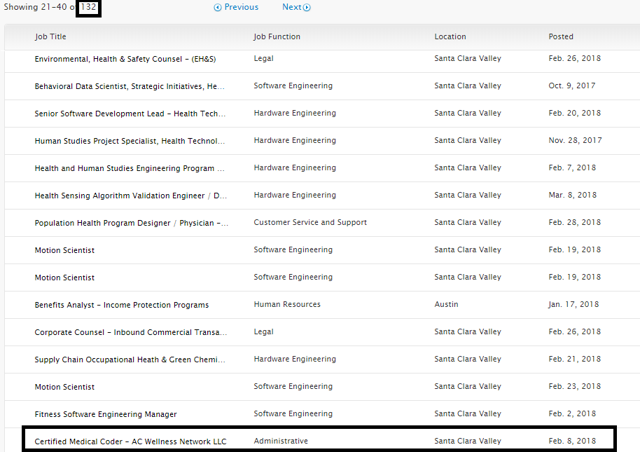 (Source: Apple website)
Unfortunately, there are no further details on the topic. For instance, it is unknown if Apple is planning to extend the program to a bigger audience in the future, or if the clinics will remain to be exclusively for the employees. However, certain conclusions can be certainly made on this stage.
Apple will have a chance to test and improve its own healthcare tech, including Apple Watch
The network of in-house medical facilities will allow the Cupertino-based corporation to test its health-related hardware and software products. At the current stage, it seems that Apple Watch and the platforms for collecting health data would be the main focus for Apple.
While some media, such as The Verge, noted there is a risk for the quality of data collected through these clinics (mainly because Apple employees are mostly white and male, therefore not representative), I do not see this problem as a significant danger. The trends in employees diversity are positive, and the situation will easily change in the near future. Moreover, the tech corporation will have enough health data specialists to figure out the limitations of the information collected - at least 14 out of 132 listed positions are related directly to health data science.
Notably, Apple Watch has already gained significant traction in the industry. For instance, an insurance program by UnitedHealthcare (UNH), the most important partner of Fitbit (FIT), pays its users for using the watch, completing daily fitness goals and tracking activities. It is claimed participants can get up to $1,000 annually for meeting regular fitness objectives.
Moreover, at the end of November, Apple launched a major study in partnership with Stanford University "to gather irregular heart rhythm data from the Apple Watch's heart rate sensor."
Users who participate in the survey will be notified on their iPhone and Watch if an irregular heartbeat is detected and provided a free consultation with a study doctor and an electrocardiogram (EKG) patch for further observation.
This is likely to allow the company to adapt its technology for measuring heartbeat, improve its sensors, and discover possible applications for the data. For instance, it is reported future model of Apple Watch may include EKG reader for advanced heart-monitoring. Clearly, the potential technology solutions can now be easily tested under the AC Wellness initiative, thus making the solution more viable for the public launch in the future.
Other solutions that can be tested in the network of clinics are platforms for collecting data, applications for direct communication with a doctor, iPads for personnel, and many more. From my point of view, Apple's move will be more than beneficial for the company in the future, especially considering the fact that it can afford extensive research due to being the richest public corporation in terms of cash. We can expect that many health-related products and services will appear in the coming years under the Apple brand.
The move is the answer to Amazon, Berkshire Hathaway, and JPMorgan
Apple's move into medical services follows the reveal of Amazon's (AMZN) plans to create a healthcare company in collaboration with Berkshire Hathaway (BRK.A)(BRK.B) and JPMorgan Chase (JPM).
The e-commerce giant announced plans to work with Warren Buffett's Berkshire Hathaway and JPMorgan Chase to create a new health care company with the aim of "reducing healthcare's burden on the economy while improving outcomes for employees and their families."
The description of Amazon's future solution is very similar to this of AC Wellness: technology-enhanced healthcare for U.S. employees and their families. The alliance's current plan is to create a not-for-profit organization. However, Jamie Dimon, the chief executive of JPMorgan Chase, said in a statement that "the effort could eventually be expanded to benefit all Americans."
As in the case of Apple, there are not much more specifics on how the alliance will proceed. However, even without many details, the announcement sent the stocks of major healthcare companies down: UnitedHealth stock decreased 7% in pre-market trading, while Anthem and Cigna each fell 5%. The YTD performance of the shares somehow reflects the concerns over the competition with the tech giants.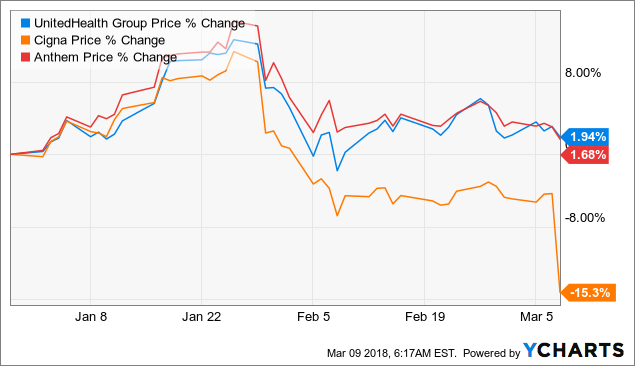 Despite slowing smartphone sales, Apple's future remains promising
It was reported in February smartphone sales recorded the first ever global decline in Q4 2017, and Gartner's figures indicated a 5.6% decline over Q4 2016 numbers. Many analysts started to doubt the future of Apple, downgrading the stock and setting lower price targets. I explained the situation in detail in my previous article on Apple: Apple: Ignore The Negativity.
"Ignore the negativity" is still the statement that applies to AAPL stock, and the thesis is now supported by the healthcare-related initiatives, among other reasons. It seems to be clear Apple's ambitions in the medical field will likely extend beyond digital health devices, such as Apple Watch, which can provide another solid source of revenue for the corporation.
The industry is massive, while the competition in the tech niche remains to be relatively low, compared to, for instance, the smartphone market. Hence, Deloitte projects the global spend on health care will reach $8.7 trillion by 2020, with "smart" health treatment being the primary trend and area of growth. The agency mentions digital and AI technologies, Apple's apparent areas of expertise, as means for enhanced care delivery in hospitals.
Overall, AC Wellness is another promising venture of Apple that can boost the corporation's performance. The stock remains to be attractive for investment, as it is significantly undervalued versus peers. My DCF model that was provided in my previous article indicated the fair value of AAPL was in the range of $176-188 at that time, which means there is still margin of safety for investors.
My detailed analyses of Apple and other tech companies can be found on my profile page. If you like my article and would like to stay up to date on the next one, you can click the "Follow" button next to my profile.
This article was written by
I write about growth opportunities in different sectors related to technology, providing analyses of fundamentals that are driven by current and future trends. Senior Data Analyst by day, I am building and managing my own portfolio of tech-related securities, which to date has consistently beaten the market.
Analyst's Disclosure: I am/we are long AAPL. I wrote this article myself, and it expresses my own opinions. I am not receiving compensation for it (other than from Seeking Alpha). I have no business relationship with any company whose stock is mentioned in this article.
Seeking Alpha's Disclosure: Past performance is no guarantee of future results. No recommendation or advice is being given as to whether any investment is suitable for a particular investor. Any views or opinions expressed above may not reflect those of Seeking Alpha as a whole. Seeking Alpha is not a licensed securities dealer, broker or US investment adviser or investment bank. Our analysts are third party authors that include both professional investors and individual investors who may not be licensed or certified by any institute or regulatory body.