MLPs and Midstream were positive this week, but they waited until Friday's broad market and oil price rally to trade up, and therefore underperformed the S&P 500, which traded up 4 of 5 days and rallied 3.5% this week. S&P 500's trailing 12-month and YTD lead on all things energy and midstream continues to grow. Commodity prices firmed up Friday, salvaging an otherwise uneventful week.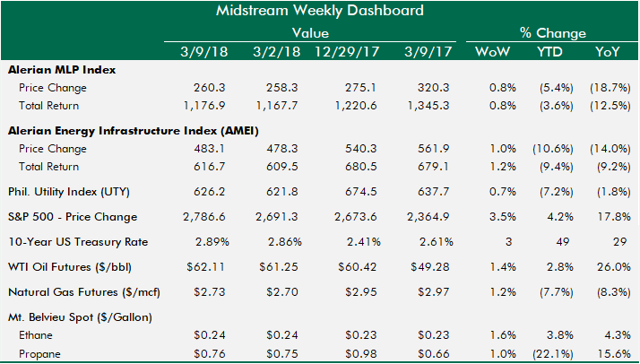 Texas Forever
Midstream sentiment remains very much day-to-day, with MLP investors anxiously waiting for a sustained rally that has remained elusive for 3+ years. Enterprise Products Partners L.P.'s (NYSE:EPD) bullish outlook on supply and export growth, coupled with self-funding intentions failed to spark broad interest in midstream, despite it being a first class event helped by stunning Houston weather (at least compared with the foot of snow I came back to).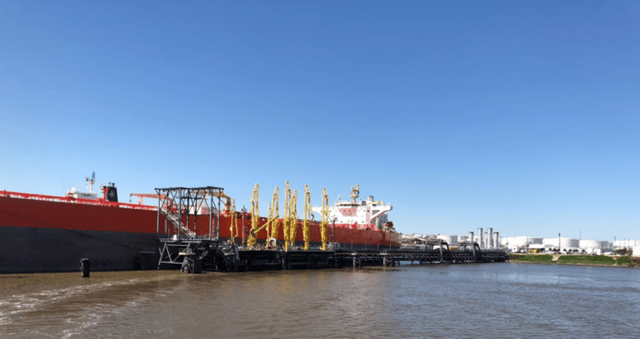 Not until Friday's job report fueled a rally in oil and stocks did midstream rally. Participating in the market's "inclusion rider" is great, but it would be better if midstream could garner broad investor interest without so much help from broad equity enthusiasm.
One thing that could help attract broader interest in midstream is M&A. I don't expect many big transactions to be announced this week, given that it's Spring Break for most schools in Texas. Most executives, bankers, and attorneys will likely be travelling. On the other hand, I always hear from sell-side research analysts that news always seems to come when they are travelling, so maybe news will disrupt some vacations next week.
The human equation to midstream deal-flow often matters more than industrial logic, and the human equation is one reason we still have more MLP and midstream ticker symbols than we should.
IDR Cleansing Update
With recent IDR elimination announcements, we have passed the tipping point for incentive distribution rights (IDRs). As shown in the chart below, around 57% of the market cap of midstream MLPs have no IDRs (after PAA, MPLX, NS, SEP, WPZ, USAC and HEP joined EPD, MMP, BPL, GEL, CEQP, among others).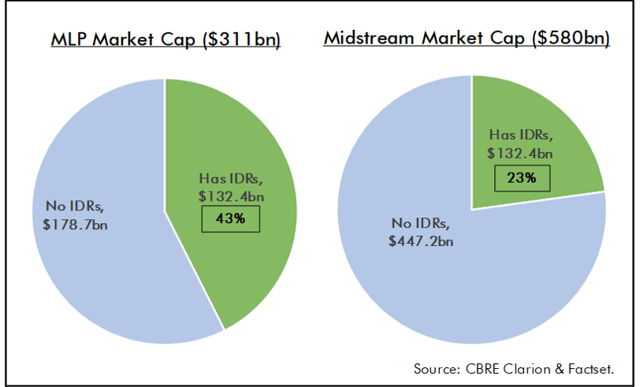 In addition, market cap of MLPs with IDRs as a percentage of the broader midstream universe (including Canada) is down to just 23%.
At the same time, competition for scarce capital/attention from investors has ramped up. It's a beauty contest, and when stacking up an MLP with IDRs vs. others that don't, it becomes hard to justify holding onto an IDR structure. There needs to be a very compelling reason why you as an MLP need to have IDRs, and those arguments get weaker with each IDR elimination.
Naturally, even stalwart defenders of this old-school MLP structure have changed their tune lately. WES, TEP, EQM, ETP have all discussed simplifications or are in the process of evaluating simplifications.
For those seeking more information IDRs, check out this 2009 piece on IDR basics and an update here we published today on IDR impact.
Winners & Losers
PAA had a very good week, helped by higher oil prices, but probably also helped by the positive fundamental outlook EPD presented for Permian and Eagle Ford oil and liquids growth. OMP and CEQP both traded very well and both have Bakken exposure if we're looking for a trend. SMLP also has Bakken exposure, and was the worst performing MLP this week on follow through from weaker than expected results a few weeks ago.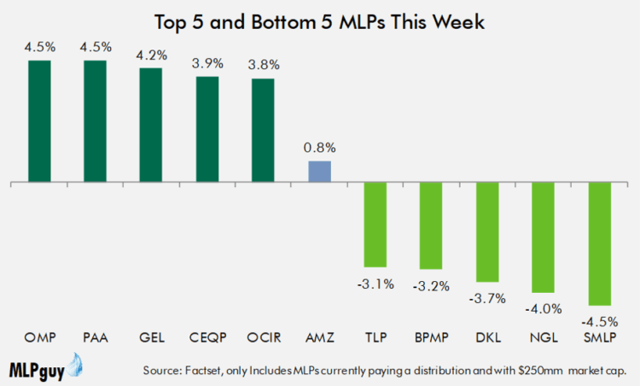 Year-to-date, CCLP maintained its wide lead on all other MLPs this week, but fellow compression MLP APLP fell out of the top 5, replaced by CNXM. On the bottom 5 YTD, NS is now down 30%+, SMLP is now down 20%+, and EQM joined the bottom 5, displacing BWP.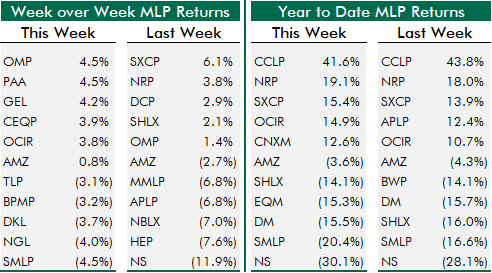 General Partners & Midstream Corporations
Natural gas-focused midstream companies WMB and LNG won the GP and midstream corporation group this week. The common theme among the outperforming names in this group: they are all post-simplification stocks (have already collapsed IDRs), while 3 of 5 underperformers (ENLC, AMGP, EQGP) still need to simplify their structures.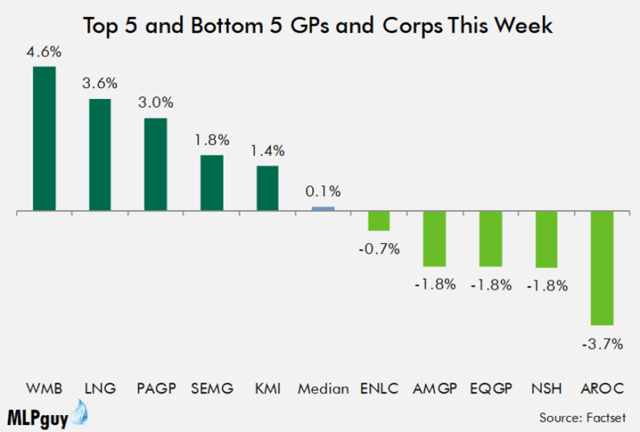 AROC and NSH repeated in the bottom 5 this week. PAGP outperformed for a second straight week and is now one of the 3 positive return names in this group so far this year.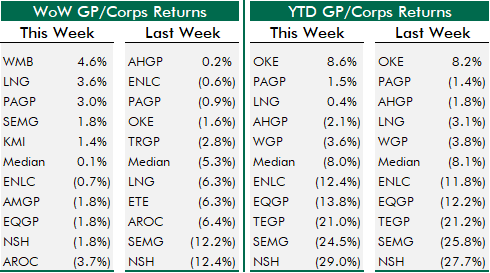 Canadian Midstream Corporations
Canadian Midstream slightly outperformed U.S. corporations and MLPs this week, with relative strength among names that had been large underperformers heading into the week.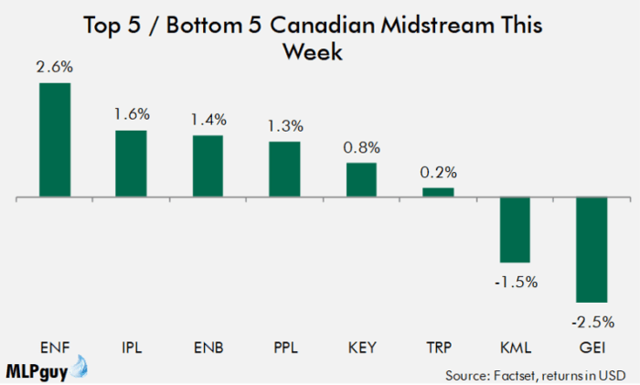 KML is an outlier on the YTD leaderboard as the only positive stock in the group. The rest of the stocks are tightly-bunched, with ENB lagging more than others (another pre-simplification name).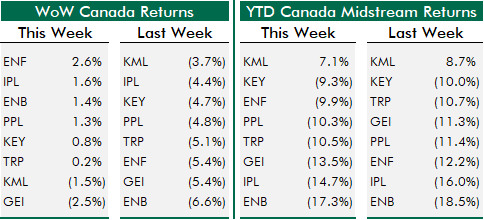 News of the (Midstream) World
Light news week for Midstream. Focus was on the fundamental update from EPD's analyst day, a series of debt capital markets transactions, and another regulatory challenge for ETP.
Capital Markets
Growth Projects/M&A
Other