Remember how the Treasury market sell-off was a primary reason for the recent stock market sell-off? It appears that's over for now: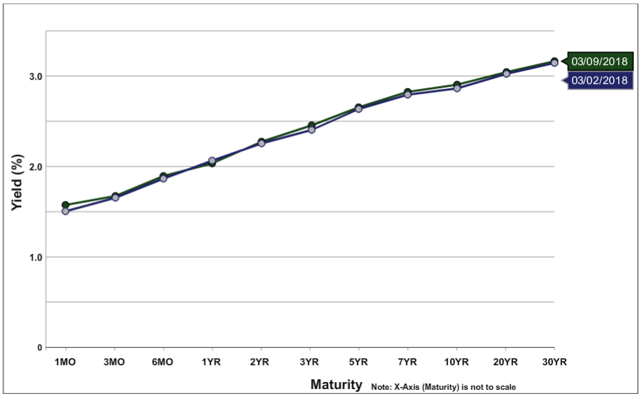 The overall yield curve barely budged this week. Frankly, given the strength of Friday's employment report, I'm surprised we didn't see a sharper sell-off in the long-end of the curve.
The chart of the 10-year yield shows the steadying of its yield at recent highs: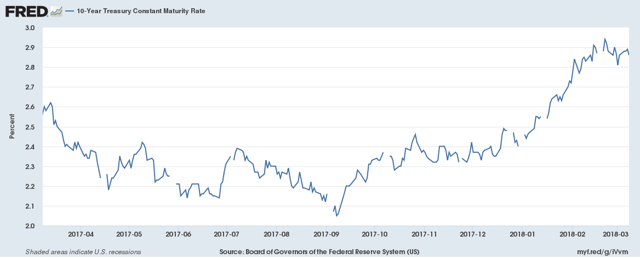 Even though the bond markets have settled down, financial stress is higher: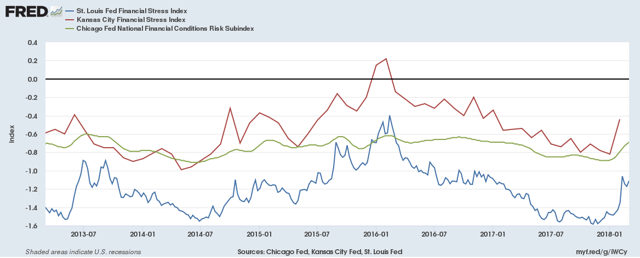 All three indexes use most of the same data; they just combine it in different ways and issue the reports at different times. The rise in stock volatility, the sharp drop in equity prices, increases in shorter-term commercial paper, and modest increases in the OAS of some CMBS issues are the main drivers of this increase. This is certainly not fatal to the expansion. It does, however, mean that shorter-term interest rates are rising, which will increase the cost of funding for working capital:
The one-month commercial paper-corresponding Treasury spread is near its highest level of the last five years. We're also seeing a large spike in the 90-day CP market. Two intertwining events are causing this increase: the Fed's rate hiking policy and an increase in total commercial paper outstanding: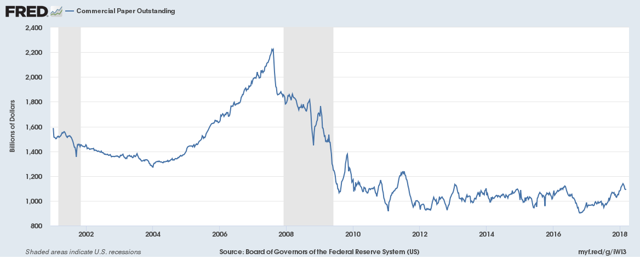 There's been a fairly large increase over the last six months, most likely caused by companies issuing paper now to take advantage of lower rates. We'd be concerned about this development if there was a corresponding spike in the junk market, which would indicate a more widespread deterioration in the fixed income market: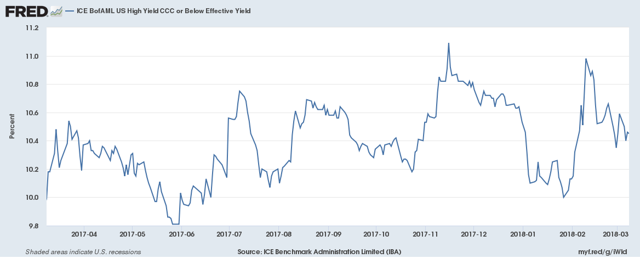 Instead, CCC yields have come in over the last month.
Overall, we're still seeing the fixed income market adjust to a rising interest rate environment. But the adjustments are minor in the bigger scheme of things.
Disclosure: I/we have no positions in any stocks mentioned, and no plans to initiate any positions within the next 72 hours.
I wrote this article myself, and it expresses my own opinions. I am not receiving compensation for it (other than from Seeking Alpha). I have no business relationship with any company whose stock is mentioned in this article.