The Asian region performed well last week, with the All Asia ex-Japan and Australia doing well. There was also a nice increase in emerging markets. But everybody save for India (which was only down marginally) was higher.
On a relative strength basis, it's all about emerging markets: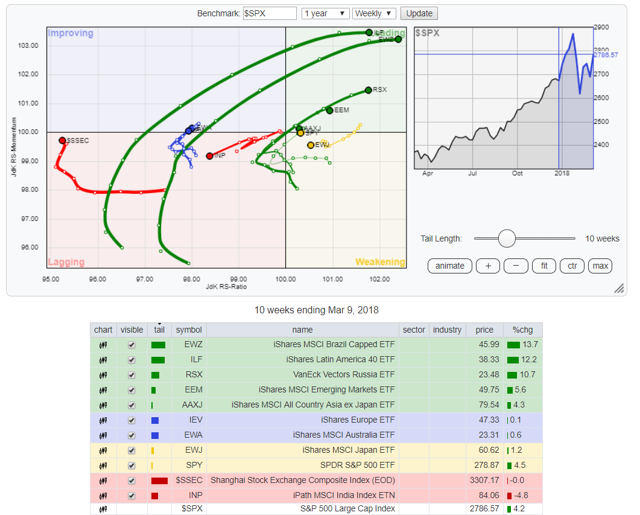 Brazil, Latin America, Russia, and EMEs are outperforming the SPYs, which is due to an upswing in overall growth. Traders are betting this will lead to higher resource utilization and increased trade, which will have a stronger impact on the EMEs.
Looking at the two-month charts, we see a great deal of consolidation:

Everybody sold off in tandem with the US. Since then, everybody has been consolidating losses. The best news is we're not seeing additional selling. That's because for the first time since the end of the recession we're seeing a period of synchronized growth. This summation from the last World Bank's Global Economic Prospects provides a good overview (emphasis added):
The World Bank forecasts global economic growth to edge up to 3.1 percent in 2018 after a much stronger-than-expected 2017, as the recovery in investment, manufacturing, and trade continues. Growth in advanced economies is expected to moderate slightly to 2.2 percent in 2018, as central banks gradually remove their post-crisis accommodation and the upturn in investment growth stabilizes. Growth in emerging market and developing economies as a whole is projected to strengthen to 4.5 percent in 2018, as activity in commodity exporters continues to recover amid firming prices.
Last week, four major central banks had rate announcements (Canada, the ECB, the BOJ, and Australia). All maintained rates at current levels (For additional central bank news, please see centralbanking.com).
Overall, all of the G7 countries are doing well. EU GDP is on the upswing: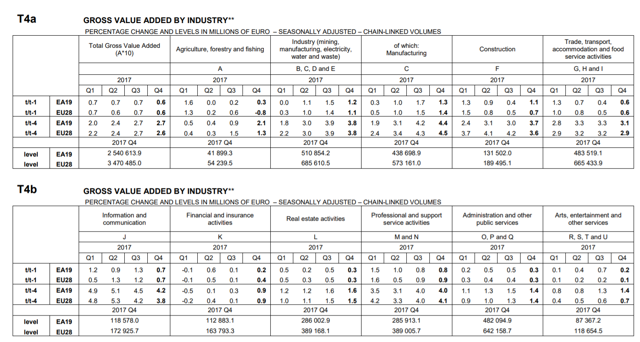 The top table shows that GDP in the standard expenditures format. Household consumption and business investment are steady. Exports are growing at a very strong rate. The bottom chart breaks the data down into output via industry, which again shows a broad-based expansion. Note particularly the large uptick in manufacturing activity (which has been telegraphed by increased Markit economics survey data) along with the increases in financial and insurance business.
Japan is also experiencing a period of sustained growth: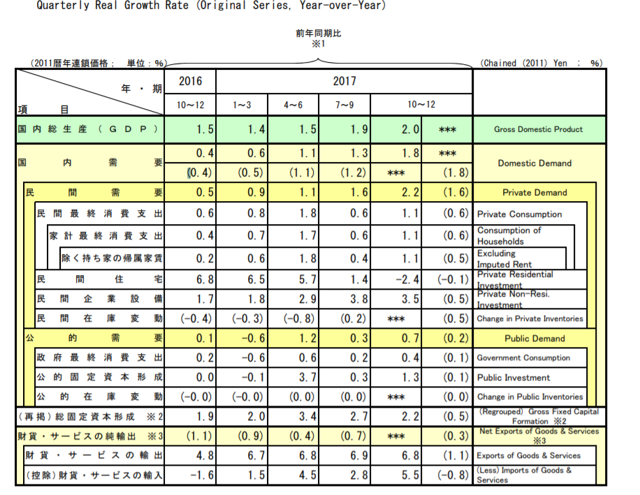 GDP is up 2% Y/Y, which continues an accelerating growth trend. The BOJ describes economic activity as a series of flows: low unemployment leads to higher consumer spending and increased profits are channeled into higher investment. Both events are occurring in the Japanese economy. Unemployment is at a record low, which is supporting consumer spending; business profits are rising, which is leading to increased investment. Also, note the solid increase in exports.
Finally, Canada has emerged from its oil-induced shallow recession several years ago and is once again growing strongly:

The above table from the Canadian Statistics CANSIM system presents standard GDP expenditure components in a Y/Y format. Household consumption has been over 3% for the last four quarters. Best of all is the large increase in business investment, which is accelerating. Exports were disappointingly slow, but they should pick up as the US economy accelerates.
So long as the underlying economic data remains solid, we should see a follow-through in global equity markets.
Disclosure: I/we have no positions in any stocks mentioned, and no plans to initiate any positions within the next 72 hours. I wrote this article myself, and it expresses my own opinions. I am not receiving compensation for it (other than from Seeking Alpha). I have no business relationship with any company whose stock is mentioned in this article.