David Van Knapp recently published an exceptional piece of research here on SeekingAlpha in an article entitled: What Are the Highest Quality Dividend Growth Stocks? Readers can access this article by clicking this link.
In his article, David sets forth various criteria for selecting high quality components of a dividend growth portfolio, including S&P credit ratings, Morningstar Moat ratings, and Value Line's Safety and Financial Strength ratings. David determines that eleven companies achieve perfect scores according to the aforementioned criteria, and lists them in a table showing each company, its rankings, years of increasing dividends, dividend safety and yield.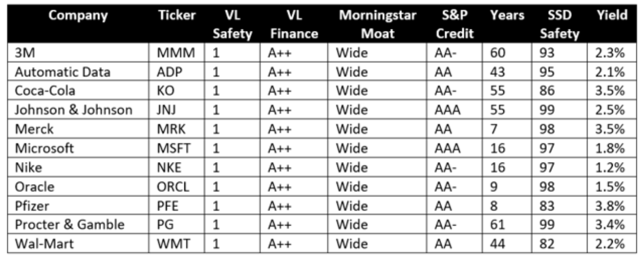 Suppose an investor bought $10,000 of stock in each of these eleven companies 20 years ago, held the shares and reinvested all dividends right back into more shares of the company that paid the dividends? Using a free online calculator available at DQYDJ.com, I calculate that the investor would have earned a total return of 608%, which comes to an annualized return of 9.4%.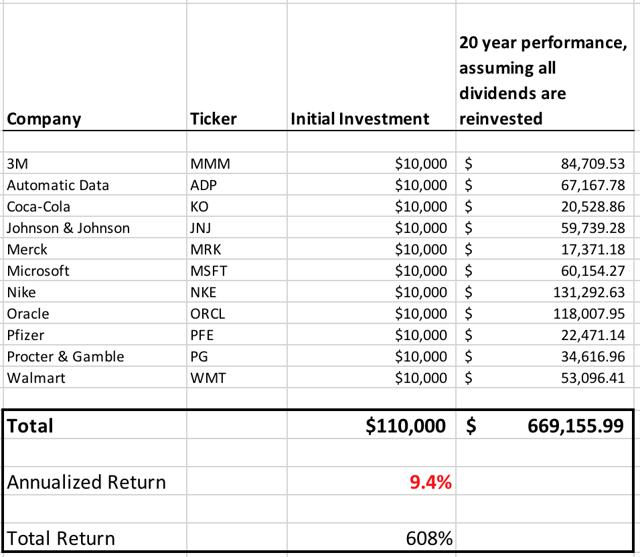 These returns compare favorably to the total return of 266% on the S&P500 over the same time period (assuming an investor reinvested all dividends received right back into the S&P500).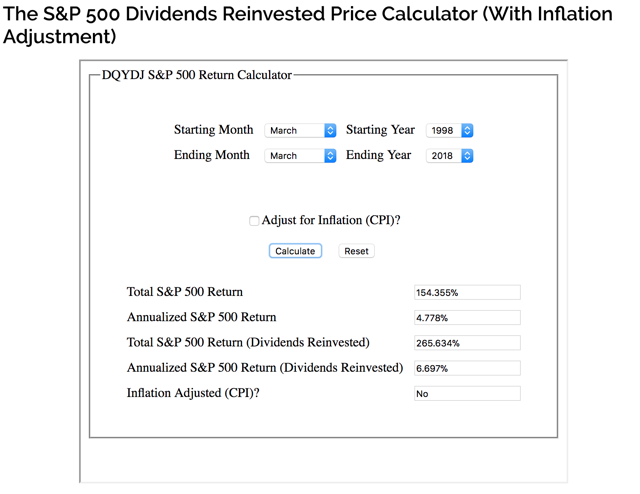 Here is a link to the online dividend reinvestment calculator that I used for my research: Any Stock Return Calculator with Dividend Reinvestment - DQYDJ.
I only have one thought to add to David's article. Identifying exceptional businesses is the first step towards building an exceptional portfolio. I'd argue that it is the most difficult step, but once taken, an investor simply needs to do just three things in order to build wealth: (1) buy the stock at reasonable prices (maybe at a PE ratio in the range of 20 or below depending on the company's earnings growth), (2) hold the stock for a very long time no matter what the stock market does, and (3) keep personal spending below personal income, and reinvest the savings into more shares. This approach has worked in the past, and stands as good a chance of working in the future as any other approach I can think of.
Disclosure: I am/we are long MMM, KO, JNJ, PFE, PG.
I wrote this article myself, and it expresses my own opinions. I am not receiving compensation for it (other than from Seeking Alpha). I have no business relationship with any company whose stock is mentioned in this article.
Additional disclosure: This is not investment advice, and I am not an investment advisor. None of the facts or calculations contained in this article has been verified and none can be relied upon by any investor for any purpose.