Value Investing has been a popular approach used by the contrarian investor for decades. Only a small percentage of those that invest actually make any money at all, so its self-proving why only uncommon methods can work. Value strategies, by nature, consist of buying stocks that most other investors are either selling or ignoring. It is in this instance that gemstones can be bought for the price of coal.
There is risk, especially when done incorrectly. There is usually a reason that a stock is cheap, and one must be careful in judging the validity of the bearish viewpoint. Although, value stocks can be produced as world events that affect all stocks change prices that really shouldn't be changed at all, or at least on that particular firm.
The current market condition is producing many candidates, most of which have little or no reason to be cheap. Even now, with the market at a short-term peak, many stocks are beaten down. There are signs of a recovery and hope for a better economy. Even if the recovery fails, certain companies are at such a high discount and are so well run that they will make money for the investor either way. With the market at its low a few months ago, many investors, including myself, recommended and purchased these companies. The success of these investments is evidence that this strategy is working and will continue to work.
This strategy may prove even more useful in an overbought market, as it will give the investor the opportunity to still buy low. In fact, one of Graham's key reasons for using value investing was to enable himself to invest in any market, as there are always cheap stocks. Some may see individual, unique reasons that explain the low valuations of value stocks, commonly known as value traps; the following companies have a reward that outweighs the risks by a wide margin.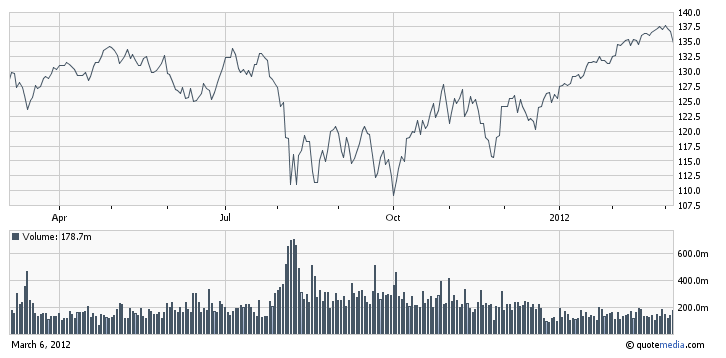 Chart of the SPY, representing the market -- note the current high.
The most successful value pick so far has been Apple (NASDAQ:AAPL). I picked this company in my article, Apple's Growth makes it the Perfect Value Stock. Apple "worked" and will work because it is being tied to the general market in price, despite its above-average returns. Many would not consider Apple to be a value stock, as its main merit rests in its growth. I believe its growth is exactly why its one of the best value stocks. Apple can be expected to grow and earn for the investor, allowing a high intrinsic value to be placed on it. It has done extremely well since it was recommended, and will only go higher. Apple was picked at $380 and has now risen to $540, a gain of 40%. The intrinsic value (see intrinsic value calculation below) is still 74% higher than the current price.
General Motors (NYSE:GM) has done very well, but for different reasons than Apple. General Motors sunk as it was tied down to its sinking industry, the market as a whole, and its old reputation. I believe GM has restructured itself as to beat its industry, the market and whatever was expected from Old GM. More on this can be seen in my GM focus article. General Motors was picked at $20, and is now at $26.4 (32% gain). Investors looking for value stocks to buy should consider GM as a potential investment, as it is still at a 256% discount to its intrinsic value.
Intel (NASDAQ:INTC) is different from GM and Apple because in addition to being a high-reward value stock, it pays a dividend of 3%. In addition, there is even less of a reason to see why it is priced so low. There is fierce competition but Intel can remain dominant and continue to grow. As a key value stock, there is a focus article on Intel. Here, those that are interested in buying Intel can find the details of why it was and is priced cheaply. Intel was picked at $19.5 and has seen a rise to $26.9, in addition to the dividend payments. This is a gain of over 38%. Intel is still a strong value pick at a discount to intrinsic value of 80%.
General Dynamics (NYSE:GD) is similar to Intel, in that it pays a large dividend (2.6%) and has little reason to be low. Of course, GD has some risks, including increasing competition and the possibility of losing buyers, but these do not justify such a large discount. Like all of these value stocks, the discount is large enough to cover such risks and still earn a market-beating return. So far, GD has worked like the rest. GD was picked at $59 and has risen 23% to $73. It can still be bought in the hopes of it reaching its intrinsic value 74% higher than the current price.
By now, you may be thinking that these stocks are just exceptions; the market as a whole has risen in this time period, and value stocks have outpaced the market. These particular companies may be above-average compared to other value stocks, but these are the type of companies one should consider for investments anyway. I have not only picked my top-performers, these are all the stocks that have had focus articles or key places in articles. Therefore, they are proof that value investing is working. This next company has risen, but unlike the previous four, is no longer recommended as a buy.
AT&T (NYSE:T) was never expected to earn huge returns. Rather, it had a large margin of safety that could cover any risks as the investor collected its 6% dividend. It has done just that. Although, with recent court rulings and changes in growth estimates, the future is opaque. T was picked at $28.5 and has risen to $30.8, an average return of 8%. The intrinsic value, which is not entirely accurate as the future growth of T is unknown, is negative at -55%.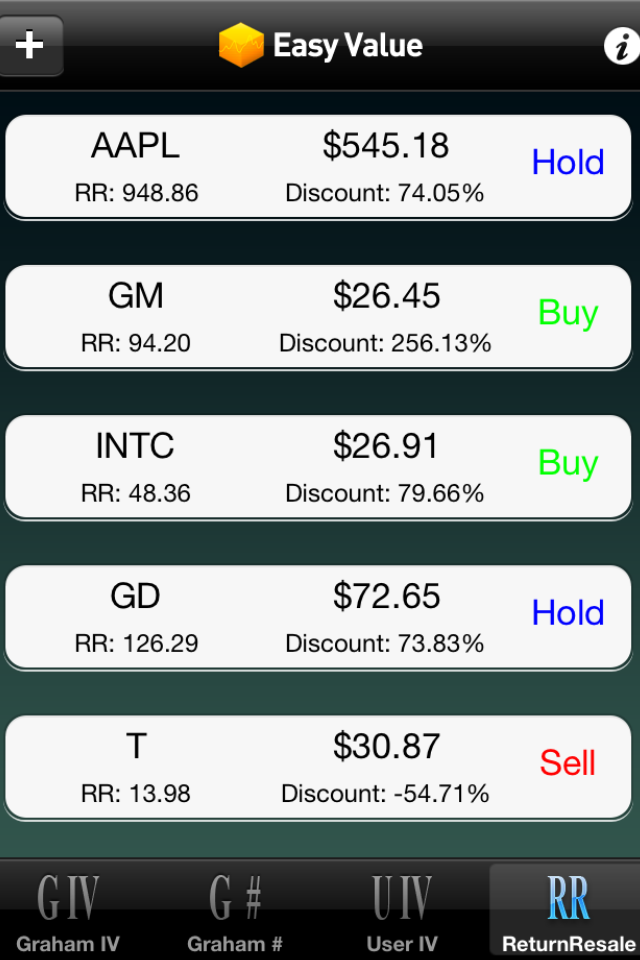 Intrinsic Value calculations of stocks mentioned in article. Buy given to discounts greater than 75%. Calculations by Easy Value.
All of the following companies, even AT&T, have done well and outpeformed the market. The market has been on an unusually long bullish run, which has amounted to a gain of about 15%. These picks were all chosen at varying times, which would mean the annualized returns vary as well. On average, value stocks in general have risen 20-35% in the past few months, meaning an annual return of over 50%. Usually such high gains are found in Forex and risky future trades, but these stocks actually possess less risk. Value Stocks are cheap by nature, which means room to gain and no room to lose.
All of the companies mentioned in this article, excluding AT&T, are still at great discounts. It is recommended that the investor wait for the market to retrace, which will most likely bring these companies down as well. This would be the optimal time to buy such companies. The past success of these value stocks proves that Value Investing is perfect for the current, inefficient market. Once the market makes a dip, it would be an even better time to enter.