Executive Summary
Seanergy Maritime (NASDAQ:SHIP) is a rough diamond lying around in a shipwreck! Scavengers observed more of its potential after Q4, but no one is willing to buy it yet. Seanergy is rough and dirty, we reiterate.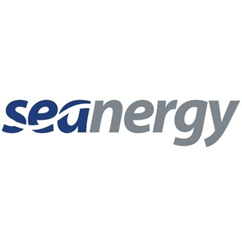 Company Overview
Seanergy is a small dry bulk pure-play shipping company. It services global iron ore and coal trading routes. It has eleven vessels, of which nine are Capesize, and two are Supramax. To date, the fleet has an average age of 8.9 years and has combined transport capacity of 1.7 million DWT (dead-weight-tonnage). Currently, it is trading between $0.97-$1.10 per share. With reported 38.2 million shares (higher if fully diluted), it makes up to $40M market capitalisation. It has a hefty long-term debt load of $219M and a small cash balance of $11M.
Risks First
Readers of our work know that we highlighted critical risks related to Seanergy and shipping. We invite new investors to read that first in our shipping series. To recap:
"Seanergy is highly leveraged, high-cost operator among the industry, it is also a micro-cap, managed by management who have had questionable actions."
Q4 results again highlighted some of these risks, and we will go through that in a second, but if the above recap turns you off, good for you! However, keep on reading if you are interested in discovering the sparkle of this rough diamond.
Q4 Positives
Surprisingly high TCE
Reported TCE of $17K topped our estimates at around $16K, which pushed the quarter revenue to a record high $24M versus 10.8M last year. It allowed the company to produce incredible adjusted EBITDA of $7.8M!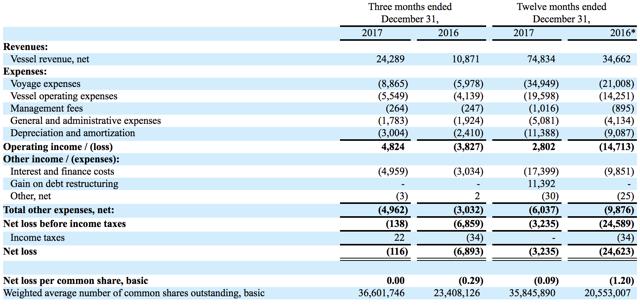 Source: 6-K SEC Fillings Q4 2017
However, what was slightly disappointing was that it only broke even, reported EPS of just 0.00. We expected at least 0.02 given the TCE number was that impressive. The lower than expected EPS is due to higher costs incurred during the quarter, up to $5,488 compared to $4,613. Interest expense, in particular, saw a big rise. Also, fleet utilisation was just 89.6%. We expected higher! Star Bulk (NASDAQ:SBLK) managed 100%.

Source: 6-K SEC Fillings Q4 2017
Nevertheless, $7.8M EBITDA is outstanding for just one quarter, and clearly, there is room for higher fleet utilisation in the following quarters, as the company expects no dry docking in 2018.
"… We have zero drydocking for 2018 and we might have one ship in 2019. So for the next two years, we basically have no expected or very little expected drydock days. Like I said, we might have the Gloriouship in 2019 and that's the only ship of the current fleet that might go into drydock in the next two years. So we are going to have a fully operational to take advantage of the market which is rising and will continue to rise significantly." (emphasis ours)
Minor but worth noting positive is the improvement of the balance sheet. We see that cash, equity and vessel asset value increased.
A Glimpse Of Higher Rates In Coming Months
The best bit of the CC was this answer to a question why rates were low in January and February:
"And as you know, this drives the biggest portion of the Capesizes. The reason is that, from what we understand, in January there was a very heavy rain in season in Brazil and February is the month of traditional maintenance. Of course, this has to pick up because Brazil, to meet the 360 million ton output a year, exports per year, this means that they have to export about 30 million tons per month on average. And they are far behind that target. So we really anticipate that March onwards we will see more and more cargo from the Atlantic to pick up, together of course with the beginning of the construction season in China, this is going to drive the demand for Capesize much stronger. We see that also from the charter perspective, where every day we have more and more interest for either period deals or consecutive voyages. So we think that it's around the corner and is going to happen. We see absolutely no reason for this not to happen. So for us, it's just a matter of days, weeks before we start to see the strong rise in the rates." (emphasis ours)
So we expect from Q2 onwards rates will be on the rise again as Atlantic traffic picks up the slack from January and February's slow months. However, we have to go through an average Q1 to reap the reward in Q2.
Q1 2018
We have outlined before that Seanergy's thesis heavily relies on the market trajectory. Despite knowing that Q1 is the seasonal low and also due to the slow-down in Brazil explained above, we were disappointed to see that as of the 8th March 2018,
"approximately 78% of our Capesize available days are fixed at an average daily rate of approximately $15,920. For comparison purposes, our current Capesize rate is 42% higher than the average Baltic Capesize rate of Q1 2017 and 489% higher than the average Baltic Capesize rate of Q1 2016."
- Q4 Conference Call
In the current supply and demand conditions, specifically, Capesize rates flying above $30k/day at the peak of the last dry bulk high season (Sept-Dec 2017), we expected higher rates than $15,920. Nevertheless, as mentioned in the previous analysis, any rate higher than $15k/day and it can start to pay off debt principle and purchase more ships.
FY2017 year ended with $25M EBITDA (or adjusted EBITDA of $14M after deducting a $11M one-off gain from debt write-off), is just incredible for a $40M market cap company.
As fundamentals become more evident to the market participants, we will likely see higher vessel valuation too. Our last analysis earmarked a conservative improvement of $34M if we see the current bullish BDI continue. The working is attached below for convenience.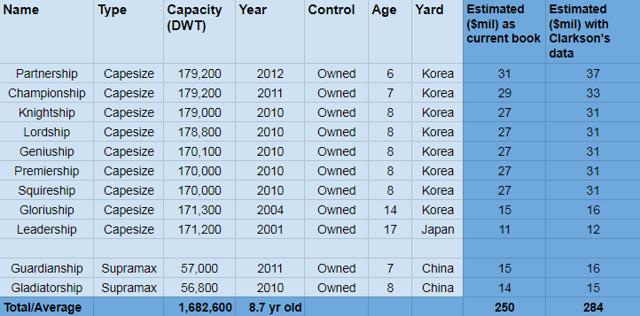 Source: Seanergy Form 6-K and Author's estimates
The table above showed our estimate of the upgraded vessel value using Clarkson's valuation data. The last two columns compare the current book value and the revaluated value. We can see that the revaluated fleet value is $284 million, an uplift of $34 million. It is not a big uplift in absolute terms, although significant enough, considering we are talking about a $40mil market cap company. We believe this will be reflected in the balance sheet in the next few quarters.
Final Risks Reminder
With the positives presented above, we want to remind new investors of the less obvious risks that come with investing in Seanergy.
First, Seanergy has a history of using the ATM facility; during the period between 2011 and 2016 the company was in such a poor condition that it resorted to the facility because of no other choice available. However, the recent ATM announcement in October 2017 and subsequent filings which were issued to reduce the amount asked has made the company look very amateurish!
The second risk is potential equity dilution coming from the convertible debts and warrants. The convertible debts were issued back in March 2015 with Jelco, see page 25 of Form 20-F for detail, which has a conversion price set at $0.90/share. Jelco has the right to acquire 27 million common shares upon exercise. Another convertible note to Jelco was issued on September 2017 for an amount of $13.75 million. At Jelco's option, the whole or any part of the principal amount may also be paid at a conversion price of 0.90/share.
In addition to these convertible debts, there are outstanding warrants to purchase 11.5 million common shares. It has an exercise price of $2.00 per share (expires in December 2021). Altogether, in the event of debt conversion or warrant exercise, shareholders will be diluted enormously. Hypothetically, at full dilution, equity count will be up to 80 million shares, from the current level of 37 million shares. This puts a heavy lid on the share price. It will take a wildly bullish market condition for the share price to surpass the $2.00 mark.
Takeaway
History is history, and it was a big dent in Seanergy's reputation. However, it's difficult to blame the company as a lot of the mentioned deals were done at the critical time of the company. In fact, it's a miracle that Seanergy is solvent and enjoying the delightful freight rates at the moment.
The one good thing that we can read from the back of all these financial handcuffs is that a strong insider, Claudia Restis, financially backs Seanergy. She owns the majority of Seanergy, and, does not have any other conflicting investment in dry bulk other than in Seanergy.
All in all, an investment in Seanergy is risky. Despite, the cash flow potential and potential asset revaluation are extremely appealing, so it's a rare occasion that we find ourselves investing here. We believe 2018 promises really strong results (sequentially and year on year), and earnings beat will upgrade vessels' valuations and restore interest back into dry bulk. Thus, investment in Seanergy is a worthwhile consideration for investors with higher risk appetite.
Related Tickers
From a group of Dry Bulk firms including Diana Shipping, Inc. (NYSE: DSX), Eagle Bulk (NASDAQ: EGLE), Genco Shipping (NYSE: GNK), Golden Ocean Group Ltd. (NASDAQ: GOGL), Navios Maritime Holdings, Inc. (NYSE: NM), Navios Maritime Partners L.P. (NYSE: NMM), Scorpio Bulkers (NYSE: SALT), Safe Bulkers (NYSE: SB), Star Bulk Carriers and Seanergy Maritime (NASDAQ: SHIP), we picked out the last two to invest in. We demonstrated that Seanergy Maritime is a high-risk, high reward investment in this analysis.
For those who are risk-averse, consider Star Bulk Carriers, which has recently released solid Q4 results. It operates in Dry Bulk with a mixed charter profile, diversified fleet composition, low-cost structure and responsible corporate governance. A higher quality company with limited but more certain upside.
If shipping investments are not for you, we cover value stocks, so maybe try a turning-around watch retailer (Fossil (NASDAQ: FOSL)), a beaten down health retailer (GNC (NYSE: GNC)), or a diversified infrastructure (L.B. Foster (NASDAQ: FSTR)).
Author's note: If you enjoyed our article, follow us to receive our latest investment opportunities. Lastly, please do additional due diligence and enjoy investing.
Disclosure: I am/we are long SBLK, SHIP. I wrote this article myself, and it expresses my own opinions. I am not receiving compensation for it (other than from Seeking Alpha). I have no business relationship with any company whose stock is mentioned in this article.
Editor's Note: This article covers one or more microcap stocks. Please be aware of the risks associated with these stocks.