In today's commentary, we'll also consider the question that a few value-oriented investors are beginning to ask concerning the gold mining stocks, namely: "Is it time to initiate long-term investment positions in the beaten-down shares of gold producers and exploration companies?"
April gold futures remained mostly unchanged last week at $1,324 as the yellow metal price continued its meandering sideways range in what has been an uneventful news environment for gold. April gold is still searching for a catalyst to launch it out of its lateral holding pattern of the last nine weeks as it continues to tread water above its trading range floor of $1,305. It remains below its 15-day moving average, however, which suggests that overhead supply is still a factor for the immediate term (1-4 week) outlook.
Shown here is the daily graph for the iShares Gold Trust (NYSEARCA:IAU) which is my preferred trading vehicle for gold. The $12.50 level in the IAU graph is answers to the $1,305 level in the April gold futures contract. As long as IAU remains above $12.50, its lateral trend remains in force and there's still a chance for an upside breakout this month. However, if there is to be a rally it should happen fairly soon before the inertia of the last few weeks reverses IAU's intermediate-term rate of change and therefore makes it easier for sellers to push the price below the pivotal $12.50 level.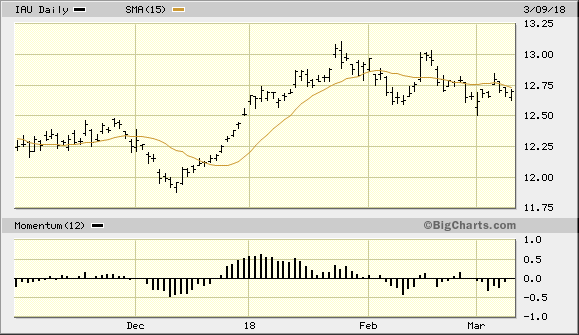 Source: www.BigCharts.com
Since there isn't much to say right now about the gold price, let's turn our attention to the question I posed in the opening paragraph concerning the gold stock outlook. We'll start by stepping back and examining the long-term picture for the actively traded mining shares. Here's what the 17-year graph of the PHLX Gold/Silver Index (XAU) looks like. Pay careful attention to the XAU's current price compared to what it was in 2002 around the time the last major bull market in gold shares commenced.
Source: www.BigCharts.com
As you can see, the XAU's current price isn't far from where it was in 2002. From a strict consideration of relative price analysis, the XAU would seem to represent a good bargain - especially when you consider how far the XAU has fallen since its last major peak in 2011. Indeed, it's tempting to conclude based on a simple observation of the price graph that the XAU has reached a sold-out technical condition and has likely reached its long-term nadir.
Then there's the testimony of mining company fundamentals. For the first time in recent memory, many of the well-known senior, mid-tier, and small-cap mining companies have shown an improvement in their forward price/earnings ratios and dividend yields. And while the earnings climate for these companies isn't as favorable now as it was during the halcyon days of ever-rising gold prices, there are emerging signs that some blue-chip mining firms will have a better investment climate in the coming years.
A quick glance at the recent earnings results of some XAU components provides some examples. Kinross Gold (NYSE:KGC) for example posted profits of $445.4 million for 2017, compared to a net loss of $104 million. Adjusted earnings for the same period were $178.7 million, up 92.2% from $93 million or 8 cents reported in 2016, according to Zacks. Barrick Gold (NYSE:ABX) reported 2017 adjusted net earnings of $876 million, up 7% from $818 million in 2016. Agnico Eagle (NYSE:AEM) posted 2017 profits of $243.9 million, up 53.6% from a net income of $158.8 million. Additionally, Agnico Eagle reported revenues of $2.2 billion in 2017, up around 4.9% from $2.1 billion in 2016. With the relative price and earnings outlook of the major gold miners showing improvement, sustained gold price rallies will greatly augment their attraction since mining shares tend to greatly outperform gold in percentage terms during bull markets.
What then is needed to kick start another bull market in the gold mining stocks similar to the one we saw in 2002-2011? One possible means of stimulating a gold stock comeback would be a serious stimulus to commodity price inflation. In the 2002 period, this was accomplished by means of the military action in Afghanistan and later Iraq. War is a sure means to quickly increase demand for commodities and quickly spur inflation. This time around, however, gold prices will likely be considerably slower to rise as military conflagration is unlikely anytime soon. Instead, inflation is likely to increase at an incremental pace over the coming years as the economy continues to strengthen.
One of the most commonly used gauges of the inflation rate is the Consumer Price Index (CPI), measures the average change over time in the prices paid by consumers for a basket of consumer goods and services. Shown here is the yearly percentage change in the CPI going back to 2002. Here you can see the pronounced rise in consumer prices on a percentage change basis during 2002 to 2008 when war-related commodities inflation was conspicuous. The inflation rate of change has come down its 2008 peak but is starting to recover from the 2012-2015 global deflationary undercurrents.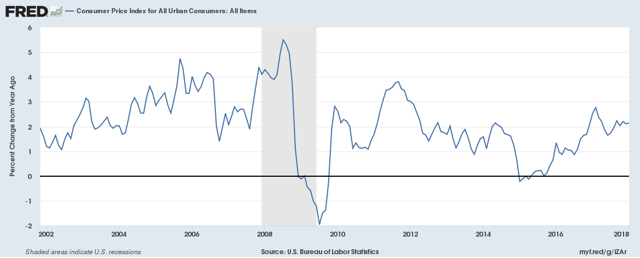 Source: https://fred.stlouisfed.org
Increases in the CPI can be positive for the gold price and stimulate safe-haven demand for the metal, especially if it's accompanied by fears of a weakening U.S. dollar. This is why the CPI should be watched closely by serious gold investors.
Steadily rising interest rates also reflect the gradual rebound of inflation, although it's far from becoming a serious economic threat. Shown here is the 4-year weekly chart for the CBOE 10-Year Treasury Note Yield Index (TNX). Longer-term Treasury yields are one of the best barometers of inflationary pressure within the larger economy. The path TNX has etched out in the last two years is illustrative of inflation's gradual path. The prospects for rising gold and gold mining stock prices are therefore increasing, but expectations for a runaway-type move in the gold miners like we saw in the early 2000s aren't likely to be realized anytime soon.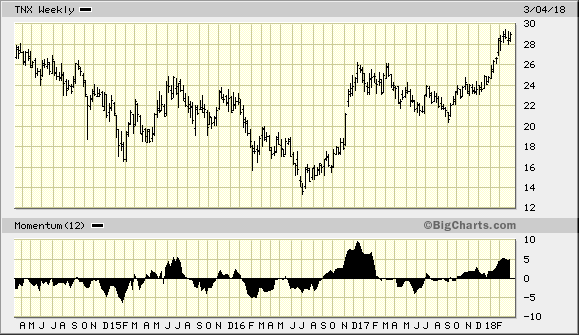 Source: www.BigCharts.com
While it's not yet time to load up on the gold mining stocks, we're getting closer to the point when inflation's upward creep will exert a positive impact on this asset group. The investment outlook for gold mining stocks is a long game, and patience will definitely be required for long-term-oriented investors wishing to profit in this industry group. Once the gold price breaks out of its lateral range of the last two months, the rewards for gradually accumulating shares of undervalued but well-run mining companies will be great if you're willing to sit tight until the pace of inflation significantly increases in the years to come.
Returning to the immediate-term (1-4 week) outlook, I continue to recommend that traders continue to wait until the XAU confirms a bottom by closing two days higher above the 15-day MA before initiating new long positions. The next confirmed breakout signal for the gold mining shares is likely to be a profitable one due to how technically "oversold" the mining shares have become in recent weeks.
For now, I also continue to recommend that conservative gold and gold ETF traders keep their powder dry and wait for the gold price to decisively strengthen before initiating any new trading positions. Longer-term investment positions in gold, however, can be maintained as the fundamentals underscoring gold's two-year recovery effort are still favorable.
Disclosure: I/we have no positions in any stocks mentioned, and no plans to initiate any positions within the next 72 hours.
I wrote this article myself, and it expresses my own opinions. I am not receiving compensation for it (other than from Seeking Alpha). I have no business relationship with any company whose stock is mentioned in this article.