Rising rate environments are difficult for fixed-income investors. As rates rise, bond prices fall. Investors that want fixed-income exposure are left with two basic strategies: creating a "barbell" portfolio and laddering your bond portfolio (I wrote about this issue in detail at the end of January).
However, thanks to ETFs we also have the possibility of a "duration neutral" portfolio. A bit of background; duration is a measure of bond risk. A higher duration means a bond is more sensitive to interest rate movements. A longer maturity and higher yield contribute to a higher duration while a shorter bond with lower yield usually means lower duration.
What is a duration neutral bond ETF? In these ETFs, managers will be long a specific type of bond while shorting US Treasury futures. As interest rates rise, the value of their primary asset drops but their futures investment rises, offsetting the downside risk. Basic math allows managers to establish and adjust the long/short ratio as warranted.
Here are some options in this area:
According to ETFDB.com, there are two investment grade bond, zero-duration ETFs. By far the largest is the ProShares Investment Grade-Interest Rate Hedged (IGHG) which has $569 million under management. While the Deutsche X-trackers Investment Grade Bond - Interest Rate Hedged ETF (IGIH) has a slightly lower expense ratio (25 basis points to 30 basis points), it only has $8.5 million under management.
The following chart compares the IGHGs' performance with the 7-10 year treasury ETF (IEF):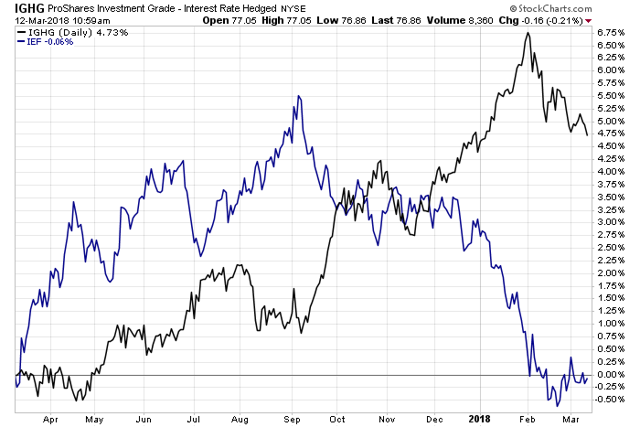 As the treasury market has sold off over the last six months, the IGHGs have rallied.
There are four high-yield hedged ETFs. While the Deutsche fund has the lowest expense ratio (.35), it is also the smallest (under $10 million in managed funds). There are three other large funds: the HYGH, HYHG and HYZD. The expense ratio increases with the fund size, reaching .5 with the HYGH. Here's a chart comparing their 1-year performance: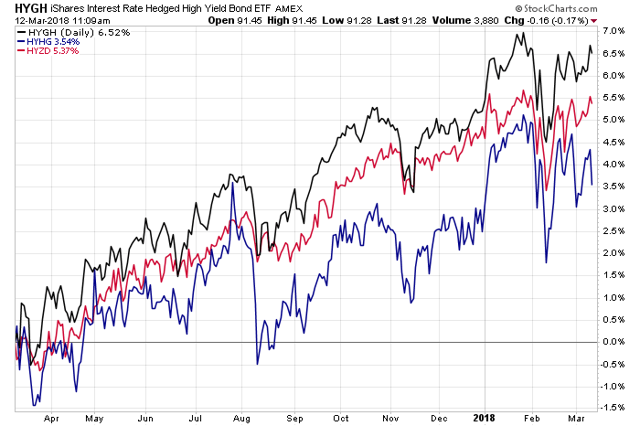 The HYGH is the best performer. But on a 3-month timetable, the results are a bit more mixed: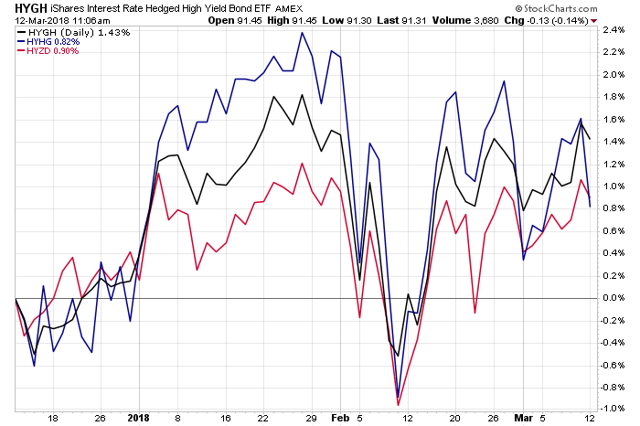 Regardless of your choice, all three would be good additions to your portfolio.
There are only two emerging markets, zero-duration ETFs: the EMIH and EMBH. Both have similar expense ratios: the former is .45 and the latter is .43. However, both are very small: the former has $8.8 million AUM while the latter has $4 million. That means both are subject to closure risk.
Finally, there's the WisdomTree Barclays Interest Rate Hedged U.S. Aggregate Bond Fund (AGZD) if you want to invest in a broad-based, hedged bond ETF. With a .23 expense ratio and $33 million under management, it's fairly attractive. And it's performed better than the IEFs over the last six months: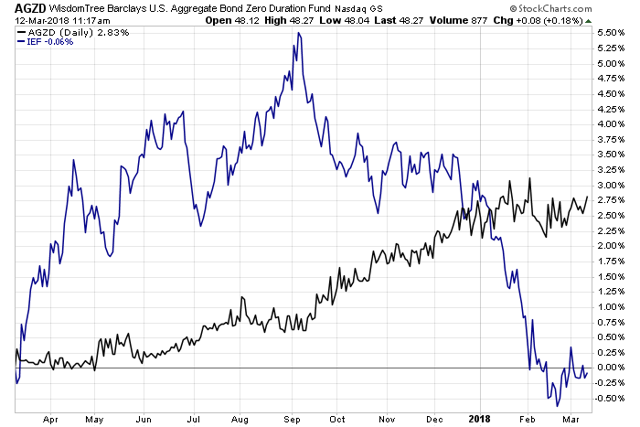 I hope you've found this helpful. If there's a retirement planning topic you'd like me to cover, please email me via Seeking Alpha.
This post is not an offer to buy or sell this security. It is also not specific investment advice for a recommendation for any specific person. Please see our disclaimer for additional information.
Disclosure: I/we have no positions in any stocks mentioned, and no plans to initiate any positions within the next 72 hours. I wrote this article myself, and it expresses my own opinions. I am not receiving compensation for it (other than from Seeking Alpha). I have no business relationship with any company whose stock is mentioned in this article.