U.S. Gold Corps (USAU) is a gold exploration and development company that was founded in February 2014 as a private company. It owns the Copper King gold-copper project in Wyoming and the Keystone project in Nevada's Cortez Trend. I see USAU as a hybrid venture capital exploration company and a value play. It is sitting on a property that has all of the ingredients for potentially hosting a significant gold deposit in one of the most prolific gold producing regions in the world.
Copper King Project (value-play component)
CK is located in southeast Wyoming near Cheyenne, in the Silver Crown Mining District. CK was previously owned by a Denver-based company, Energy Fuels, which wanted the uranium properties but not the Copper King Project. Ed Karr, founder and CEO of USAU, was able to purchase CK for $6 million in February 2014. The original intent was to wait for the precious metals sector to recover and then sell CK to mid-tier or large mining company. USAU was offered $10 million for the property recently but turned down the bid.
CK is a copper-gold porphyry deposit, with 1.1 million ozs of measured, indicated and inferred gold (mostly measured/indicated) and 285 million lbs of copper. The project has a Preliminary Economic Assessment that was prepared in 2012 which shows a $178 million Net Present Value using $1,275 gold (vs. current price of $1319) and $2.80/lb copper (vs current price of $3.08/lb).
Based on both a historic magnetic survey of the CK property and a recent induced polarization survey conducted by USAU, the Company's geologists believe a second copper-gold deposit may exist on the property. A drilling program which tested three targets adjacent to the existing deposit as well as the second area of suspected mineralization all returned highly positive results.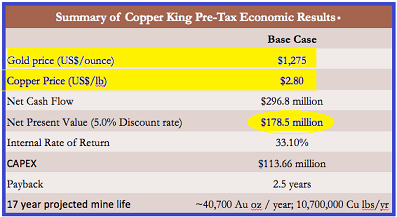 The above Preliminary Economic Analysis (PEA) of the CK Project shows a Net Present Value of $178 million. It's not uncommon for a junior mining stock to trade with a market cap of up to 40% of the NPV of its PEA. Based on its current market cap of $32 million, the market values USAU at just 18% of the intrinsic value of the CK Project. Looked at this way, an investor in USAU gets the "option value" of the Keystone Project for free. This is why USAU is both a value and venture capital play.
USAU has three options to monetize CK: 1) sell it outright; 2) find a JV partner to advance CK to production; or 3) develop CK on its own. The State of Wyoming has a 5% NSR (royalty) on CK. The State has indicated that it would be wiling to issue a bond to help finance the $104 million start-up capex. Permits thuse likely will not be an issue. The next step is to advance the project to a Pre-Feasibility Study and move forward with the permitting process.
Keystone Project (venture capital component)
The Keystone Project is in Nevada's Cortez Trend about 10 miles south of Barrick's (ABX) Cortez Hills gold mine, which has 10 million ozs of proven/probable reserves (it has at least 20 million ozs of resource, including measured/indicated/inferred) and produced 1.1 million ozs of gold in 2016.
The Keystone Project was pieced together by Dave Mathewson, who was head of Newmont's (NEM) Nevada exploration team from 1989 to 2001. Mathewson is a highly skilled early-stage exploration geologist. He is most recently known for co-founding Gold Standard Ventures (GSV) and leading the discovery of GSV's Railroad Project. Additionally, USAU hired Tom Chapin as a Senior Consulting geologist. Chapin formerly was the senior geologist at Barrick, where he mapped the Cortez Hills Project for exploration.
The Keystone property encompasses an entire district-scale opportunity on the southern end of the Cortez gold trend. Mathewson believes that Keystone could be, minimally, larger than GSV's Railroad Project. To give you an example of the potential for USAU's stock price if Mathewson proves correct about Keystone, GSV's market cap hit $647 million last year based on its existing resource plus the potential for a substantially larger resource as indicated by strong drill results. GSV's market cap currently is $360 million.
Mathewson was paid $1 million for his portions of the Keystone property - $250k cash and $750k in stock, the latter of which he still owns. Mathewson is also the head of exploration at USAU, for which he receives 75% of his monthly compensation in stock.
In 2016/2017, USAU drilled seven "scout" holes. These holes were used to investigate the geology in order to gain an understanding of the rock formations and to determine mineralization drill targets. Based on the results from these holes, Mathewson believes the Keystone geology is similar to the geology of the Cortez Hills mine. The seven holes intersected 700 feet of mineralization intercepts. From these results, the geologists believe that Keystone could host a massive epithermal gold system. Mathewson's team has identified several gold deposit target opportunities on the property. They believe it's just a matter of time before they find an ore-body on the property.
USAU also acquired the Gold Bar North property in June, which sits on the Cortez Trend to the southeast of Keystone. To the south of Gold Bar North is McEwen Mining's (MUX) Gold Bar deposit (over 1 million oz resource, of which 483k ozs is proven/probable). Gold Bar North sits squarely on the 706 Line discussed above and shares similar geology with the MUX Gold Bar deposit.
The Dave Mathewson Factor
I met with USAU's head geologist, Dave Mathewson, to discuss the Keystone property and why he is incredibly excited about its prospects for hosting a large gold deposit. Mathewson is considered a leading expert on Carlin Trend geology. In fact, after chatting for well over two hours with him, he's likely the leading expert on all of Nevada's
mining geology. While he was head of Newmont's exploration team from 1989 through 2001, Mathewson was responsible for discovering Newmont's major Carlin Trend deposits. He also is responsible for Gold Standard Venture's Carlin Trend discoveries. I feel like I should have paid a fee for my time spent with Mathewson because I learned so much about geology.
One of the reasons that Keystone was never explored by larger mining companies despite its Cortex Trend pedigree is because the land ownership was highly fragmented. U.S. Gold, with Mathewson's help, has managed to piece together 20 square miles with a "footprint" that covers the areas in which Mathewson is most interested in exploring. The property is 100% owned by USAU. This is a large enough land mass for Keystone to be considered a district-scale project.
For Mathewson, the key to starting the hunt for a deposit is to find areas with the "right host rocks." With Keystone, it has "rocks, system and geological characteristics - nothing is missing." The "scout holes" drilled by the Company were used to identify the "stratigraphy," which shows the geological layering of the rock formation and can help identify gold-bearing formations. According to Mathewson, the stratigraphy of Keystone looks almost exactly like Barrick's Cortez Hills property stratigraphy - but even better.
The 706 Line
When Mathewson was at Newmont, one of geologists working for him set out to collect data which could help geologists plot the 706 line.
The 706 line plots "major breaks in the earth's crust." The idea is that a tectonic crustal block collided with the North American Plate, which runs through central Nevada. The collision produced hot springs, many of which brought minerals toward the earth's surface.This is a primary feeder for gold and one of the reasons that Nevada is a prolific gold producing region.
From this data collected, Mathewson determined that the 706 line ran through the Keystone Property. You can see that the line borders the Pipeline and Cortez mines to the west and along the eastern edge of Keystone right through USAU's Gold Bar North property.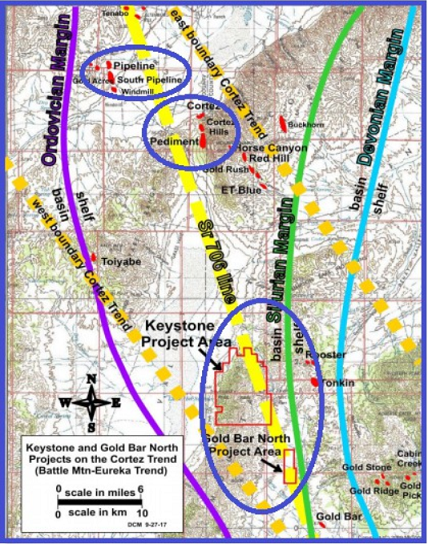 I want to emphasize that the presence of this 706 line does not guarantee that the Keystone property hosts an economical gold deposit. But, given that Cortez Hills/Pipeline contain exceptionally large deposits that are highly profitable suggests that there's a high probability that Keystone also contains a mineable gold deposit. Based on all of the work conducted up to this point, Mathewson said that the Keystone property contains a "hydro-thermal system everywhere." Now they need to find the "feeder system." The presence of the 706 line suggests that the feeder system is somewhere on the property. The feeder system is the hardest ingredient to find but that's where they'll find deposits on Keystone, if they exist.
The Company is finalizing an Environmental Assessment (EA) necessary to expand the exploration. It will be ready and in place for upcoming drilling season which should start in May, though it depends on the timing of the spring thaw. The next drill program will be for the purpose of "target drilling," which will be used to hunt for the feeder system. Assuming a late May start, we should start seeing drill results by late July/early August.
Last week an article published on Seeking Alpha connected investor Barry Honig to USAU. The article presented Honig as an investor who has left a long trail of profiting off of pump and dump scams. Honig's affiliation with USAU, however, was only incidental.
Barry Honig was a large shareholder of Dataram, which was the predecessor corporate shell that USAU used to go public. Dataram had been a manufacturer of computer memory and software. It was a supplier to Digital Equipment Corporation, for those of you who remember DEC. Dataram ultimately was not a viable business long term as it was suffering from intense competition from much bigger companies.
When USAU got off the ground, Ed Karr wanted to take it public but this period of time coincided with a period of weakness in the precious metals sector. He wanted a Canadian and U.S. listing but not a bulletin board/pink sheet arrangement. Ed was on the board of Dataram. It was decided that Dataram would spin-off the legacy business and merge with USAU in a stock-for-stock deal. The merger with Dataram closed on May 17, 2017. This was a very cost-effective way to get USAU public with a Nasdaq listing. The only reason that Barry Honig ended up as a shareholder of USAU was because he owned Dataram shares.
USAU stock began trading at $3/share on June 26, 2017. Over the next four months, it sold down to as low as $1.10 (closing basis, November 3, 2017). I suspect that the decline in USAU stock during this period can be attributed to selling by legacy Dataram shareholders, including Honig. I have been unable to find any public record of Honig still owning any USAU shares. Aside from the USAU shares Honig received in the Dataram merger, he is not connected to the Company in way. The legacy Dataram business was sold to a Chinese company for $900k. The sell-off in the stock from $3 to $1.10 had absolutely nothing to do with the potential for the Keystone Project or the current intrinsic value of the Copper King Project.
Bottom Line
Before I invest in a junior mining company, or present it as a good idea to my subscribers, I have several attributes that must be present. First and foremost, the Company must have a project located in an area which is a proven hunting ground for precious metals deposits. Preferably, though I will make exceptions, the project needs to be in a politically friendly jurisdiction. In addition, Company management needs to have a lot of skin in the game. Fourth, the company needs to have at least 12 months of cash funding. Finally, I like to be able to envision an exit strategy.
USAU meets all of these requirements. The Cortez Trend is one of the most prolific gold producing area in the world (some geologists believe it may prove to be bigger than the Carlin Trend). Nevada is obviously a friendly mining jurisdiction. Insiders own 12% of the stock, plus Dave Mathewson takes 75% of his compensation in stock. Recently, one of the original investors in USAU led a small group of investors that invested another $5 million that will be used to fund exploration and overhead. USAU now has $8 million in cash, which should cover development expenses beyond the end of 2018.
Finally, the exit strategy is easy to define. If Keystone turns into a Project in excess of 5 million ounces of gold resource, there will be a fight among Newmont, Barrick and Goldcorp (GG), among others, to buy the project.
Currently, USAU is advancing and de-risking the Copper King Project to make it more attractive to a potential acquirer. As it gets closer to the Feasibility Study stage, the stock should reprice to better reflect the "intrinsic" value of the Project.
Similarly, USAU will start an aggressive drill program on Keystone this spring in search of a gold deposit. Drill results should start flowing from the Company sometime in late July or early August. If any of the target holes show evidence of potential economic mineralization, USAU stock should easily double in market cap.
While it's too early to start making predictions, there's a chance that Keystone could be bigger than either Pipeline or Cortez Hills. Conversely, there's a chance that Keystone could host mineralization but not an economically viable deposit. But with only 17 million shares outstanding and a $32 million market cap, I can easily see this stock revaluing toward an $80-100 million market cap by the end of the summer with the continued successful advancement of Copper King and some positive drill results from Keystone.
Disclosure: I am/we are long USAU.
I wrote this article myself, and it expresses my own opinions. I am not receiving compensation for it (other than from Seeking Alpha). I have no business relationship with any company whose stock is mentioned in this article.
Additional disclosure: I manage a bullion and mining stock fund that owns USAU.
Editor's Note: This article covers one or more stocks trading at less than $1 per share and/or with less than a $100 million market cap. Please be aware of the risks associated with these stocks.