Retirement satisfaction appears positively correlated with income, net worth, and health, and it is positively correlated to stable income streams. Reports suggests that investors who report the lowest levels of worry are not those who have the highest income prior to retirement, but those whose net worth is the highest multiple of their pre-retirement income.
These findings suggest that those whose expectations are modest (based upon their income level) relative to their asset base are the most satisfied. Research suggests that pre-retirement worry and post-retirement satisfaction are improved if annuitized income streams exist.
This suggests that not only is the level of income and assets important, but the type of income is also an important consideration. Now I know you are begging me to recommend that retirees should load up on REITs…
I'm not.
However, REIT income should be a part of the retirement process and investors should take a closer look at the asset class to make sure that the quality of dividend income is reliable and repeatable.
What I mean is that all REITs should not be painted by the same brush.
Just because you are an investor in a REIT does not guarantee that the dividend income will be sustainable. By the way, did you see that Wheeler REIT (NASDAQ:WHLR) suspended its dividend? Ouch!
Most all retirees are counting on the income to fund expenses or enjoy their quality of living, so a dividend cut could be devastating.
Reducing stress is part of my job and one of the reasons that I spend countless hours on REIT research is to provide readers/subscribers with actionable insight in an effort to model intelligent REIT portfolios.
Our Intelligent REIT Lab consists of over 130 REITs consisting of a variety of property sector and sub-sectors. By maintaining a broad approach, investors can reduce risk without sacrificing returns. This is unique to the REIT sector because it allows investors to model portfolios with tactical allocations.

Although I get asked the question, "what is the best REIT to own?", I rarely provide just one company. I consider diversification critical to the investing process and I would never want to mislead an investor to put all of his eggs in one basket.
That's also true when it comes to property sectors. Recognizing that each property sector has its own macro-economic characteristics, I would always suggest that investors maintain tactical diversification across multiple property sectors.
Each investor has his or her own unique risk tolerance levels, so a higher-risk investor may be confident owning 5 REITs and a low-risk investor may prefer owning 25. Of course, some investors prefer ETFs.
Today I thought I would provide you with the higher risk option – just 5 REITs – and they are all inexpensive. Following the principles of value investing, if stocks are cheap, you buy them.
But I'm not just recommending the "cheap" REITs, I am providing you with what I call "the crème de la crème" and that simply means that you are browsing the list of Ferraris that can be purchased as if they were Fords. If you want to get rich, you have to take the emotion out of the decision-making process and buy attractive dividend-paying stocks on sale.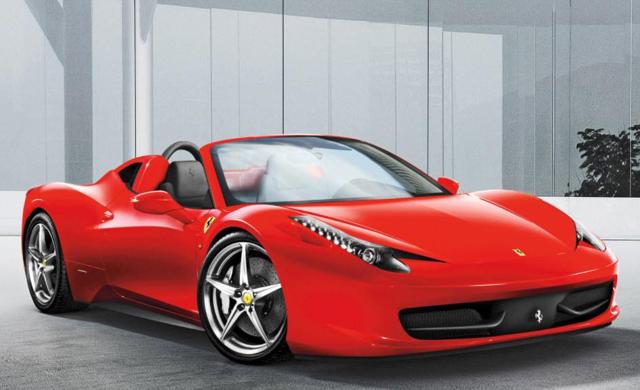 5 Highly Predictable REITs
Digital Realty (NYSE:DLR) is the first pick. I recently wrote on this Data Center REIT and explained "this cloud-based REIT is raining dividends and I consider the interest rate fears to be nothing more than an opportunity. Don't hang around and begin to frown. Rainy days and Mondays NEVER get me down."
Digital recently announced it would increase its quarterly dividend on common stock by 8.6% and the company has a long history of raising dividends, it's the 13th straight year of an increase, since the IPO in 2004.
I added that "for a value investor, today is the perfect storm (pun intended) to pick up new shares. The selloff in the REIT sector has created a wider margin of safety and that's precisely why I have initiated new purchases for my children's college fund. I suppose I need to get all of the kids an umbrella because Digital Realty is raining dividends."
To be clear, Digital is no screaming bargain today, but I do consider the stock attractive. Shares are trading at 16.8x P/FFO (averaged 18x in 2017) with a dividend yield of 3.9%. The potential growth is strong as consensus estimates estimate growth of 7% in 2018 and 8% in 2019. My recommendation: BUY.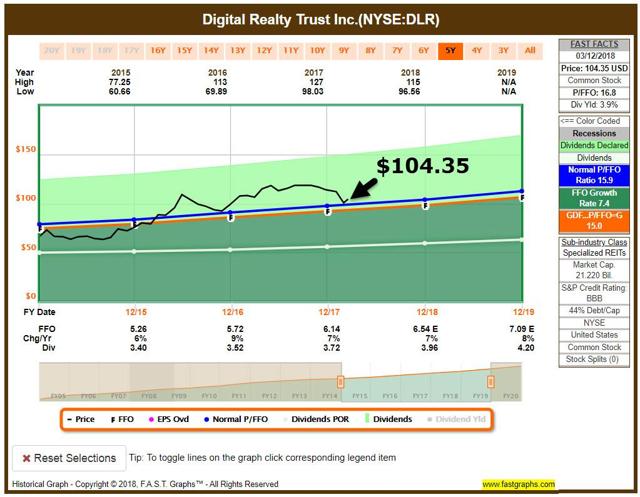 Realty Income (NYSE:O) is one of the most predictable REITs on the planet. The stock is starting to get a decent bid here (so much for the bears saying it was going to $40) and the latest earnings results debunked most all of the short sellers. I explained in a recent article:
"Since 2013 Realty Income has achieved 102% recapture on re-leasing. If the company's bank portfolio was the primary motivation for the short thesis, it is now debunked."
I added that Realty Income "is not expensive (it's trading at parity to NAV) and the company's nominal cost of capital is in the high 4's. In fact, I argue that Realty Income is one of the few Net Lease REITs that can buy quality and maintain the widest investment spreads. The company's nominal first year weighted average cost of capital reflects both the current AFFO yield as well as the cost of 10-year unsecured fixed rate debt."
Realty Income's continued low cost of capital allows it to acquire the highest quality in properties that provides favorable long-term returns while also creating meaningful near-term earnings growth. Realty Income estimates that 2018 acquisitions to be $1 billion to $1.5 billion in 2018 and that translates into predictable profits.
Realty Income is trading at $51.25 per share with a P/AFFO multiple of 16.6x (was 19.1x over 3 years). The dividend yield is 5.1% and the consensus growth (for AFFO) in 2018 4%. My recommendation: BUY.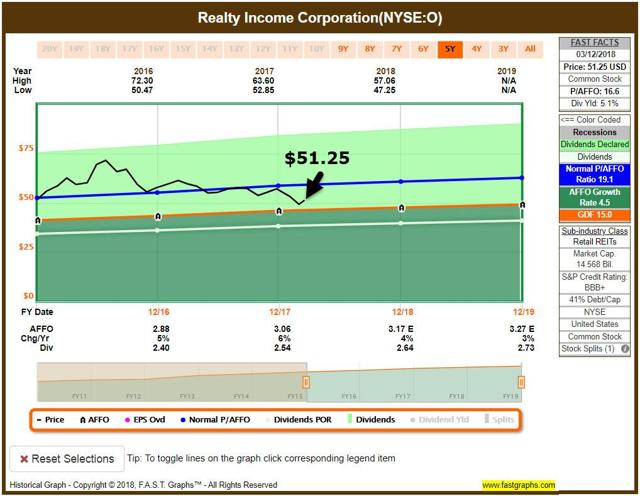 Federal Realty (NYSE:FRT) is a recognized leader in the ownership, operation and redevelopment of high-quality retail-based properties located primarily in major coastal markets from Washington, D.C. to Boston as well as San Francisco and Los Angeles.
Founded in 1962, FRT's mission is to deliver long term, sustainable growth through investing in densely-populated, affluent communities where retail demand exceeds supply. FRT's expertise includes creating urban, mixed-use neighborhoods like Santana Row in San Jose, California, Pike & Rose in North Bethesda, Maryland and Assembly Row in Somerville, Massachusetts.
These unique and vibrant environments that combine shopping, dining, living and working provide a destination experience valued by their respective communities. FRT's 105 properties include over 2,800 tenants in approximately 24 million square feet and over 2,000 residential units.
Federal Realty is one of just a handful of REITs with an A-rated balance sheet and shares are trading at $117.32 per share with a P/FFO multiple of 19.7x. While a 3.4% dividend yield may seem modest, keep in mind that Federal Realty has increased its dividend for over 50 years in a row (talk about Ferrari). My recommendation: BUY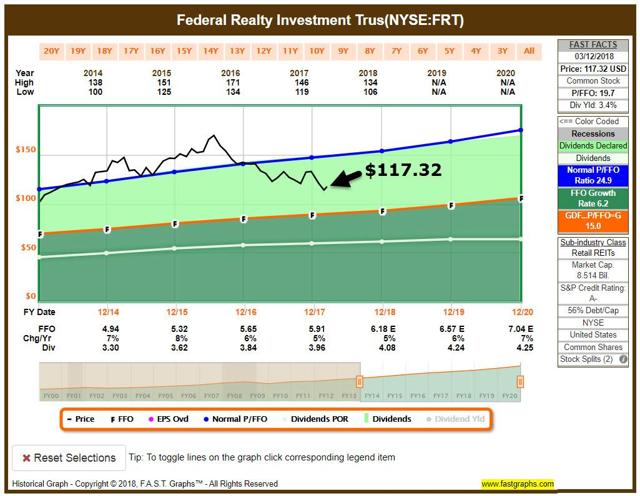 Tanger Factory Outlet (NYSE:SKT) is the only publicly-traded REIT specializing solely in the development, leasing, marketing and operations of outlet centers in the United States and Canada. Since pioneering the dynamic outlet industry in 1981, Tanger remains an industry leader that strives to provide superior experience to consumers, retail partners and shareholders.
Jim Cramer (on Mad Money) recently said:
"The mall-based real estate investment trusts are simply not the kind of stocks you want to own in this environment and you need to use any strength, even relative strength like you're getting at this particular opportunity, to start selling them…

But even the best-run shopping center REITs ... like Federal Realty and Tanger are tough to own. It's not just that these are broken stocks, hurt by the long-term resurgence in interest rates. They're also potentially broken companies."
Come on Jim, broken companies, really? You are calling out the prized divided aristocrats – Federal Realty and Tanger. It seems that you are hitting the SELL button at the wrong time, as any value investor recognizes that "one of the most persuasive tests of high-quality is an uninterrupted record of dividend payments going back many years."
While some pundits, like Cramer, continue to drink the "all retail is dead" Kool-Aid, I will ignore the herd-like mentality and continue to invest in high-quality REITs. It's simply better to be in the market invested in value stocks than to play the timing game.
Tanger shares are trading at $21.76 with a P/FFO multiple of 10.0x (was 15.6x over the last 4 years). The dividend yield is 6.3:%. My recommendation: STRONG BUY.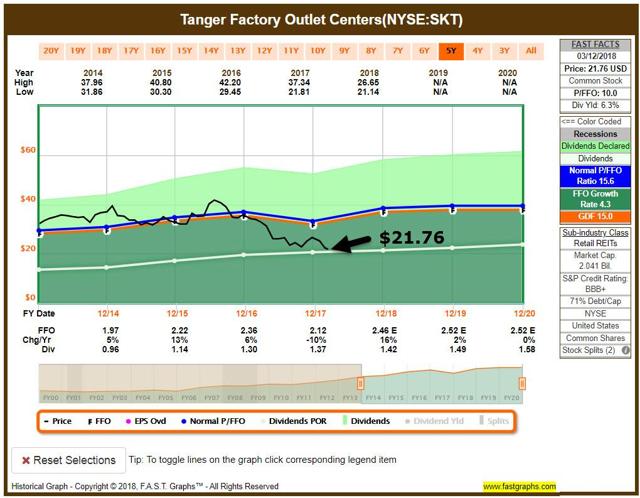 W.P. Carey (NYSE:WPC) is a leading global net lease REIT that provides long term, sale-leaseback and build-to-suit financing solutions for companies worldwide. As of Q4-17, the company had an enterprise value of approximately $11.5 billion. As illustrated below, the company generates around 80% of AFFO from its owned real estate operations and 29% of AFFO from its investment management business.
At the end of Q3-17, WPC's owned real estate portfolio consisted primarily of 887 properties (85 million square feet) across 19 countries. The portfolio primarily consists of industrial, office, retail and warehouse facilities with 210 tenants; top 10 tenants represent 32% of ABR.
During 2017, WPC declared distributions totaling $4.01 per share, completing its 20th year of rising dividends, while maintaining a conservative payout ratio of 76% for the year. In a recent article I explained:
"Given the year-to-date pullback in REITs, W.P. Carey has become a highly attractive alternative. The company outperformed most of the other Net Lease REITs in 2017 (due to the limited retail exposure) and I remain bullish in 2018. While most of the peers are also struggling for attention, WPC stands out as a great alternative that is just not getting any respect."
WPC share are trading at $61.98 with a P/FFO multiple of 11.7x (was 12.1x). The dividend yield is now 6.5%. Like the other 4 REITs, WPC has a long history of paying and increasing dividends and the attraction to this company (as well as the others) is the consistency of the dividend. My recommendation: BUY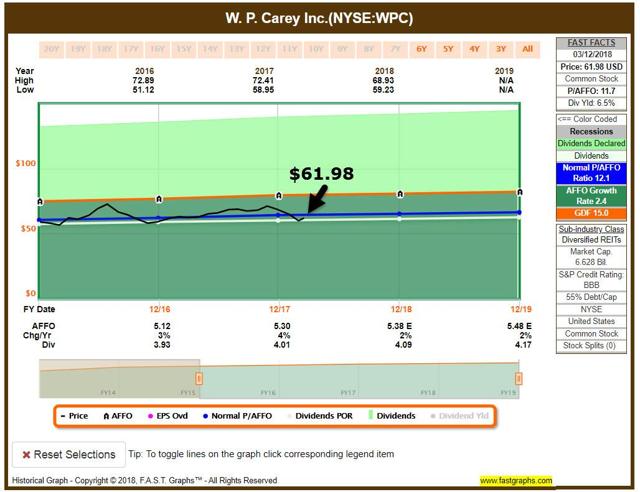 In conclusion: For most investors, diversification is the simplest and cheapest way to obtain a margin of safety. While every investor has his (or her) own risk tolerance levels, I do believe that owning REITs is an important method to build wealth. As Charles B. Carlson (CEO of Horizon Investment Service) explains:
"If you want the recipe for getting rich in the stock market, here it is: Find stocks with above – average appreciation potential and safe and growing dividends, and buy them at attractive prices."
Bruce Greenwald (First Eagle Funds) put it another way:
"There are no bad days in the market. When the market is down, you've got bargains, and it's lovely to think of what you are buying at low prices. When the market is up, the bargains have gone, but you're rich."
It's your turn to get behind the wheel!

Note: Brad Thomas is a Wall Street writer, and that means he is not always right with his predictions or recommendations. That also applies to his grammar. Please excuse any typos, and be assured that he will do his best to correct any errors if they are overlooked.
Finally, this article is free, and the sole purpose for writing it is to assist with research, while also providing a forum for second-level thinking. If you have not followed him, please take five seconds and click his name above (top of the page).
The Intelligent REIT Investor is the #1 REIT Research site on Seeking Alpha. Brad Thomas and Rubicon Associates have a combined 40 years of investing experience. We publish exclusive research content on over 100 REITs, and our Durable Income Portfolio has returned over 12% YTD. We recently announced that the Small Cap REIT Portfolio has returned over 20% YTD.
Marketplace subscribers have access to a wide range of services including weekly property sector updates and weekly Buy/Sell picks. We provide most all research to marketplace subscribers and we also provide a "weekender" report and a "motivational Monday" report. We stream relevant real-time REIT news so that you can stay informed.
All of our portfolios are updated daily and subscribers have access to all of the tools via google sheets. REITs should be part of your daily diet and we would like to help you construct an Intelligent REIT portfolio, utilizing our portfolio modeling strategies.
Also, our subscribers will soon have access to REIT.BRACKETOLOGY.....Subscribe here.
Disclosure: I am/we are long ACC, AHP, APTS, ARI, BRX, BXMT, CCI, CHCT, CIO, CLDT, CONE, CORR, CUBE, DDR, DEA, DLR, DOC, EPR, EXR, FPI, FRT, GEO, GMRE, GPT, HASI, HTA, INN, IRET, IRM, JCAP, KIM, LADR, LAND, LMRK, LTC, MNR, NXRT, O, OFC, OHI, OUT, PEB, PEI, PK, PSB, QTS, REG, RHP, ROIC, SBRA, SKT, SPG, STAG, STOR, TCO, UBA, UMH, UNIT, VER, VTR, WPC.
I wrote this article myself, and it expresses my own opinions. I am not receiving compensation for it (other than from Seeking Alpha). I have no business relationship with any company whose stock is mentioned in this article.