Note: This is a summary of an article originally published February 21st on Value Investor's Edge. For access to the full article please click here.
Overview
Recently there have been quite a few articles surrounding the large increase in dry bulk orders accompanied by questions from readers. Here is the latest look at the dry bulk order book which should answer if we need to be concerned.
Dry bulk shippers specialize in transporting cargos, typically commodities, such as iron ore, coal, grain and other materials around the world.
Companies with exposure to dry bulk include Diana Shipping, Inc. (NYSE:DSX), DryShips (NASDAQ:DRYS), Eagle Bulk (NASDAQ:EGLE), Genco Shipping (NYSE:GNK), Golden Ocean Group Ltd. (NASDAQ:GOGL), Navios Maritime Holdings Inc. (NYSE:NM), Navios Maritime Partners L.P. (NYSE:NMM), Scorpio Bulkers (NYSE:SALT), Safe Bulkers Inc. (NYSE:SB), Star Bulk Carriers Corp. (NASDAQ:SBLK) and Ship Finance International Limited (NYSE:SFL).
Background
In my last supply side update, Dry Bulk Shipping Supply Side Update (August 2017), I noted that a thinning order book and waning deliveries were setting up a correction for the segment.
In that report I concluded:
A long awaited turn in the dry bulk market appears to be underway. 2018 looks to be a pivotal year with demand growth expected to outpace vessel deliveries for the first time in many years. As the market comes into balance we should see rates as well as asset prices continue to improve.
But I cautioned:
Now, the key to this rebound rests on maintaining healthy demand for dry bulk goods as well as owners keeping the order book at an acceptable level. That second part is a main concern of mine going forward. With the prospect of a recovery on the horizon owners often place orders in an attempt to position as much tonnage on the water to capitalize on higher rates. The continuing low prices for newbuilds also present a bit of lure as well.
Since that report back in August, we have seen a surge in orders which now prompts this update. So where are we now? Is another oversupply cycle developing?
Capesize Class
In this summary, we will focus on the Capesize class, but the full article contains info on other classes as well as a more detailed analysis.
For simplicity, anything 120,000 dwt and over is grouped into this class.
Let's start by putting this current situation into some context.
Back in 2015, we saw the seeds being planted for a slowing of deliveries in 2018 and beyond, when only 48 large dry bulk vessels were ordered. 2016 saw just eleven such orders which continued to pave the way for a rebalancing of the fleet.
In the first half of 2017, charter rates began to pick up, asset prices increased significantly, and forecasts were becoming a bit more bullish, which led to a total of 25 firm orders placed with 15 options. This level of activity, while a bit more than I would have liked, still seemed to be acceptable to allow the market to function properly.
Let's take a quick look back at a chart I published in August of 2017 showing the expected drop in deliveries over the coming years.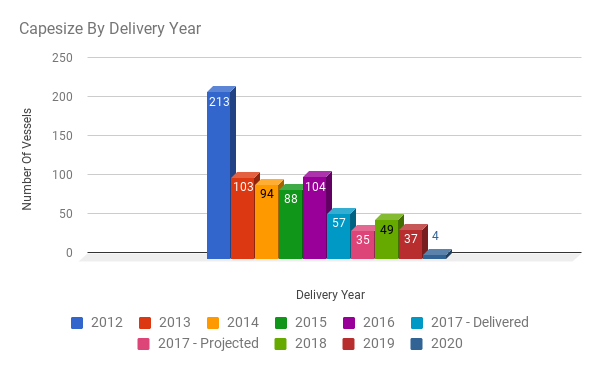 Source: Data From Clarkson Research Chart By James Catlin
But the back half of 2017 saw a total of 78 firm orders placed for Capesize and above, with 5 additional options. Now, on the surface, this number doesn't sound so bad. But when we look beyond vessel numbers, into the dead weight tonnage, things start to get a bit concerning.
VesselsValue data shows there are currently 1,579 Capesize and larger vessels on the water and just 166 on order currently. This puts the order book at 10.5% when it comes to simple vessel numbers.
But many of these recent orders were for ships much larger than the standard 180,000 dwt Capesize class. In fact, just 9 firm orders in the back half of 2017 were for vessels around 180,000 dwt along with 3 options, with all the others being significantly larger sizes. How much larger? Well, 36 of them were for 325,000 dwt and above.
So when we look at the order book from a dwt perspective it now comes in at 14.4%. Now, let's take a look at an updated chart showing expected deliveries but this time using dwt: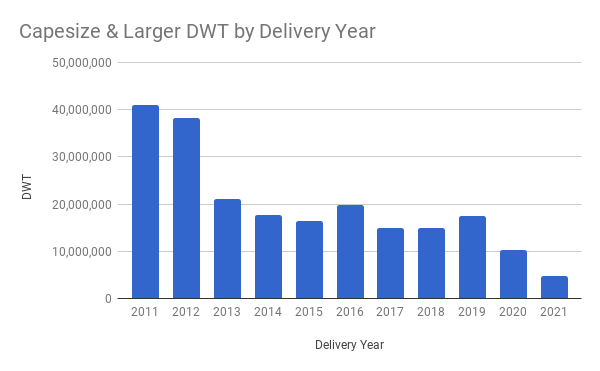 Source: Data From VesselsValue - Chart by James Catlin
Currently, there are 44,935,100 dwt on order for this class with 2019 representing a new peak delivery year with 17,537,900 dwt.
But while the recent orders have added a great deal of tonnage to the order book, they are still in line with deliveries that allowed the dry bulk market to rebalance.
But let's just take a minute to give a few reasons why some might view it as a concern.
In a healthy market, a 15% order book is actually acceptable. But two things need to be taken into consideration here. First, this market isn't quite healthy yet, though it is recovering. Second, that 15% balancing act rests on a sufficient number of demolition candidates being sent to the scrapyard. As many know, a great deal of scrapping has already occurred in this segment in an effort to rebalance the market. Much of that scrapping involved younger vessels effectively shifting some future scrapping dates forward. To put that last point into perspective, the average age of all dry bulk vessels sent to the scrapyard fell by seven years, from 30.7 years to 23.7, between 2011 and 2016.
Now, take into consideration that by this time of year in 2016 we had seen 21 Capesize and larger vessels scrapped. In 2017, that number fell to just eight. But here in 2018 we have started the year with only four sent to the scrapyard, even though scrap prices are approximately double that from this same time in 2016.
The improving charter rate environment absolutely has some influence on this part of the market since there is a direct correlation between charter rates and demo activity. But let's not lose sight that the average age of the bulker fleet is just 9 years, which is younger than any other segment.
Demos could pick up very soon since we do have two IMO mandates coming up which should accelerate the scrapping of older vessels come 2020. But companies have been tight-lipped about the cut-off point in age regarding the required investments needed to keep a ship on the water.
These mandates are why some believe these new orders are justified, as anything over 20 years of age in the Capesize class would be sent to the scrapyards. However, the prospect of removing this tonnage due to these mandates might further promote ordering, which I cannot get behind just yet, and here is why.
If by 2020 everything 20 years or older is removed, that would take almost 22 million dwt out of the Capesize and larger equation. While that sounds like a lot, it really only represents 2.7% of total dwt in that class. That is hardly a significant correction.
Conclusion
I am growing a bit concerned because this level of ordering that we have seen lately will not prove to be sustainable if it continues at this pace. We must slow things down.
But the current environment may prove difficult for individual owners to resist. Newbuild prices are still very low, historically. The outlook has improved and forecasts for higher rates ahead dominate projections. Newer tonnage will be in greater demand as vessel efficiency is highlighted following the 2020 sulfur cap, which will require the use of more expensive MGO.
Owners will do what is best for their company in order to prepare/capitalize on what the future holds. Which brings us to our age-old shipping conundrum. Individually, owners can be very smart; however, collectively these decisions can become harmful. An individual can look at the forecast and make decisions for their own specific company that is correct. But they do not exist in a vacuum and that's the rub. When individuals across the board start making the same decisions based on a similar macro outlook, we run into problems. Many times this is what creates the boom-and-bust cycles in shipping. Let's just hope this isn't the beginning of one of those times.
Thank you for reading and I welcome all questions/comments.
If you would like to stay up to date on my latest analysis, I invite you to follow me on Seeking Alpha (click the "Follow" button next to my profile picture at the top) as I continue to cover all aspects of maritime trade.
Value Investor's Edge
Value Investor's Edge is a top-rated research service dedicated to offering actionable trades and strategic income opportunities. We now cover a variety of deep value and income-driven sectors, while maintaining our focus and very profitable record of shipping industry coverage. Members receive exclusive access to over a dozen reports per month, including regular shipping and commodity macro analysis from James Catlin, exclusive content by top-tier deep value analyst J Mintzmyer, industrial and MLP ideas from Michael Boyd and international insights from Ian Bezek. This winning team has developed a dedicated following of highly knowledgeable investors and industry professionals who also share their own thoughts and ideas. For more information on Value Investor's Edge, simply click the link.
Disclosure: I am/we are long NMM, GNK, GOGL, SALT.
I wrote this article myself, and it expresses my own opinions. I am not receiving compensation for it (other than from Seeking Alpha). I have no business relationship with any company whose stock is mentioned in this article.
Editor's Note: This article covers one or more microcap stocks. Please be aware of the risks associated with these stocks.