Gold remains range-bound but showed signs of perking up on Tuesday as investors soured on the dollar and Treasury yields weakened. This is just what gold needs to turn the immediate-term tide in its favor. And though the immediate-term breakout signal we've been waiting for hasn't happened yet, there's a good chance it will happen before the month is over. In this report we'll examine the challenges gold faces, both in the immediate term and the longer term.
Spot gold was up 0.3 percent at $1,326 for Tuesday, while April gold futures settled 0.5 percent higher at $1,327. Lower interest rates on Tuesday also contributed to its positive performance as significantly higher yields have weighed on the near-term demand for gold in recent weeks.
Most importantly for gold's immediate outlook, however, is the U.S. dollar index (DXY) which has shown signs of weakening in the last few trading sessions. This is just what gold needs to regain its immediate-term footing. Shown here is PowerShares DB US Dollar Index Bullish Fund (UUP), one my favorite dollar proxies. Although UUP has remained in a narrow, sideways trend for the last few weeks it has slipped under its 15-day moving average in the last two sessions. This provides a ray of hope for the immediate-term (1-4 week) prospects for a gold rally. Additional weakness in UUP can only benefit the gold price in its attempt at breaking out of its own 2-month directionless trend.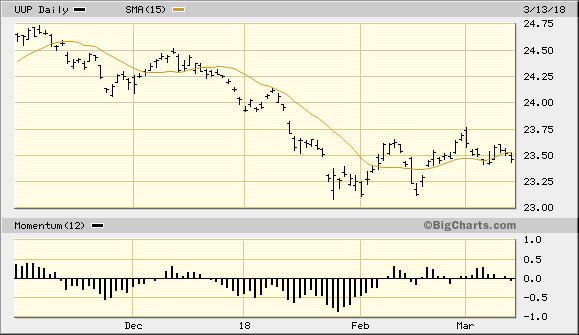 Source: BigCharts
Another important indicator to watch in the coming days and weeks is the iShares China Large-Cap ETF (FXI), which is an excellent measure for U.S.-listed China stocks. This particular ETF has been strongly correlated to the gold price in recent years, as I've noted in previous commentaries. Historically, whenever industrial sector strength has surged in China gold has benefited from increased demand from voracious Chinese demand as the country is the world's largest gold consumer. Conversely, any discernible slowdown in China's financial market growth has usually manifested in a weaker gold price. Indeed, it can be asserted that anything which benefits China's economy will sooner or later result in a higher gold price.
FXI is very close to confirming an immediate-term breakout signal per the rules of my technical trading discipline, which requires a 2-day higher close above its 15-day moving average. Every attempt at establishing a breakout in FXI in the last month has met with failure as the price of the China ETF has quickly reversed all previous breakout attempts. The following graph compares the price lines for the iShares Gold Trust (IAU) to FXI. As you can see, FXI did manage a 2-day higher close this week and is still above its 15-day MA as of Mar. 13, but needs to stay above the 47.68 level - the Mar. 8 closing low - in order to establish the latest breakout attempt.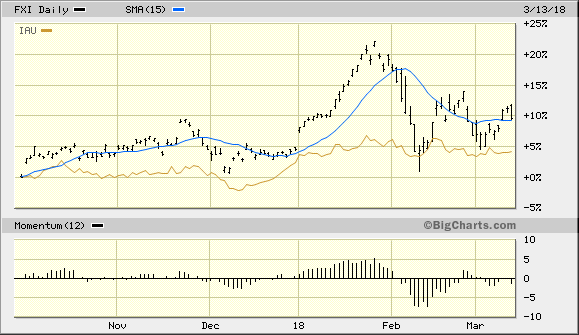 Source: BigCharts
Before gold commends itself as a low risk/high reward investment decision for retail investors, however, there should be additional confirmation from the overall commodities market. Of course the biggest determinant of broad commodity market strength is a weak dollar, which is often first manifested in the price of crude oil. This is my reason for including the oil price in my Five Factors underlying a strong gold price outlook. Investment fund managers as a group are highly attuned to the oil price, probably more so than any other commodity. When they see oil prices rising for a considerable length of time they will survey the commodities market landscape for attractive investment opportunities. Due to its dual nature as both a safe haven instrument and an inflation hedge, gold is normally one of the first commodities they consider.
Below is the daily graph for the April crude oil futures contract. As can be seen here, the oil price has languished in recent weeks below the $64/barrel level and is having a hard time staying above its 15-day moving average. However, a decisive breakout above the widely watched $64 level - which is the nearest benchmark chart resistance - would increase the prospects for higher gold prices in the near term.
Source: BigCharts
It can also be observed that since last month commodities, for the most part, have been weak. This can be seen in the PowerShares DB Commodity Index Tracking Fund (DBC) graph shown below. DBC is my favorite tracking ETF for the overall commodity sector, and it shows the extent to which additional recovery is needed before gold is ready to take the spotlight again as a significant short-term investment choice.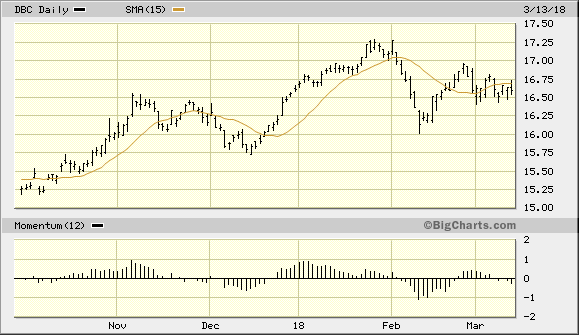 Source: BigCharts
Besides a languid oil price, weakening copper prices in recent weeks has also weighed against the commodities broad market of late. Diminished output of China's industrial metals, including steel, has been one of the culprits behind the recently soft performance from copper. Meanwhile, the latest customs data showed imports of raw materials by China fell sharply in February. Copper prices are down 7 percent on a year to date basis. From a fundamental standpoint, the demand for industrial materials like copper should ideally improve before inflation can return to work its magic on the broad commodities market, in turn boosting gold's investment appeal.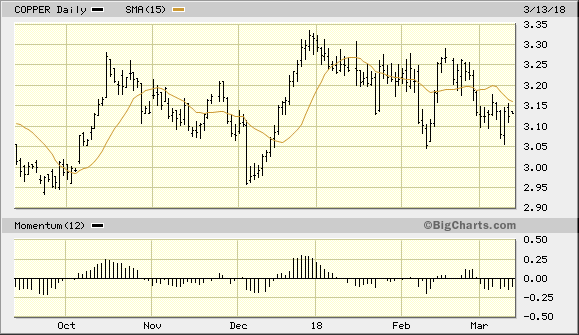 Source: BigCharts
For now, traders should content themselves with trading the short-term waves in the gold market, much as we have over the last several months. I anticipate there should be at least one such trading opportunity before this month is over, so we'll need to remain vigilant in the coming days for signs of additional weakness in the dollar weakness. This is the most important factor for confirming the immediate-term strength of the gold price.
Shown here is the daily graph for the iShares Gold Trust (IAU), my preferred trading vehicle for gold. I've emphasized in recent commentaries that as long as IAU remains above $12.50 its lateral trend of the last several weeks will remain intact with a reasonably good chance for an upside breakout by later this month. I've also cautioned that if there is to be a rally it should happen fairly soon before the inertia of the last few weeks reverses IAU's intermediate-term rate of change and therefore makes it easier for sellers to push the price below the pivotal $12.50 level. The IAU price line made a step in the right direction on Tuesday by closing above its 15-day moving average (below). A higher close on Wednesday with IAU finishing the session above the $12.75 level would be an even stronger indication that buyers are finally stepping up to the plate again.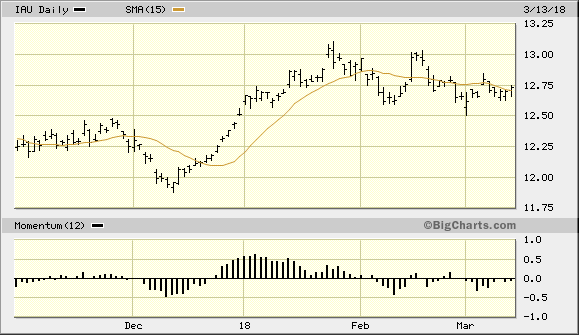 Source: BigCharts
For now I also continue to recommend that conservative gold and gold ETF traders keep their powder dry and wait for the gold price to decisively strengthen before initiating any new trading positions. Longer-term investment positions in gold, however, can be maintained as the fundamentals underscoring gold's two-year recovery effort are still favorable.
Disclosure: I/we have no positions in any stocks mentioned, and no plans to initiate any positions within the next 72 hours. I wrote this article myself, and it expresses my own opinions. I am not receiving compensation for it (other than from Seeking Alpha). I have no business relationship with any company whose stock is mentioned in this article.