The inflation data released today was underwhelming (bullish for stocks). Today was a small pullback day for U.S. equities after the recent rally from February lows but new highs are likely.
Anthera Pharmaceuticals (ANTH) is trading at a market cap of just $11.3 million after the failure of a phase 3 trial for Sollpura in the treatment of pancreatic enzyme deficiency due to exocrine pancreatic insufficiency. The company raised $14.2 million in January and the cash reserves on the balance sheet could be about $16 million (with total liabilities of $9.2 million). In addition, there are net operating loss carryforwards of about $7.5 million on the balance sheet (per 10-K).
The company has an asset Blisibimod in its R&D pipeline which was acquired from Amgen (NASDAQ:AMGN). Abnormally high B cell activator (BAFF) level have been associated with autoimmune diseases like lupus and IgA nephropathy. Blisibimod is a peptibody directed against BAFF. It differs from traditional antibodies since it is produced in E. Coli bacterial culture vs. mammalian cell culture (for traditional antibodies). It may advantage over traditional antibodies like the ease of manufacturing and higher potency.
IgA nephropathy affects about 130,000 people in the U.S. per year and 350,000 per year in Japan. Patients with this kidney disease have higher BAFF level than healthy individuals. Increased BAFF levels correlate with increased histological severity of the disease. In a phase 2 study, Blisibimod caused a reduction in proteinuria in IgA nephropathy patients who were on standard therapy like ACE inhibitors vs. placebo (where proteinuria increased).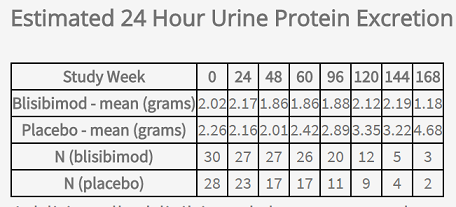 (Source)
There was also a trend towards a preservation of renal function vs. placebo which showed worsening of renal function. In the recent annual report, the management intended to discuss the registrational trial in this indication with regulatory authorities in the U.S., E.U., and Japan. The drug has Orphan drug designation in this indication.
Benlysta (marketed by GSK) is another BAFF inhibitor which is approved for the treatment of lupus and had $377 million sales in 2016. Its sales are expected to reach $1 billion globally by 2022.
Anthera could fit Graham's cigar butt investment criteria. It is unclear if the management will elect to proceed with developing Blisibimod itself considering the limited cash situation and need for frequent capital raise. Also, the company may face delisting from Nasdaq. Another option for the management may be to seek strategic alternatives like a reverse merger or sale.
Disclosure: This article represents my own opinion and is not a substitute for professional investment advice. It does not represent a solicitation to buy or sell any security. Investors should do their own research and consult their financial adviser before making any investment.
Disclosure: I/we have no positions in any stocks mentioned, and no plans to initiate any positions within the next 72 hours.
I wrote this article myself, and it expresses my own opinions. I am not receiving compensation for it (other than from Seeking Alpha). I have no business relationship with any company whose stock is mentioned in this article.
Editor's Note: This article covers one or more microcap stocks. Please be aware of the risks associated with these stocks.