Omeros (NASDAQ:OMER) is another microcap pharma that is struggling to parlay its initial FDA approved therapy, Omidria, to a more exalted plain of positive cash flow. In its Q4, 2017 CC, it announced that it was a scant $3.1 million from cash flow breakeven, sadly a case of so near and yet so far, as I will explain.
This posting explores the dilemma Omidria's challenges pose for Omeros. It also advances the thesis that Omeros deserves a place in an especially risky nook of one's high risk/high potential portfolio.
Omeros suffers from a beastly problem in the form of Omidria reimbursement challenges.
The FDA approved Omero's NDA for Omidria for use during cataract surgery in 2014. Omeros began preliminary US sales in Q1, 2015, broadening to a full-scale offering in Q2, 2015. Wholesalers, who in turn sell to hospitals and ASC's, make up the bulk of Omidria's US customers.
In its Q2, 2015 10-Q, Omeros was able to describe an ample suite of reimbursement options. Its centerpiece was a transitional passthrough arrangement, continuing to 12/31/2017, with the Centers for Medicare and Medicaid Services (CMS). Such arrangement allowed the bundling of Omidria with the facility fee charged to a patient by a hospital or ASC. The initial pass-through reimbursement to Omeros in 2015 was $492.90 per vial.
In addition to its CMS pass-through, in its Q2, 2015 10-Q, Omeros confirmed broad private pay coverage. It characterized itself as having arrangements with nearly all of the 30 largest third party payers.
For Q4, 2015, Omeros reported revenue of $6.7 million, "virtually all" of which was from Omidria; Omeros never looked back. It ramped up its Omidria sales to a high reported in Omeros' Q3, 2017 CC that, extrapolated for an entire year, could have reached $90 million annually.
Omidria's importance as a therapy has come under significant scrutiny, particularly early in its life. Ironically, its therapeutic significance is growing ever more assured even as its reimbursement status has gone wobbly.
Back in April of 2015, Dr. Keith Walters wrote a counterpoint article in CRST (Cataract and Refractive Surgery Today) in which he presented a case that Omidria was of questionable clinical value and that it posed a threat to physician's earnings for ophthalmic procedures.
In February 2016, he appeared in a feature story recanting his negative opinion. In the second article, he reported from the standpoint of a satisfied customer who had used Omidria in multiple surgeries. He acknowledged that it provided significant advantages in terms of safety and comfort. As for the earnings concern, at the time he acknowledged it was de minimis.
During 2017, on the critical Omidria reimbursement front, all was well and good. That was then, now is now. As the 12/31/2017 sunset for Omidria pass-through status approached, customers began to use up their Omidria inventories without restocking. Without any extension in place or in clear sight, things are decidedly less rosy. The following report given during the Ophthalmology Conference, Hawaiian Eye/Retina 2018, shows the dilemma:
Omidria, which has been used for the past 3 years with pass through status for Medicare payment, can no longer be billed in any fashion as of January 1, when the pass-through expired, Kevin J. Corcoran, COE, CPC, CPMA, FNAO, said at Hawaiian Eye 2018, where he gave on update on coding and reimbursements for the new year.

"That is a normal process, not unique to this particular product," he said. "As we sit here today, there is no reimbursement, separate or otherwise, for Omidria. And at the same time, you may not charge the patient."
Ouch, just when sales were sailing the wind stops dead. Omeros has been bending every effort to get a legislative extension. It nearly succeeded. It has not given up hope. Omeros has Plans B and C which I will discuss, but they are far from sure.
Two recent Seeking Alpha articles by FourWorld Capital Management seize upon this to paint Omeros as facing a dire situation. The premise of these articles is that Omidria's sales will tank without the aid of pass-through status. They further hypothesize that this revenue shortfall will prevent Omeros from effectively developing its pipeline.
The most recent of the two articles, published 2/21/18, describes the following scenario:
Based on our independent research, we predict an 80% year-over-year decline in revenue, based on our channel checks with surgeons at ASCs across the country, who characterized the clinical benefits of OMIDRIA as mild at best, and not worth much, if any, additional cost over alternatives available for $30 per dose.

As outlined in the initial report, we believe a sudden collapse in revenue will result in financial deterioration for Omeros that could be significant enough to trigger a Material Adverse Change (MAC) or a covenant breach under Omeros' $125 million term loan with CRG Financial. In our view, the loan agreement provides CRG with opportunities to not only deny the additional $45 million available under the term loan - which Omeros needs - but this new data goes much further and opens avenues for CRG to declare an event of default or covenant breach.
Omeros presented its Q4, 2017 CC on 3/1/18. In this call Omeros put a happy face on an unhappy situation.
Omeros' Q4, 2017 CC downplays its Omidria upset.
Omeros was on the cusp of a revenue curve that would have taken it from cash flow positive to positive net earnings. The curve's pronounced upward tilt leveled out in Q4, 2017, appparantly soon to tilt decidedly downward.
As noted, Q4 was a transition quarter. Significant numbers of hospitals and ASC's responded to the expiration of pass-through status by drawing down inventories of Omidria without re-ordering.
This draw down triggered accounting adjustments which obscure the true extent, thrust and trajectory of Omidria's revenue generation during Q4, 2017. This lack of clarity will likely continue until Omeros settles on a path to normalizing its Omidria reimbursement practices. At the current time, Omeros has not decided how best to proceed.
It is vigorously, but I fear vainly, pursuing the optimal resolution which would be re-establishment of pass-through billing; unfortunately this course is entirely outside of Omeros' control.
Omeros has posited two alternative approaches, its plans B and C if you will. Its preferred plan B involves a negotiation with CMS.
CEO Demopulos notes that the CMS pass-through is inapt for Omidria insofar as such a pass-through treats it as a surgical supply. In this regard he states:
A surgical supply is something that is necessary and integral to the procedure, a drape a gown, a glove, a sponge a lap, OMIDRIA is not a surgical supply. It is an FDA-approved drug with a therapeutic indication that is used at the discretion of the surgeon based on the specific characteristics of an individual patient. It's a drug that reduces complication rates and improves outcomes.
He is negotiating for a resolution that would call for reimbursement under separate billing for Omidria. In response to an analyst question during its Q4, 2017 CC, CEO Demopulos indicated a third ill-defined alternative to provide the product to physicians for use during appropriate surgeries.
CEO Demopulos puts a good face on the situation. He states:
Either way, we expect that facilities will return to previous utilization and the growth will continue, once we have resolved for customers the question of how we will be selling OMIDRIA.
There is no hard and fast answer to the date by which any such resolution will occur. Investors must consider Omidria as a most unfortunate "known unknown" in the Omeros equation.
I will discuss how I believe this should impact Omeros' investment thesis in my concluding discussion.
Omeros' pipeline has received remarkable FDA recognition.
With Omidria in place, earning to its full potential, Omeros presents its optimal proposition, a true beauty; it could be a vibrant development stage pharma able to fund its own trials. This is still a definite, albeit temporarily forestalled, possibility.
However, until Omeros gets Omidria back on track, prudent speculators attracted to the name need to consider how Omeros can proceed during an extended interregnum. Towards that end, it becomes essential to evaluate Omeros' pipeline of therapies in development. The following slide, from a January 8, 2018 Omeros presentation, sets the stage: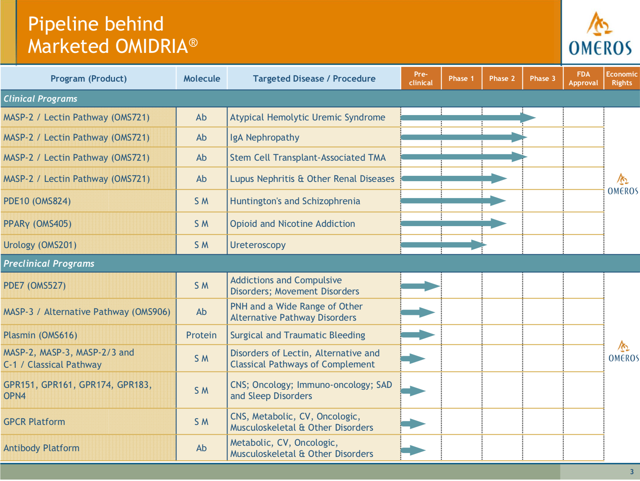 Omeros' OMS 721 is the crown jewel on this graphic with three indications in phase 3 trials. A later slide in this presentation, set out below, highlights the special attributes of this program which make Omeros such an exciting speculation.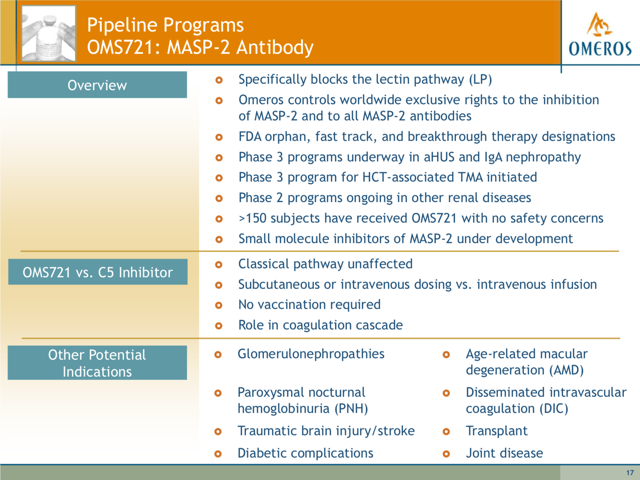 OMS has attracted a trifecta of favorable FDA designations in various of its indications. Its phase3 for IgA nephropathy has both breakthrough therapy designation and orphan drug designation. It received FDA's Fast Track designation of OMS721 for aHUS back in 2015.
As for OMS721 in connection with Stem Cell Transplant Related TMA, CEO Demopulos advised during his Q4, 2017 CC that Omeros was submitting a full application for breakthrough therapy designation at the FDA's request.
Beyond multiple indications of FDA support, OMS721 benefits from favorable safety experience. It is being studied in a wide range of indications. The future seems bright for this developing therapy. Omeros has three other programs in the clinic along with an enviable complement of preclinical programs. If only Omeros can round up the cash to harvest this bumper crop, all will be well.
Omeros' 10-K "going concern" disclosure is stark.
Omidria's cash spigot is being severely constricted for an indefinite period. This puts a crimp on things for sure; the ugly question of cash sufficiency cannot be avoided. Omeros burns cash at a growing healthy clip, in the range of $100 million a year.
Omeros has modest, but not inconsiderable, cash and equivalents on hand of $83.7 million. Additionally, it has receivables of $17.1 million that it has collected after the close of the quarter. Lastly, it has a $45 million tranche remaining on its CRG loan which it can draw in its discretion at any time as late as May 20, 2018.
Insofar as Omeros' revenue for the foreseeable future is in significant doubt, there is no way to reliably estimate its cash burn going forward. Omeros' management recognizes its uncertain financial situation calls for the following dismal 2017 10-K disclosure (at page 30):
Our ability to continue as a going concern will require us to generate positive cash flow from operations, obtain additional financing, enter into strategic alliances and/or sell assets. The reaction of investors to the inclusion of a going concern statement in this Annual Report on Form 10-K, our current lack of cash resources and our potential inability to continue as a going concern may materially adversely affect our share price and our ability to raise new capital, enter into strategic alliances and/or make our scheduled debt payments on a timely basis or at all. If we become unable to continue as a going concern, we may have to liquidate our assets and the values we receive for our assets in liquidation or dissolution could be significantly lower than the values reflected in our financial statements.
Conclusion.
Omeros' has let itself fall into an unfortunate situation where it has chosen to give the excerpted going concern statement. I expect that it will address the situation promptly and effectively by executing one or more of the options listed. It will:
...generate positive cash flow from operations, obtain additional financing, enter into strategic alliances and/or sell assets.
I admire Omidria; it is founder managed. It was formed in 1994 and has already achieved an FDA approved therapy with a recently granted pediatric label expansion. It has an exciting pipeline; with the exception of OMS103 it has retained all commercial rights for its product candidates and programs.
Nonetheless, the status quo for Omeros is unacceptable. Management must act to restore its financial integrity. It has leeway over the next quarter or two.
It is now clearly predictable that, unless Omeros gets its Omidria program back on track, it will undertake one or more major corporate actions designed to restore its financial vitality. Depending on its option and its choice, this may severely degrade Omeros' share price and its prospects
I view this as an opportunity for investors. I have recently opened a small position in the stock. I expect to add additional small positions if the share price continues to slump to levels that overstate the risks.
After taking this company as far as he has, I am counting on CEO/founder Demopulos leading a full recovery of this company so that it ultimately achieves its significant potential. It is my hope that existing shareholders will no end up as collateral damage in this shakeup.
For those who agree with my assessment, I urge you to temper your enthusiasm and to recognize that an investment in this name may turn to zero. While I am excited by the potential here I recognize that Omeros is walking on the edge, always a high risk proposition.