Walgreen (WAG) should just pull the rug out from under Express Scripts (NASDAQ:ESRX) and merge with Medco (NYSE:MHS) before Express Scripts and Medco get hitched. Walgreen could follow the strategy of CVS (NYSE:CVS) when it merged with pharmacy benefits manager Caremark to form CVS Caremark. Walgreen-Medco has a nice ring to it. A Walgreen-Medco merger may be too late at this point, but might be worth an attempt.
Walgreen reported February sales results yesterday, which grew 1.5% over the previous year, but as could be expected Walgreen filled 9.5% fewer prescriptions, due primarily to the loss of the contract with pharmacy benefits manager Express Scripts. Prescriptions filled by Walgreen one year ago attributed to Express Scripts represented 12.6% of the Walgreen's prescription business. Walgreen's results were also hampered due to a lower incidence of flu activity.
In Walgreen's Q1 2012 earnings call held on December 21, 2011, the company indicated they were attempting to work directly with health plans and employers to provide access to Walgreen in order to circumnavigate Express Scripts. Walgreen indicated they estimate they could achieve 97% to 99% of 2011 prescription volume in 2012 via this strategy. Walgreen has apparently made some progress toward fulfilling this estimate, but has a long way to go.
One of Walgreen's key strategies is to transform its drugstores and the company has implemented a pilot program of new store formats which include fresh food, enhanced beauty offerings and private brands. The pilot program is currently underway in Chicago, Indianapolis and New York City. Walgreen's store transformation strategy appears to be a good idea, but could be moot if the company doesn't get a handle on the pharmacy benefits manager issue.
Walgreen's stock price has taken a tumble due to the fallout between the company and Express Scripts, as shown below: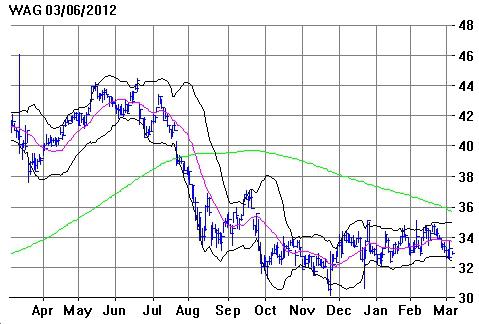 If and when the Express Scripts/Medco merger occurs, Walgreen could even be at a greater disadvantage, as the company could also lose its prescription volume attributed to Medco. If Walgreen were to lose its Medco flow of prescriptions, the company's stock price could really take a hit.
An investor in Walgreen might consider using a protected covered call or collar for Walgreen as a way to generate income and protect the investment during this turbulent time period for the company. A protected covered call may be entered by selling a call option against a stock and using some of the proceeds from selling the call option to purchase a put option for protection.
Using PowerOptions tools, a protected covered call was found for Walgreen with a potential return of 2.7% (7.2% annualized) and a maximum potential loss of 5.6%, even if the price of the stock drops to zero. The potential return and maximum potential loss include an assumed $0.225 assumed dividend payment during the timeframe for holding the position. The specific call option to sell is the 2012 Jul 33 at $2.20 and the put option to purchase is the 2012 Jul 30 at $1.32. A profit/loss graph for one contract of the protected covered call position is shown below: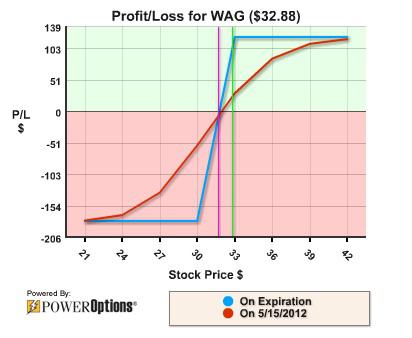 As a bonus, if the price of the stock is greater than the $33 strike price of the call option at option expiration in July, the position will return 3.8% (10.1% annualized). Additionally, if the price of the stock increases to around the $35/$36 range, the position can possibly be rolled in order to realize additional potential return.
Disclosure: I have no positions in any stocks mentioned, and no plans to initiate any positions within the next 72 hours.