In my previous article, I have identified EUR/CAD short as the most contrarian trade among major forex pairs. In this article, I would to go into details and list four reasons to short the Euro against Canadian dollar (or to buy Canadian dollar against the Euro).
Reason One: Technical Set Up
EUR/CAD has already retraced exactly 78.6% (Fibonacci number) of the grand decline that commenced in December 2008 and ended in August 2012. The pair is now facing a very strong resistance near 1.6100, a level which signifies a triple top that has not been broken since 2009. Furthermore, an analysis of trend-based Fibonacci extensions reveals that EUR/CAD has already reached even the most optimistic targets (0.864 level for the uptrend which started in August 2012 and ended in March 2014 and 0.786 level for the uptrend which started in April 2016 and ended in February 2016) and the recent uptrend has overextended itself. Finally, a 12-month based Relative Strength Index is approaching overbought conditions near 70.0 level, which does not happen very often. In fact, over the past 14 years, the level was breached only once (in January 2014), which at that time marked a major top.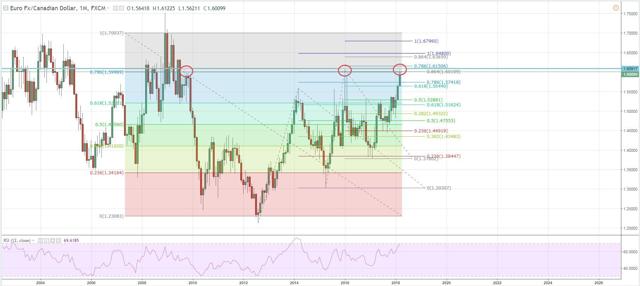 Source: TradingView
Reason Two: Divergent Monetary Policy
The Bank of Canada (BoC) has already hiked interest rates three times since July 2017. Conversely, the European Central Bank (ECB) has not even ended its bond-buying stimulus program yet. Most recently, Mario Draghi, the ECB head, said that Eurozone economy still faces "risks and uncertainties" - including a looming trade dispute with the United State. In this regard, I should mention that President Trump exempted Canada from his steel and aluminum tariffs.
Either way, BoC and ECB are in completely different boats: after being quite hawkish, the BoC is now cautious, while ECB is still very dovish. Unsurprisingly, the spread between 2-year bond yields has dropped (see the chart below).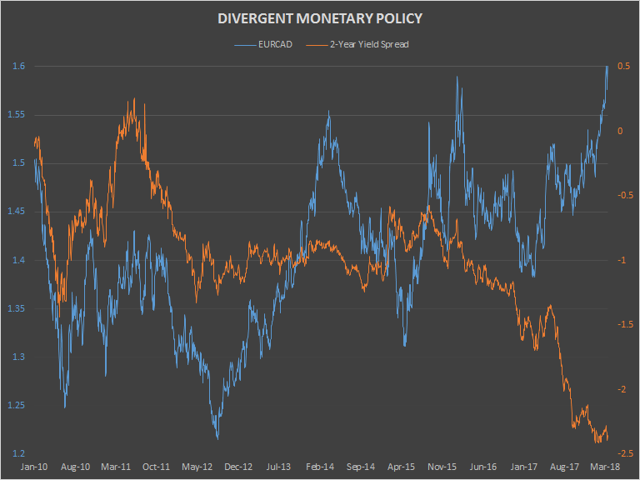 Source: FXCM, investing (website), personal calculations
The spread between German and Canadian short-term bonds is now at -2.35%, the lowest it has been since the euro was first introduced back in 2000. Notice how the EURCAD exchange rate has completely diverged from the bond spread.
Reason Three: Oil
There has always been a strong positive correlation between the price of oil and the Canadian dollar exchange rate (see the chart below). Oil has been in a major uptrend since July 2017. This Wednesday, the U.S. Energy Information Administration issued yet another bullish report on crude oil inventories, which underscores the fact that there is currently a strong demand for liquid products (and therefore, for oil).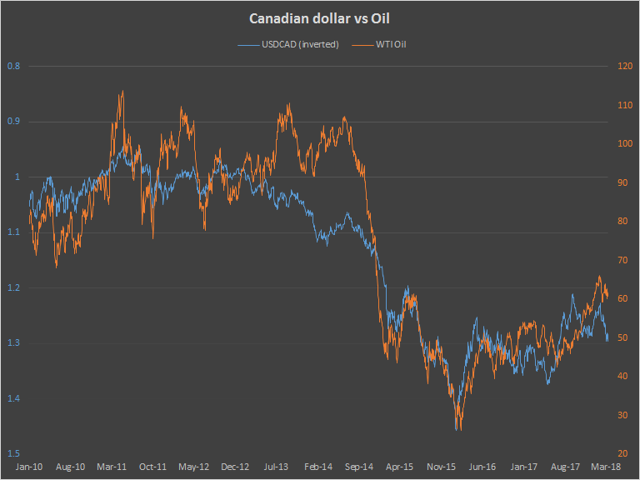 Source: FXCM, investing (website), personal calculations
Despite higher oil prices, the Canadian dollar has been weakening lately, which looks like a temporary bullish divergence, which I think is a clear buying opportunity.
Reason Four: Euro troubles
I have previously said on many occasions that the euro is not out of the woods yet. Crisis-era measures introduced by the ECB are still in place. Furthermore, the inflation is too low. In February, the CPI in the Eurozone declined for a third month running. Indeed, inflation in Europe is one of the lowest among the developed nations (only Switzerland and Japan have lower inflation - see the chart below).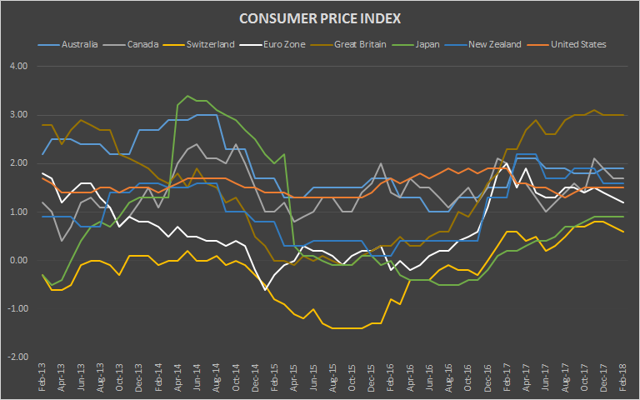 Source: official statistics websites, personal calculations
The latest soft CPI reading is hardly conducive for hawkish monetary policy.
Therefore, I decided to take the risk and short EURCAD from 1.6030. I am planning to be in this trade for a long-term - particularly, because it is earning overnight swap points due to interest rates differentials. My first target would be 1.5642.
Disclosure: I/we have no positions in any stocks mentioned, and no plans to initiate any positions within the next 72 hours. I wrote this article myself, and it expresses my own opinions. I am not receiving compensation for it (other than from Seeking Alpha). I have no business relationship with any company whose stock is mentioned in this article.
Additional disclosure: I am short EURCAD from 1.6030