Welcome to the latest issue of the PRO+ Weekly Digest in which we publish highlights from our PRO+ coverage. Comment below or email us at pro-editors at seekingalpha.com to let us know what you think. Find past editions here. PRO+ subscribers can access interviews by following the SA Interviews account and view past interviews under the same account.
Click here to read the interview with Juggernaut Capital.
PRO+ idea playing out
Ascendis Pharma (NASDAQ:ASND) is up ~75% since ONeil Trader made the bullish case in November 2017, as its TransCon hGH had the potential to become the new standard of care in growth hormone deficiency, TransCon hGH alone provided long-term upside potential and TransCon PTH/CNP could match or exceed the value of TransCon hGH in the following years. ONeil Trader discusses the primary drivers behind the move in the update comment below: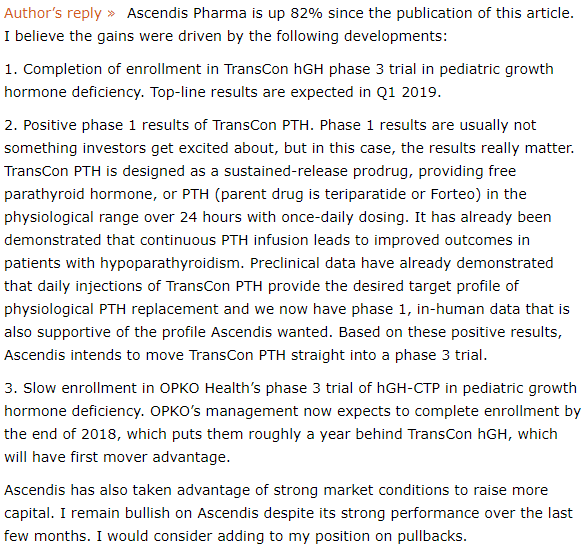 PRO+ Weekly Digest idea playing out
In a previous version of the PRO+ Weekly Digest from September 2017, we said the pullback may provide an attractive entry point re the bullish call by Will Miller on Axon Enterprise (NASDAQ:AAXN). Since then, the stock is up ~75%.

Call from the archive - FONR
Fonar (NASDAQ:FONR) is down ~15% since Boris Marjanovic shared his bullish thesis in September 2017. As he explains a likely reason for the decline in the update comment below, and with ~100% upside to the midpoint of the price target, this thesis may be worth revisiting.


Idea screen of the week
Each week we use the PRO+ Idea Filter to find potential ideas based on a recent news event. This week, PRO Editor John Leonard, CFA looks at short ideas following the market rebound.
For investors doubting the speed/magnitude of the recent market rebound but looking for short ideas with a catalyst, I ran a screen of PRO Short Ideas.


Two ideas turned up in this screen that might be of interest (prices as of March 15 close):
Carrols Restaurant Group (NASDAQ:TAST) by Vince Martin: Published on December 26, 2017, down ~5% since publication, author's price target offers an additional ~30% downside. The bull case based on buying undervalued franchises cheap and boosting margins appears weak as FCF is still negative, EBITDA growth has stalled out, margins are compressing, and the supposed scale simply isn't apparent.
New York Community Bancorp (NYSE:NYCB) by Renaissance Research: Published on November 22, 2017, up ~10% since publication, author's price target offers ~25% downside. NYCB trades at a premium to peers despite an aggressive funding profile, multiple margin headwinds, sluggish loan growth, and weak organic capital generation.
About the PRO+ Weekly Digest
PRO+ members automatically receive the Weekly Digest and other PRO+ content in their inbox. If you are not a PRO+ member and would like to be notified of this, click follow at the top of this article to follow the SA PRO Editors account, or click to subscribe to the free newsletter below to receive these in your inbox. You can view all past PRO+ Weekly Digests here. And if you're interested in SA PRO, check out the details here to sign up or learn more.
Disclosure: I/we have no positions in any stocks mentioned, and no plans to initiate any positions within the next 72 hours. I wrote this article myself, and it expresses my own opinions. I am not receiving compensation for it (other than from Seeking Alpha). I have no business relationship with any company whose stock is mentioned in this article.
Additional disclosure: Check with individual articles or authors mentioned for their positions.