Tom Ward and Chesapeake (NYSE:CHK) CEO Aubrey McClendon were partners in the early 1980s, buying and selling leases in Oklahoma. The two founded Chesapeake together in 1989, successfully turning it into America's largest producer of natural gas primarily by swooping in on cheap, unwanted leases and subsequently monetizing these acres. Ward left Chesapeake in 2006 and became the CEO of Sandridge (NYSE:SD), bringing his opportunistic experience with him.
When Ward first arrived, Sandridge's initial long-term plan was to focus on shallow, conventional natural gas reservoirs. The drilling was easy and the costs were low. With natural gas around $12/MCF, things were going great. SD stock hit an all time high of $68.54 in June of 2008. Then the bottom fell out of natural gas prices (and the overall market), and SD stock followed suit. Presented with crashing margins and no end in sight to cheap natural gas, Ward and Co. had to move fast to save Sandridge. They announced in late 2008 that they would become a primarily oil focused company, aiming to have 80% of revenues come from oil. Relying on his wheeling-and-dealing skills, Tom Ward delivered on his promise.
Moving Fast to Ramp Up Oil Production
Sandridge's oil production has increased from 2.3 MMBbl (million barrels) in 2008 to 11.8 MMBbl in 2011. This is an amazing 400% increase in just 3 years. This was achieved by acquiring Arena Resources, Forest Oil, and huge chunks of Mississippian and Permian acreage. With their recent acquisition of Dynamic Offshore, and continued drilling of their Mississippian and Permian acreage, Sandridge projects that their 2012 oil production will be around 18MMBbl, which would represent a 50% increase over 2011 production and an incredible 680% increase over 2008 levels.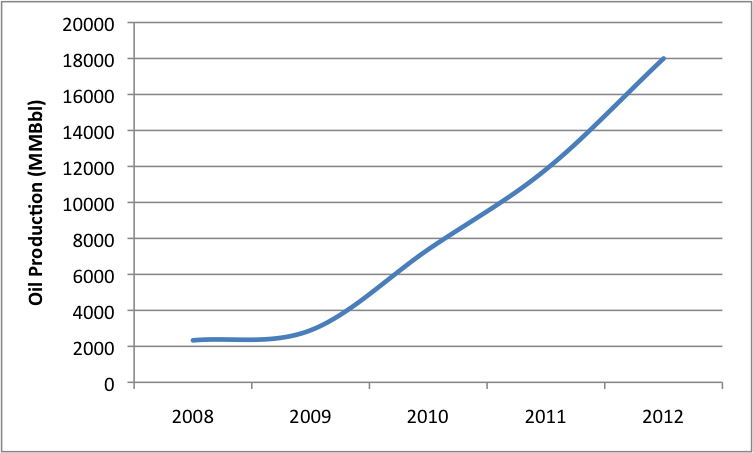 While they have had to take on debt to make this transition, as of late they have been paying this debt down through joint ventures (1, 2) and royalty trusts -- SandRidge Mississippian Trust I (NYSE:SDT), SandRidge Permian Trust (NYSE:PER) -- and non-core asset sales. Beyond becoming more liquids-rich, these recent acquisitions, JVs, and debt monetizing trusts have made it ever more apparent that Sandridge is a company that can move incredibly fast when needed.
Don't Be Afraid of The Gulf
Their move into the Gulf spooked shareholders and caused a brief selloff. I predict the selloff occurred because investors were afraid of SD changing paths, especially a path that leads to the GOM. Thanks to BP (NYSE:BP), the image of drilling in the GOM is a scary, scary place where blowouts and lawsuits occur. This causes investors to stay away from any companies involved in GOM exploration and has pushed E&P companies onshore, driving up land and pushing down offshore prices.
However, the Dynamic properties are all very shallow (<300ft) and are already producing 25000 BOE/d, instantly beefing up revenue and oil production. Sandridge is basically merging with Dynamic, so they will keep their people and expertise on these offshore plays, minimizing risks.
Conclusion
Sandridge has done it before, and I predict they will do it again. They are acting on a very basic investing platform: Buy low. In a world where companies are constantly chasing high prices (e.g. share buybacks at 52wk highs), it is refreshing to see a company buy at the bottom. I have tremendous faith in Tom Ward, and if he sees opportunity in the GOM, then so do I.
Due to the recent broad market sell-offs, I would try to leg into this one. I feel like these shares are very reasonably valued at current prices, but the broad market uncertainty could offer some cheaper prices in the coming days.