In July, 2015 we published a report titled "Disability's Destabilizing Impact on the Labor Market". In that report we noted that labor force participation historically has behaved cyclically within a gently declining trend. Participation consistently tended to fall during recessions and rise during economic recoveries as job prospects improved. In this most recent business cycle while the participation rate fell as expected during the recession phase, it continued falling throughout the recovery.
Many analysts sought to rationalize this movement by pointing to the aging population and changes in societal norms such as women's roles. These are undoubtedly factors. But our report suggested that another factor may have adversely affected participation, namely a huge increase in the numbers applying for disability benefits and thus leaving the labor force.
In our earlier report we noted a CBS "60 Minutes" segment that quoted employees of the Social Security Administration and their administrative law judges, who asserted that millions of people were being recruited by lawyers to make fraudulent claims. One such judge said "if the American public knew what was happening, half would be outraged and the other half would apply for benefits".
One precipitating factor may have been the failure of congress to extend unemployment benefits at the end of 2013. Many of those whose benefits were exhausted may have responded to a multitude of advertisements urging potential beneficiaries to apply for benefits on dubious and fraudulent bases. At the time the government had to effectively accept any claim while it was also government's responsibility to remit legal fees to attorneys of those who filed for disability and appealed any adverse decision. It is plausible that those who went from unemployment to disability may have instead reentered the workforce since unemployment insurance requires beneficiaries to actively seek employment or retraining.
Chart I attached shows that disability rolls expanded by from 3% to 5% per year during the early phases of this economic recovery. This is much faster than what demographics would suggest and in contrast to past cyclical patterns. Meanwhile, as shown on Chart II attached the participation rate for prime working age males -- which would not be affected by demographics of changing social norms -- fell sharply from 91.5% in 2007 to as low as 88% in 2015.
As might be expected, the disability trust fund became severely depleted such that by 2016 it would be unable to pay full benefits. The only recourse other than reducing benefits was to transfer $150 billion from the Social Security trust fund to the disability trust fund. Many fiscal conservatives objected to such an unconditional bailout, and in the Bipartisan Budget Act of 2015 reforms to the disability program were included in return for a fund injection.
These reforms received very little attention and indeed some will not be fully effective until 2022. But some reforms were immediate; the most significant being a requirement that applicants have medical exams. Another excluded medical sources of evidence from individuals and entities convicted of felonies related to the Social Security Act or who had been previously penalized for submission of false evidence. Also included were demonstration projects involving work requirements and allowing those receiving disability to perform some work for pay while receiving reduced benefits.
There is no question that these reforms provide some disincentive to apply for disability payments. There is also little doubt that a tightening labor market, a higher wage floor and lower marginal tax rates should be an incentive to move from disability to work if able. A positive impact from these factors may be beginning to be evident. Chart I shows that after growing yearly through the early and middle phases of this recovery, the percentage change in disability recipients turned negative beginning in 2015 and fell by more than 1% yearly during 2017 to the present. Interestingly the ratio of disability recipients to the total labor force declined from 5.76% in 2013 to 5.35% in February this year. Meanwhile, the overall participation rate rose to 63% in February after bouncing around a 62.6% average in 2016-2017.
Of course one month of data does not make a trend so upcoming reports this spring will be crucial to any conclusion. But, if in fact the participation rate begins to rise in a sustainable fashion it would not only confirm our suspicions but more importantly it would confirm a suspicion that there is more labor slack in the system than official data and the conventional wisdom is suggesting. In 1996 then Fed Chair Greenspan detected a pick up in productivity growth and adopted a policy stance that allowed the economy to expand in a non inflationary manner into the end of the century. If the data is supportive will the Powell Fed seize n this development and allow growth to progress by shying away from aggressive interest rate changes?
Chart I Disability Rolls, Year over Year % Change 2008- through to February 2018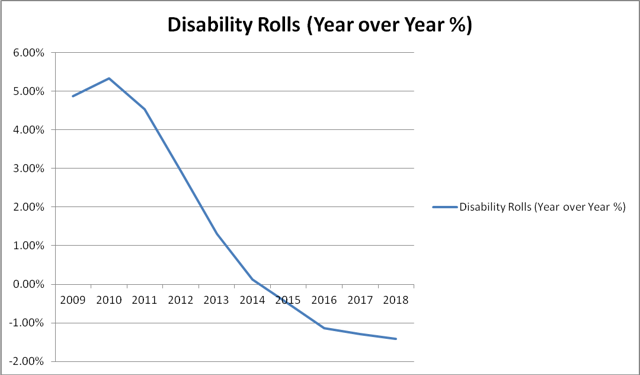 Chart II Labor Force Participation Rate - 25-54 yrs., Men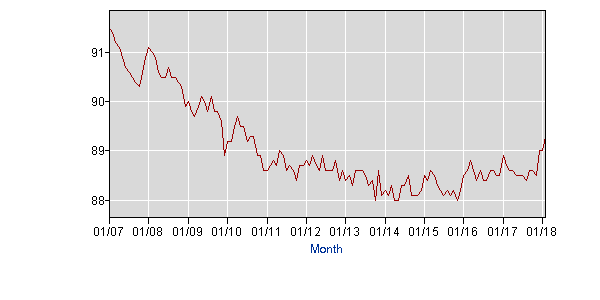 Please note that this article was written by Dr. Vincent J. Malanga and Dr. Lance Brofman, with sponsorship by BEACH INVESTMENT COUNSEL, INC., and is used with the permission of both.