STORE Capital Corp. (NYSE:STOR) is a high-quality commercial property REIT with a covered, sustainable dividend and plenty of room for dividend growth. The REIT's dividend yield has crossed into the 5 percent territory lately after investors sold real estate investment trusts over fears of rising interest rates in February, which makes for a good opportunity to take a closer look at the company. STORE Capital has excellent portfolio and coverage stats, and has grown its dividend payout at above-average rates in recent years. It is currently one of my favorite large-scale commercial property REITs. An investment in STOR comes with an entry yield of 5.1 percent.
STORE Capital shares slumped during the February market sell-off, but they have started to recover in line with the broader market lately. Year to date, shares have dropped ~6 percent.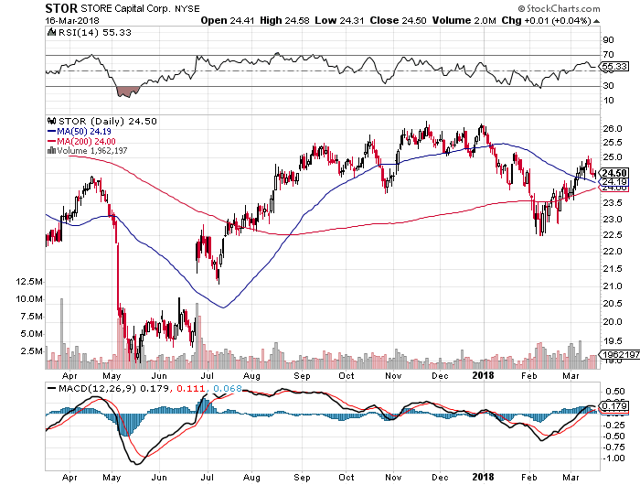 (Source: StockCharts)
STORE Capital Corp. - A Snapshot
STORE Capital Corp. is a U.S. commercial property REIT with a national presence. The company's real estate portfolio at the end of the December quarter consisted of 1,921 properties in 48 U.S. states. The occupancy rate stood at a superb 99.6 percent, making the portfolio fully let.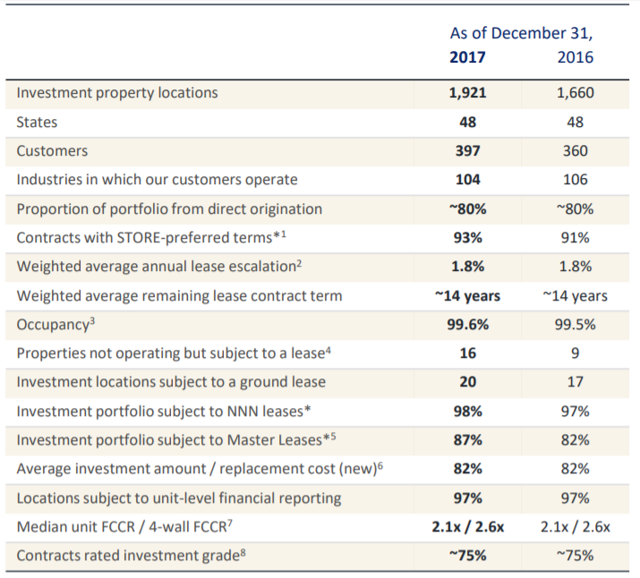 (Source: STORE Capital Corp. Investor Presentation)
It has had excellent occupancy rates for a while now.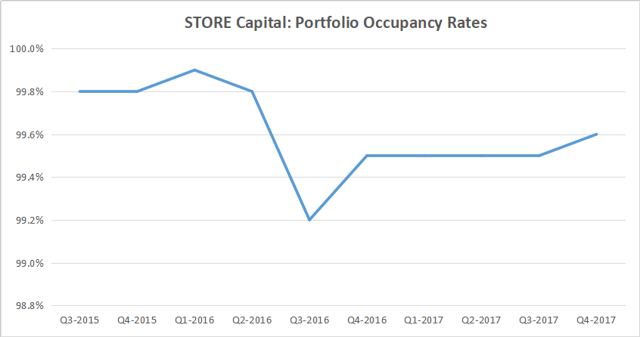 (Source: Achilles Research)
With almost 2,000 properties in its portfolio, STORE Capital is one of the largest landlords in the country. Importantly, a huge portion of its lease portfolio has investment grade quality (~75 percent). Higher-quality leases translate into higher-quality cash flow, which is particularly valuable for the company in case the U.S. economy heads into a recession.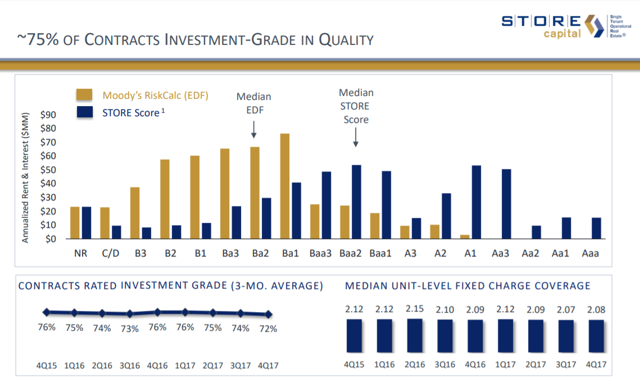 (Source: STORE Capital Corp.)
Acquisitions Play A Key Role In The REIT's Growth Strategy
Mature REITs like STORE Capital need to acquire new properties on a regular basis in order to grow FFO. As a matter of fact, the company regularly invests more than a billion dollars (net) into the acquisition of new real estate assets. Its net acquisitions averaged $1,137 million in the last four financial years.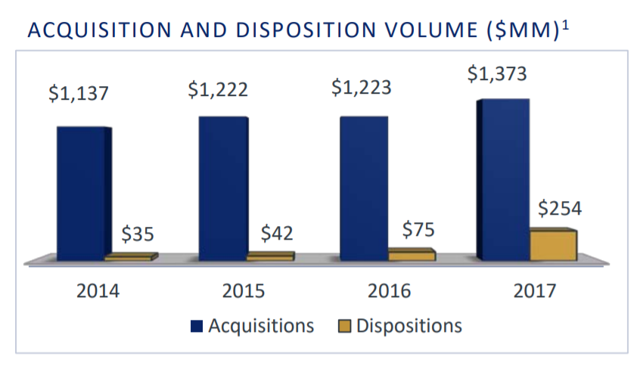 (Source: STORE Capital Corp.)
The good news: the company's borrowing costs have declined significantly from 2014 to 2017 (from 4.7 percent to 3.6 percent). Cap rates have also dropped, but not as much as funding costs. In other words, STORE Capital's acquisitions were highly accretive.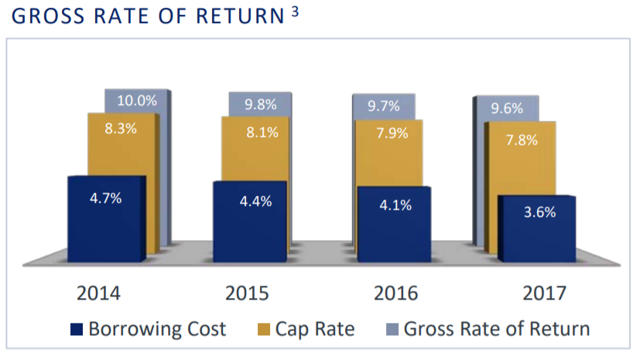 (Source: STORE Capital Corp.)
Thanks to its acquisition-centered growth strategy, STORE Capital has seen a boost to key stats such as NOI and AFFO. The company's net operating income, for instance, increased ~136 percent since 2014, and adjusted funds from operations - another key stat for investors in REITs - jumped ~178 percent.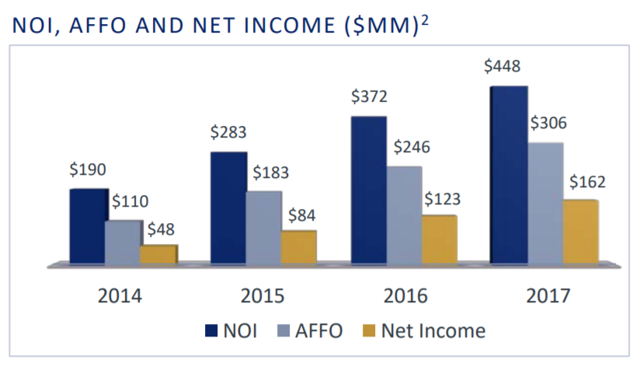 (Source: STORE Capital Corp.)
The fast rate of growth in NOI and AFFO based on the REIT's acquisition activity has allowed the company to boost its dividend payout at above-average rates in the past several years.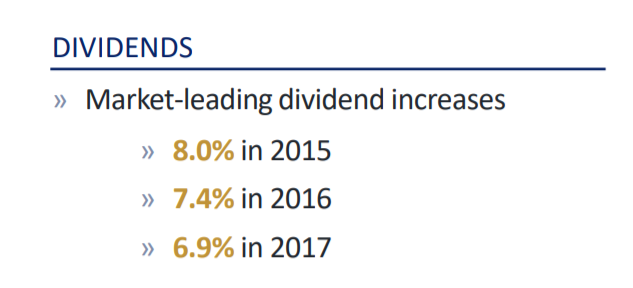 (Source: STORE Capital Corp.)
Dividend Analysis
STORE Capital has a very safe dividend. That doesn't mean there are no risks to the dividend - it merely means that the risk of a dividend adjustment to the downside is very low, in my opinion.
The company produced robust excess dividend coverage in every single quarter in the past two and a half years, not only making the current dividend payout sustainable, but it tilts the odds in favor of continued dividend growth.
Its average AFFO payout ratio is just ~69 percent.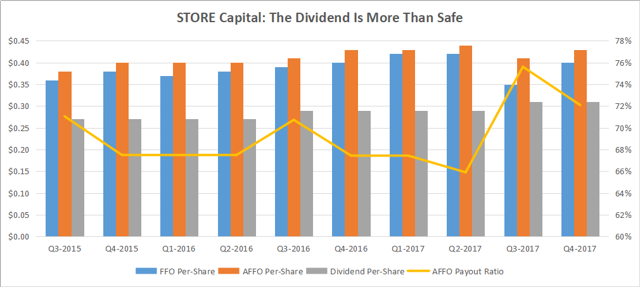 (Source: Achilles Research)
Peer Group Analysis
STORE Capital's conservative AFFO payout ratio is a reflection of strong portfolio stats (I have already mentioned the company's excellent occupancy rates).
It has the most diversified tenant base and longest lease terms in the sector, all of which serve to improve the REIT's cash flow quality.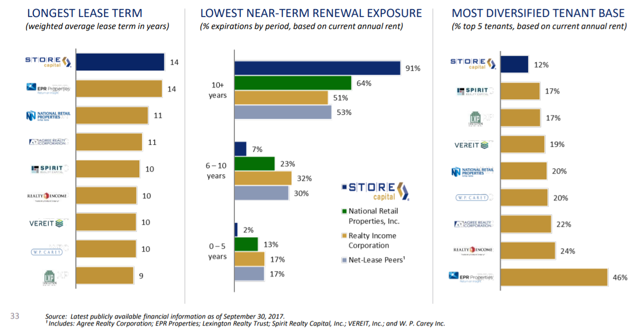 (Source: STORE Capital Corp.)
STORE Capital also compares favorably to other commercial property REITs in terms of payout ratio (Q4-2017 AFFO payout ratio was just 72 percent) and lease escalations (rent bumps).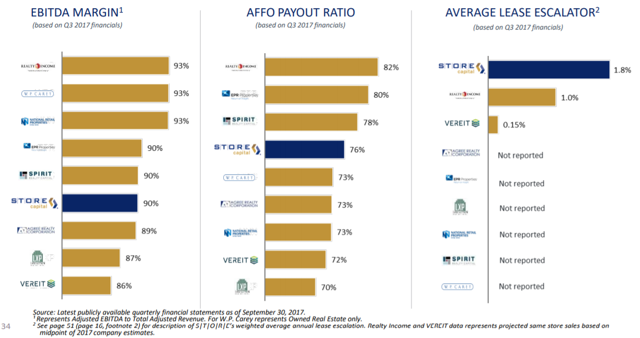 (Source: STORE Capital Corp.)
Sensible Valuation
The company has seen strong A/FFO growth in the past several years, and has hiked its dividend at a fast clip. However, STORE Capital is not as expensive as other leading U.S. property REITs.
Currently, shares sell for ~1.5x book value, which is much lower than the book value multiple (~2.0x) of Realty Income Corp. (NYSE:O), for example, even though STORE Capital has stronger portfolio stats in terms of tenant base diversification, lease term and payout ratio.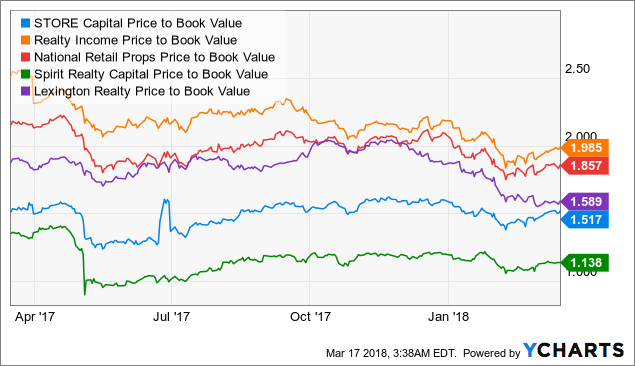 Risks Investors Need To Be Aware Of
I currently don't see any risks to the REIT's dividend, but things could change if U.S. commercial real estate values start to fall, maybe because a U.S. recession manifests itself. Another risk factor is that cap rates in the sector decline and growth slows, which would likely negatively affect the company's dividend growth rates. Over the long term, STORE Capital's dividend growth rate will likely contract and normalize in the 3-5% range.
Your Takeaway
STORE Capital is an excellent long-term buy for income investors, in my opinion. The company has a high-quality lease portfolio, and has successfully grown net operating income and cash flow in the last several years, thanks to its aggressive position on acquisitions. STORE Capital Corp.'s portfolio stacks up well against the competition, and the REIT is one of the most sensibly valued U.S. commercial property REITs in the sector. Buy for income and capital appreciation.
If you like to read more of my articles, and like to be kept up to date with the companies I cover, I kindly ask you that you scroll to the top of this page and click "Follow". I am largely investing in dividend-paying stocks, but also venture out occasionally and cover special situations that offer appealing reward-to-risk ratios and have potential for significant capital appreciation. Above all, my immediate investment goal is to achieve financial independence.
Disclosure: I am/we are long O, STOR. I wrote this article myself, and it expresses my own opinions. I am not receiving compensation for it (other than from Seeking Alpha). I have no business relationship with any company whose stock is mentioned in this article.